Story Progress
Back to home
Borussia Dortmund's Mario Goetze Sidelined From Football Indefinitely
"I am in the process of getting treatment and I will do everything I can to get back into training as quickly as possible to help my team achieve our common goals," Mario Goetze said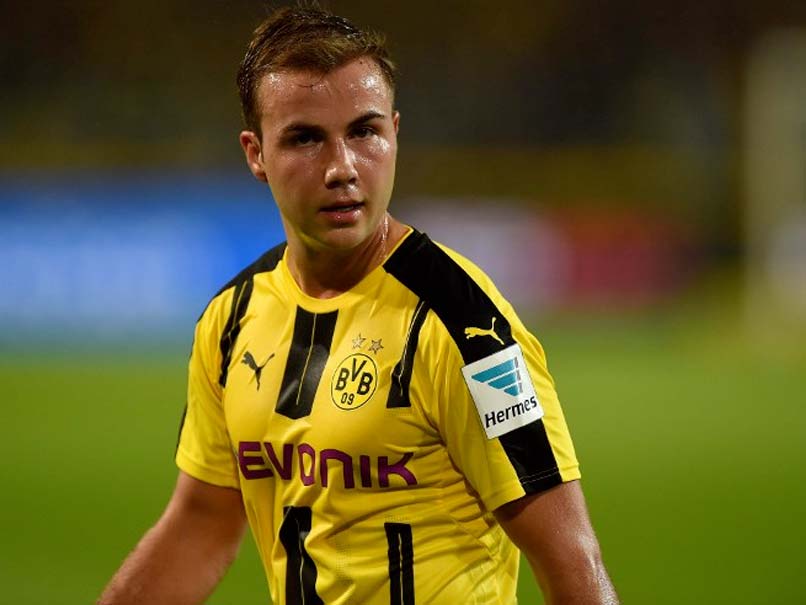 Mario Goetze has seen his career stalled by a spate of injuries in recent times.
© AFP
Highlights
Mario Goetze has been indefinitely sidelined from football

The Borussia Dortmund star has been diagnosed with a metabolism disorder

Goetze scored Germany's winner in the 2014 World Cup final
Borussia Dortmund star Mario Goetze has been indefinitely sidelined from football after he was diagnosed with a metabolism disorder during a medical check, the club stated on Monday. Goetze, who scored the winning goal for Germany in their 1-0 victory over Argentina in the 2014 FIFA World Cup final, has seen his career being stalled in recent years owing to a spate of injuries. His appearances for Dortmund have been limited this season, having returned to the club after three years at Bayern Munich.
"I am in the process of getting treatment and I will do everything I can to get back into training as quickly as possible to help my team achieve our common goals," Goetze told the club website on Monday.
It cost Dortmund 22 million euros ($23m) to buy Goetze back from Bayern, having been forced to sell him in 2013 for 37 million euros when the Bavarians triggered a release clause in his contract.
He has not played at all this month after picking up a leg injury and was dropped for Dortmund's home Bundesliga win over second-placed RB Leipzig at the start of February because of poor form.
The attacking midfielder has scored just two goals in 16 appearances for Dortmund this season.
Dortmund, who are third in Germany's top flight, gave no date for his return.
But there is relief that the club now know there is a medical reason for the Germany star's woes.
"We are glad to know the reasons for Mario's complaints and we are convinced that after recovering he will give us extra quality with his exceptional abilities," said Dortmund's director of sports Michael Zorc.
"Mario gets the full backing and maximum support from all of us at Borussia Dortmund on his way back."
Promoted
Among the games he will miss is the Champions League round-of-16, second-leg clash at home to Benfica on March 8 having lost the first match 1-0 in Portugal.
(With inputs from AFP)
Topics mentioned in this article