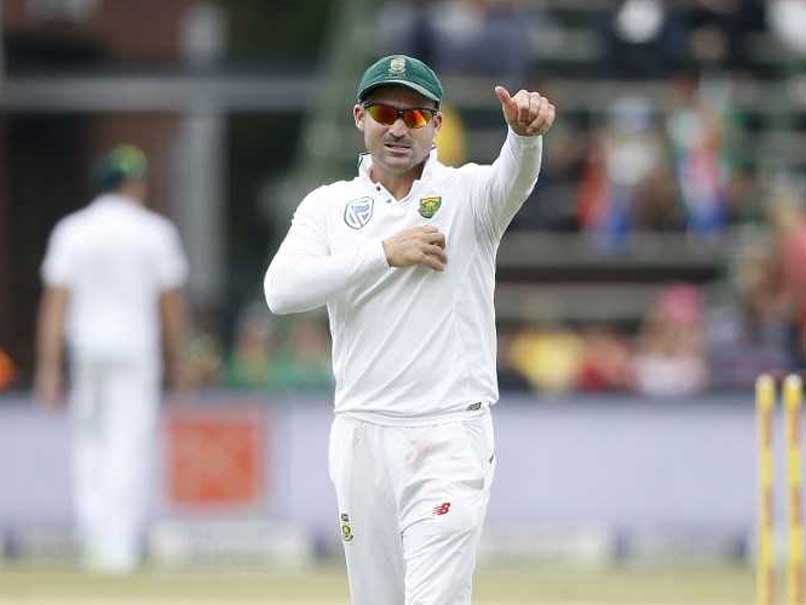 Dean Elgar catch saw the Australians dismissed for 288 in response to South Africa's 488.
© AFP
In cricket, there are good catches and then there are great ones, but Dean Elgar's superhuman effort to dismiss Tim Paine and end Australia's first innings on day three of the fourth and final Test was mind-blowing. The Australian skipper, who was batting on 62, skied a chance off Kagiso Rabada, which went sailing over Elgar's head at mid-off. But the opening batsman refused to give up. He turned around and while running backwards managed to pull off a full-length dive, getting hold of a truly extraordinary catch.
Dean Elgar please! Ridicucatch #SAvAUS @InnoBystander pic.twitter.com/RXV610F8KH

- Jack Brough (@Jughead180) April 1, 2018
In a series dominated by scandal and drama, it's good to watch that there are still moments of genuine cricket that can leave you on the edge of your seat.
In the commentary box, Graeme Smith almost fell off his chair with amazement. Needless to say, Twitter was in hysterics.
Dean Elgar pulls off a worldie! He was about to rip off his shirt, and go Zlatan on us, but Faf told him to get the pads on! Some catch that is - never in doubt! Elgar rather chuffed with himself, as he should be! #SAvsAUS

— Lungani Zama (@whamzam17) April 1, 2018
Dean Elgar is allowed to drop as many as he wants cause that catch was absolutely AMAZING

— Simmi Areff (@simmiareff) April 1, 2018
Best catch I have ever seen!!! Take a bow Dean Elgar!! Wow! #SAvsAUS pic.twitter.com/nvfOxBaBVL

— Jot Engelbrecht (@JotEngelbrecht) April 1, 2018
Dean Elgar's catch. I'm not sure it can get much better. #SAvAUS

— Adam White (@White_Adam) April 1, 2018
Ohh man Dean Elgar..What e catch..!! #CatchOfTheSeason#SAvsAUS pic.twitter.com/8fuG3nyU2b

— Omkar Kulkarni (@koolomkarkool) April 1, 2018
Is that just the best ever catch in test cricket #SAvAUS #deanelga @SENNews @FOXCricketLive

— Robbie Mackinlay (@RobbieMackinlay) April 1, 2018
I reckon Dean Elgar just took catch of the century! #SAvsAUS pic.twitter.com/dk9BtXRbmW

— Corey Norris (@coreynorris9) April 1, 2018
The catch, Elgar's fifth in Test cricket, saw the Australians dismissed for 288 in response to South Africa's 488 at the Wanderers Stadium on Sunday.
South Africa did not enforce the follow-on.
A side strain suffered by fast bowler Morne Morkel before lunch probably contributed to South Africa's decision to bat again.
Morkel left the field after bowling two balls of his 13th over during the morning. He returned to the field after lunch, however.
Australian captain Tim Paine, who batted with a hairline fracture of the right thumb, was the last man out for 62, caught by a diving Dean Elgar in the deep off Kagiso Rabada.