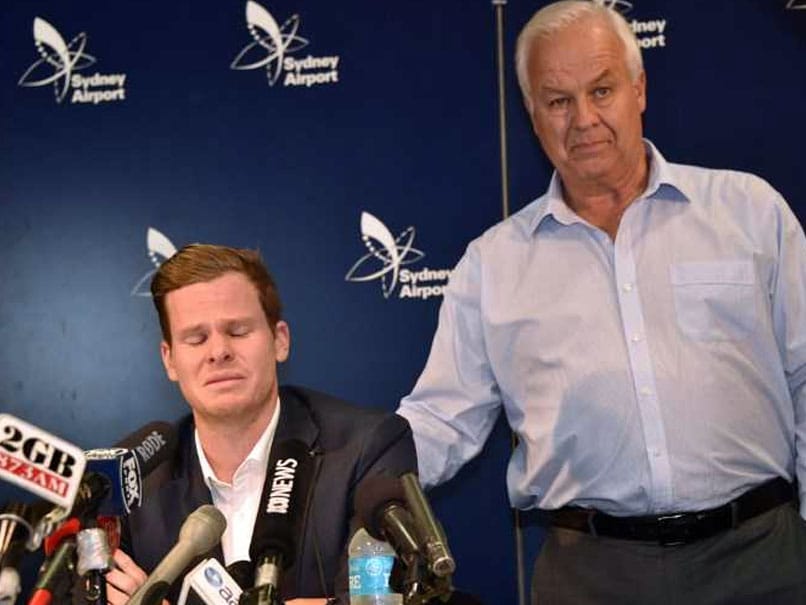 Former Australia captain Steve Smith broke down while speaking about his family
© AFP
Steve Smith's career has been brought to a standstill after Cricket Australia slapped a one-year ban on the 28-year-old for his involvement in the ball-tampering scandal that unfolded during their third Test against South Africa in Cape Town. In the aftermath of the scandal, Smith was subjected to a lot of ridicule and was widely criticised as his team used unfair means to get an advantage over their opponents. On Saturday, a video emerged of his father dumping Smith's Australia kit bag in the garage and saying he will be fine with time. "He'll be fine, he'll survive, he'll survive," Peter told Australia's Seven News as he placed the bag in storage.
Steve Smith's Father Peter Smith Dumps His Cricket Kit pic.twitter.com/O7WArgbEZT

— Desi Stuffs (@DesiStuffs) March 31, 2018
Disturbed by the recent turn of events, according to media reports, the cricketer was seen boarding a flight to Dubai after his emotional press-conference on his arrival in Sydney on Thursday.
The former Australia captain broke down while speaking about his family and the pain he must have caused them due to his involvement in the biggest scandal to hit the sport in a long time.
"To see the way my old man's been...it hurts. I just want to say I'm sorry for the pain that I've brought to Australia and the fans and the public, it's devastating and I'm truly sorry," a gutted Smith said.
While addressing the media in Sydney, Smith said: "I take full responsibility ... There was a failure of leadership, of my leadership. I'll do everything I can to make up for my mistake and the damage it's caused." Smith along with his deputy David Warner and the young opener Cameron Bancroft were handed bans by Cricket Australia over a ball-tampering scandal that has left their careers in tatters.
Smith, who was once being touted as the next Don Bradman, also faced humiliating scenes on Wednesday as he had to face boos and cries of "cheat" while making his way through Johannesburg airport. The tainted cricketer was surrounded by many security officials who were seen holding Smith's arms.