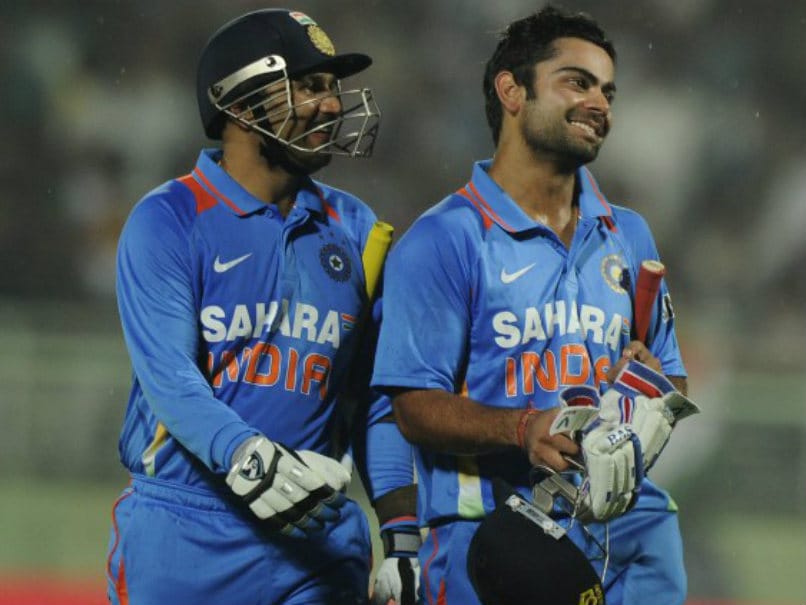 Virender Sehwag has dubbed Virat Kohli as the best cricketer in the world at the moment.
© AFP
In the past year, Virat Kohli has been on a record-breaking spree and former India batsman Virender Sehwag has backed the Indian captain to break all the records by the time he retires. Aged 28, Kohli has a long way to go before he brings an end to what has already been a sensational career and not many would bet against what Sehwag has endorsed. Kohli's batting exploits took the cricketing world by storm in 2016, with the Indian batting talisman consistently hitting top form in all formats of the game throughout the year.
Records continue to tumble as Kohli marches towards becoming one of the all-time greats in the sport.
"Virat Kohli will break every record in the book by the time he retires. He is not just a top class batsman but now also a top class captain" Virender Sehwag told NDTV during SporTale, India's first sports lit fest, in Pune on Wednesday.
However, there is one record of Sachin Tendulkar that Sehwag believes can never be eclipsed. Viru felt that no one can match the sheer number of matches be either Tests or ODIs that Tendulkar has played.
Back on the topic of Kohli, Sehwag narrated stories of Kohli as an angry young man but felt that the Indian skipper had matured tremendously as a cricketer.
"He has grown so much as a cricketer, he has already done so much for Indian cricket. He is the best cricketer in the world at the moment," Sehwag opined.
Kohli is the fastest batsman to reach 27 centuries in ODIs, having taken 169 innings to do so. Sachin Tendulkar, the second fastest behind Kohli, needed 254 innings to reach 27 centuries.
Kohli has also equalled Tendulkar's record of scoring a total of 17 centuries during a chase. The cricketer from Delhi, however, has taken just 96 innings to reach the feat, compared to Tendulkar's 232.
Kohli also became the first batsman in Test history to score a double century in four consecutive series, thus surpassing Don Bradman and Rahul Dravid, who had a double ton in three successive series.
The Indian skipper became the highest aggregator of Test runs in one home season, overtaking the inimitable Sehwag.
Sehwag had scored 1105 runs in the 2004-05 season at an average of 69.06 with four centuries and three half-centuries.
Kohli, on the other hand, in 15 innings so far in the 2016-17 season has scored 1168 runs with the aid of four centuries and two half-centuries.
Not just with the bat, but Kohli has already surpassed some Indian greats when it comes to captaincy records.
With the recent victory over Bangladesh, Kohli overtook Mohammad Azharuddin's record of 14 Test wins, putting him 12 wins short of Dhoni's overall record of most victories in Test matches as captain of India.
With 15 wins in 23 matches, Kohli now boasts of a win percentage of 65.22. Barring Ravi Shastri, who captained India for just one match in 1988, this is the best win percentage for any Indian Test captain in history.
His ongoing 19-match unbeaten streak in also the longest by any Indian captain, one more than Sunil Gavaskar's 18 matches without a loss in the late 70s. India's unbeaten run at home has also extended to 20 following the win in Hyderabad.