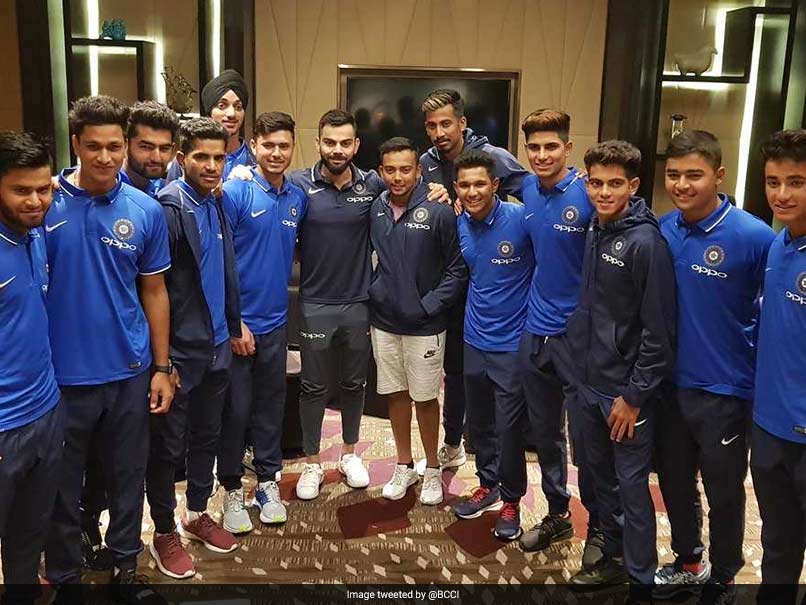 Kohli with the U-19 team ahead of their departure for the World Cup
© Twitter
Virat Kohli knows how to win an U-19 World Cup. So it came as little surprise when U-19 coach Rahul Dravid wanted the Indian skipper to have a small session with Prithvi Shaw and his U-19 team ahead of their departure for the World Cup. Not that Kohli is not aware about teenage prodigy Prithvi's exploits in first-class cricket where he has already scored five hundreds.
"I am also excited about Prithvi (Shaw). I have heard a lot about him and Ravi Bhai (Shashtri) has also told me many things about him. He has had a lot of good performances in first-class cricket, which is rarely seen. He has been made the captain ahead of the boys, who have played U-19, there is special ability in him, that we have seen," Kohli told reporters in the pre-departure press conference ahead of the tour of South Africa.
After the press conference was over, Kohli was seen spending some time with the U-19 team and his pep talk before the World Cup will definately help the U-19 boys. The U-19 World Cup will be held in New Zealand.
BCCI tweeted a couple of pictures from their official handle where Kohli spoke at length with the young team and captioned the image as, "Just the kind of boost the young India U19 team needed before their departure for the World Cup. India captain @imVkohli spent some time with them and there was sure a lot to take for the youngsters."
Both India senior and U-19s will be travelling to their respective destinations in the same flight via Dubai. "Yes I will be meeting them (U-19 boys) after my press conference. Rahul bhai spoke to me and said that I should talk to them before leaving," said Kohli before meeting the boys.