Story Progress
Back to home
U-19 World Cup: How Rahul Dravid's Single-Mindedness Rubbed Off On India's Budding Stars
Rahul Dravid, former India captain, used all his experience and command to keep the youngsters focussed on the job at hand.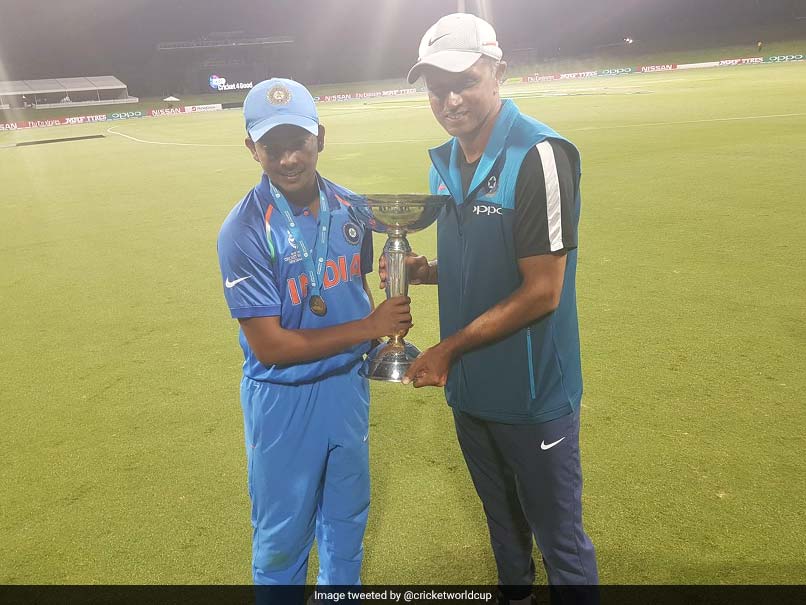 Rahul Dravid hoped the memory of a junior World Cup win won't define careers of his team.
© Twitter
Highlights
Dravid managed to keep the players focussed throughout tournament

Dravid had taken the India U-19 team to the final in 2016 as well

India won a record fourth U-19 World Cup title on Saturday
Rahul Dravid, during his playing days, was known for his sheer grit, dealing with tough situations like the thorough professional that he is. Whether he was scoring runs or not, Dravid never let his emotions get the better of him. Surely, some of the characteristics of the great man rubbed off on the youngsters who made history by taking India to a record fourth ICC Under-19 World Cup title. However, before the quarter-final against Bangladesh, Dravid faced his biggest test as the coach of the team -- the big IPL auction.
As many as nine India U-19 players who were involved in the World Cup in New Zealand were set to go under the hammer and all this before a World Cup quarterfinal. Getting an IPL contract is a big deal and it's an even bigger deal if you are a teenager still looking to make a name.
However, Dravid, who has been part of six IPL auctions as a player and four as part of the team management, quickly saw the dangers posed by the auction.
He made it clear to his boys that an auction will come every year but a chance of playing in a World Cup semi-final is not something that happens too often.
"The auction is not something the boys can control. One or two auctions won't really have a long-term impact on their careers," Dravid was quoted as saying by ESPNCricinfo before the quarterfinal against Bangladesh.
"There is an auction every year, but not every year will they have an opportunity to play for India in possibly a World Cup semi-final. That doesn't come very often.
"We've been here for three weeks and we couldn't have asked for better preparation from the boys. They've been superb. We talked about the auction once and we said let's keep that out of our minds."
The words must have had a lasting effect on the players. India had lost to Bangladesh in the Asia Cup but showed no signs of letting history repeat itself as they went about their business in typical Rahul Dravid style.
Batting first, India scored 265 to put up a decent total on the board. The Indian bowlers then came to the party and bowled out Bangladesh for a paltry 134 to register an emphatic 131-run win.
Up next was a World Cup semi-final against arch-rivals Pakistan. An India-Pakistan game at any level creates a buzz and Dravid certainly knows a thing or two about playing Pakistan.
Instead of downplaying the match-up, Dravid spoke of the experience this would be for the Indian youngsters and focussed on the positives of playing against Pakistan.
"I'm excited about it, the fact that, irrespective of the results, we get our Under-19 boys to understand what it's like to play an India-Pakistan game. At this level, all it is about is about experiences," Dravid had said before the match.
"It's great that we've been able to, in a way, set up to have an India-Pakistan game as well. There is a different buzz about it in the sense that we know that the game is followed probably a little bit more closely than some of the other games we have.
"For the last couple of years, we haven't played Pakistan at this level, so it's really nice for our boys to have that experience of actually playing against Pakistan," Dravid said.
What followed was a complete rout as India steamrolled Pakistan by a whopping 203 runs to march into the final. Former Pakistan legends immediately realised the impact of Dravid in the team.
"I am impressed with the temperament shown by some of the Indian players. Rahul Dravid deserves lot of credit for preparing and grooming them so effectively," Ramiz Raja said.
"We need to have give someone charge for a proper time period like India has done with Rahul Dravid," he added.
Promoted
Up next was the big finale against Australia and Dravid's boys didn't disappoint as they completely outclassed the Australians to script history.
Following India's win, Dravid again had some wise words for the young champions -- don't let this memory define you. The Under-19 players will do well to heed his advice.
Topics mentioned in this article