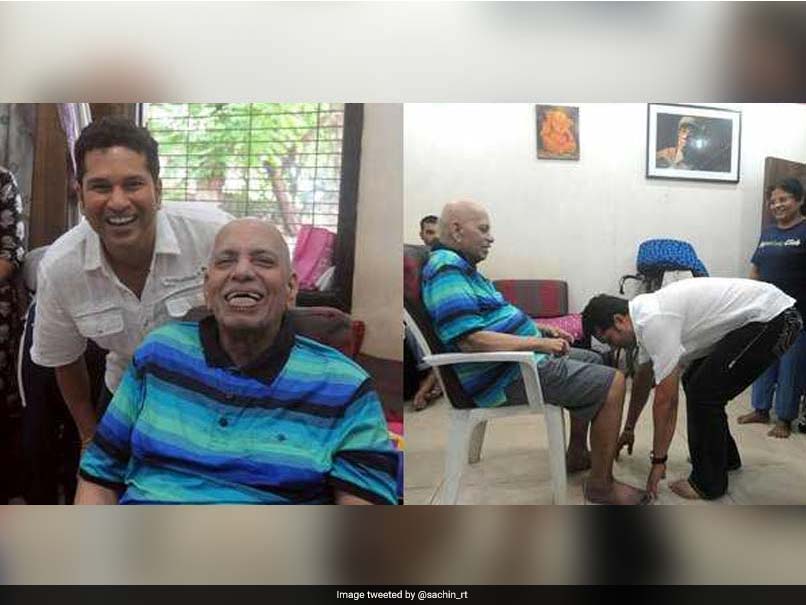 Sachin Tendulkar uploaded a video of Twitter on the occasion of Teacher's Day.
©
On the auspicious occasion of Teacher's Day, former India captain Sachin Tendulkar took to Twitter to wish all teachers and extend his gratitude for the lessons that helped him reach zenith of his game. Tendulkar uploaded a video on Twitter and captioned it as, "Happy #TeachersDay! The lessons you taught me have always served me well. Sharing an incident with you all that changed my life!" In the video master blaster shares one of his incidents that changed his life.
Tendulkar, in the video, talks about his younger days when he used to play for his school junior team. "I only played for junior team and our school senior team was playing Harris Shields final at the Wankhede Stadium. My coach, Ramakant Achrekar sir, had arranged a practice match for me and I was told to attend the practice match. However, I left the practice match and was sitting in the stands of the Wankhede Stadium to cheer the senior team. After the match ended, I got a glimpse of Achrekar sir and went to greet him."
"Following which he scolded me for not attending the practice match that he had arranged for me. He said you don't have to clap and applause for others, you concentrate on your cricket, achieve something big in life so that others applause and cheer for you. And, this was one of my greatest lessons of life."
Apart from Tendulkar, India captain Virat Kohli uploaded a photo on Twitter and captioned it as "To all the teachers around the world and especially to the ones in the Cricket World. #HappyTeachersDay."
The photo has the caption, "Thank you for showing how it's done".
The photo has names of all-time cricketing legends in the background, starting from Sachin Tendulkar, VVS Laxman, Sourav Ganguly to Glenn McGrath and Ricky Ponting, among others.
In the recently concluded India-Sri Lanka ODI series, Kohli equalled Ricky Ponting's record of most number of ODI centuries, 30. However, Tendulkar stands tall with 49.
Apart from this the 28-year-old kept his stranglehold on the top spot in the ICC ODI batsman rankings and equalled Tendulkar's record of highest rating points pocketed by an Indian.