Story Progress
Back to home
Sanjay Bangar Lauds Umesh Yadav For Improved Form With The Ball
"I believe that he's the most improved bowler in the last season and a half," Sanjay Bangar said, referring to Umesh Yadav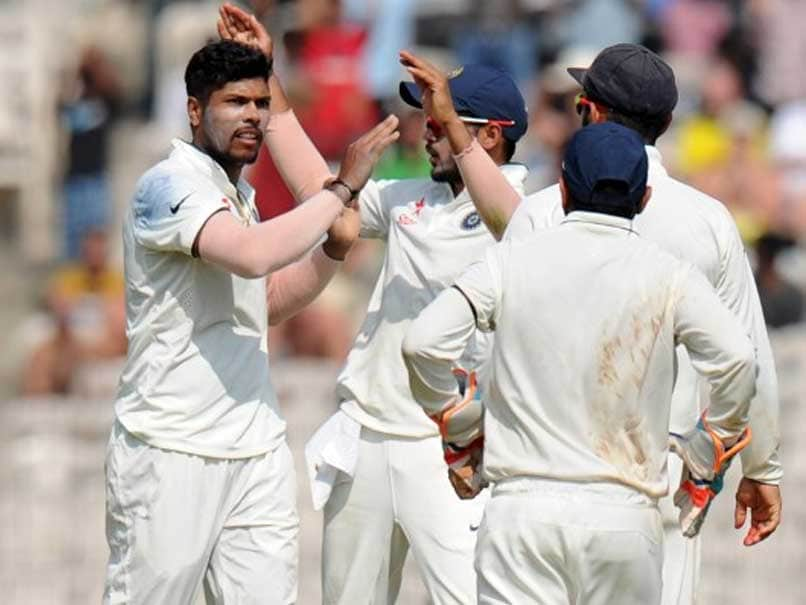 Umesh Yadav has performed consistently well in recent months.
© AFP
Highlights
Sanjay Bangar hailed Umesh Yadav as India's 'most improved bowler'

Umesh picked two wickets on Day3 of the one-off Test vs Bangladesh

Bangar is Team India's batting coach
Team India batting coach Sanjay Bangar on Saturday lauded pacer Umesh Yadav as 'the most improved bowler' in the team after consistently performing well in recent months. Umesh provided India with two breakthroughs against Bangladesh in the ongoing one-off Test, helping the hosts take charge of the match. Despite picking just two wickets on Day 2, Bangladesh batsman Shakib Al Hasan termed Umesh's two morningspells as the finest he ever faced in Test cricket.
"Ever since the Delhi Test match against South Africa, we have seen him (Umesh) giving the breakthroughs that the team requires. So I think the reason for that many Test victories is not only the contribution of the spinners but the small contributions that the fast bowlers have made.," Bangar said.
"That's why someone like Umesh stands out because I believe that he's the most improved bowler in the last season and a half," he added.
Bangar said all three pacers got the ball to reverse.
"All our three seamers were able to get the reverse swing. But Umesh (stood out) with his pace and the lengths that he bowled. Bhuvi (Bhuvneshwar Kumar) can bowl the conventional swing but Umesh can swing the ball both ways. Again Ishant (Sharma) bowls slightly back of a length but Umesh's length allows him to swing the ball with the new ball and also with the old ball. He's worked a lot on his wrist positions and balance at the crease."
The former all-rounder praised skipper Virat Kohli and coach Anil Kumble's decision to have five bowlers which always keeps a team in the hunt for a decisive result.
"You need to give a lot of credit to how the captain thinks and how Anil thinks about it. It's very important that the bowling unit is developed in such a fashion that even when India tours overseas, spinners will have to play a particular role and role reverses for seamers, when they play in India," said Bangar.
With the likes of Umesh, Ishant and Bhuvneshwar getting prominent roles in home Tests, the situation has changed.
"You need to develop a bowling attack that gives you results in all conditions. That is the thinking that goes behind, showing faith in quicker bowlers. You don't see often in India that three spinners are playing but there are also two seamers in the line-up. Lot of credit should go to Virat and Anil for the way they have planned things for Indian cricket," he said.
More than 900 runs were scored in three days and Bangar believes that bowlers need to be patient.
"Being patient on such surfaces also teaches you a lot. I remember a Test in Sri Lanka, we were 0-1 down, we were bowled around 350 and not getting the breakthrough. There was a session wherein we conceded 65 runs and got only one wicket. But that session was followed by a flurry of wickets. That teaches our bowlers to be patient in certain sessions and wait for batsmen make mistakes.
"Build on consecutive maidens and making them sort of score through areas you want them to score of. Those are certain things that we as a bowling group certainly learn when we play on surfaces like this."
'Narrower stance' for batsmen
Former India coach Duncan Fletcher had prescribed a wider stance for the Indian batsmen notably being Ajinkya Rahane but a lot of them have gone back to a "narrower stance" in order to play spin better, revealed Bangar.
Bangar indicated that Moeen Ali's performance during 2014 series in England was the start of the change.
Asked about change from wider stance during Fletcher era, Bangar said: "A lot of batsmen have gone back to narrower stance purely because mobility is a crucial aspect in batsmanship. You need to be ready to adjust to the variations of the pitch including quicker pitches and against the bouncers. That is a crucial factor," Bangar said at the end of the day's play here.
India created a world record posting 600 plus totals in three successive Tests and using feet against the spinners has been a key - irrespective of whether the spinner is Moeen or Adil Rashid, Mitchell Santner or Ish Sodhi, Shakib or Mehedi Hasan Miraz.
"We being Indians, using feet has always been our strength. Going over the top and not being afraid lofting the spinners. We are always sending the message to spinners that we are coming at you. It has always been a strength of Indian batsmen over a number of years. All batsmen (with narrower stance) have been able to do that. We have started getting results with our approach in the way we wanted."
"There was a phase in 2014, a lot was made after Moeen Ali got six wickets in a Test. A lot of questions were raised if Indians are not as good against spinners as they were in the earlier period, I don't believe in that. There has been a lot of improvement in that aspect of batsmanship as well."
Bangar has felt that this Indian team is self-motivated and his job is to mere provide the pointers.
Promoted
"I think all the batsmen apply a lot of thought. They put in a lot of effort. They want to excel and they want to breach their own benchmark. They are in their quest for excellence. Our job is to just give them some pointers so that they remain on the right track. All credit to batsman for the way they prepare. Because of their mindset they are able to transform their ability into performances."
(With inputs from PTI)
Topics mentioned in this article