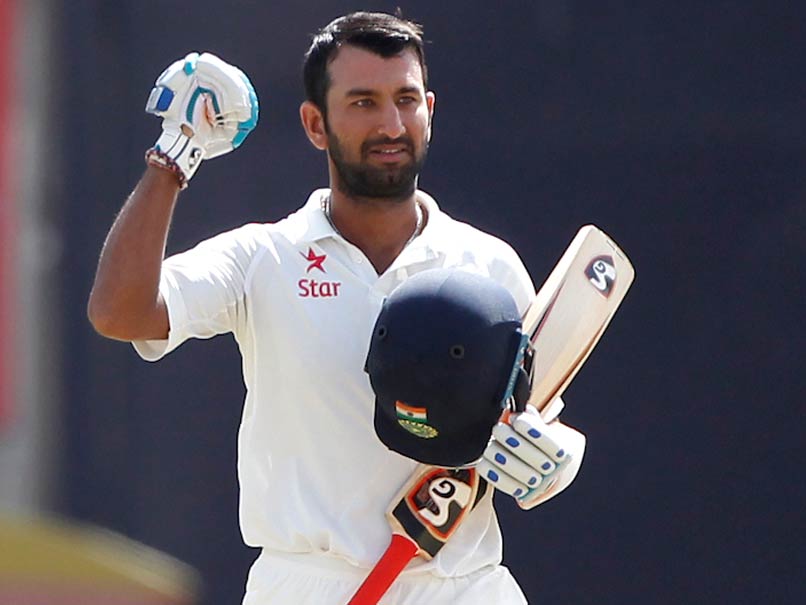 Cheteshwar Pujara scored 405 runs in four matches against Australia
© AFP
Batting legend Sachin Tendulkar showered accolades on batsman Cheteshwar Pujara and fast bowler Umesh Yadav for their performances in the recently concluded series against Australia. He called Pujara a 'silent warrior' for the quiet manner in which he goes about his business of grafting long innings in a team full of strokemakers. "Pujara has been a silent warrior, terrific temperament, and somebody again who (is) dedicated, disciplined and focused. I have seen him from close quarters and I was impressed with what I saw, I knew that this guy is there for long time," said Tendulkar.
Pujara was marvellous in the entire year and surpassed Gautam Gambhir's eight-year-old record for the most runs in a home season. Pujara's knock of 202 in the Ranchi Test against Australia turned out to be the longest innings by an Indian in the five-day format. Prior to that, a 92 in the second innings of the second Test in Bengaluru played a key role in India's win.
Tendulkar heaped praise on Umesh Yadav too for his remarkable run in the long home season.
"The way (the) guys have shown discipline and commitment, 13 Test matches in a row, I don't remember anything like that happening during our period and someone like Umesh (Yadav) has played 12 of them, so for a fast bowler it is really taxing, that shows that you are going to work on your body," Tendulkar told reporters late on Thursday night.
The veteran of 200 Tests added, "Umesh is a kind of a bowler who keeps getting better with time, the more he bowls the better he gets. And you could see that, the last innings of the season that he bowled was possibly the best spell."
The 29-year-old pacer from Vidarbha picked up 17 wickets in four Tests against Australia.
Tendulkar said, "I think somebody who bowls good reverse swing will always be effective in India. (The) surfaces, texture, there is reverse swing and it happened in Dharamsala as well. Umesh bowled a couple of damn good reverse swingers."
(With inputs from PTI)