Story Progress
Back to home
As It Happened: Australia vs Pakistan 3rd ODI in Perth
Live cricket score and ball-by-ball commentary from the 3rd ODI match between Australia and Pakistan at the W.A.C.A. Ground, Perth on Thursday.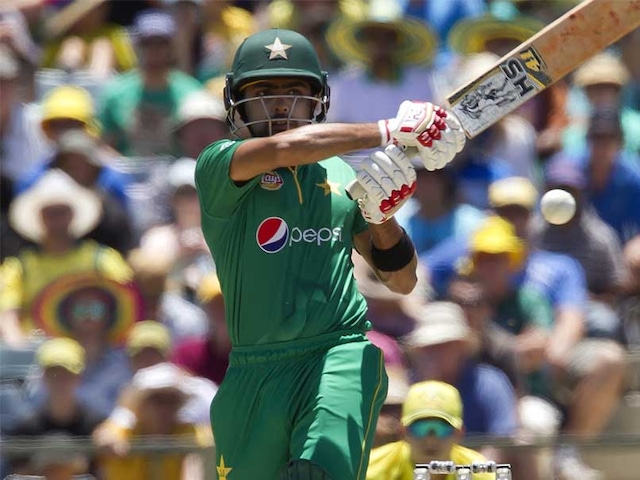 Babar Azam first Pak player to reach 1000 runs in 21 innings
© AFP
Australia captain Steve Smith led by example, smashing an unbeaten 108 against a sloppy Pakistan to secure his team's seven-wicket victory with five overs to spare in the third one-day international in Perth on Thursday. (Scorecard)
Chasing 264, Australia slumped to 45-2 inside 10 overs before Smith and debutant Peter Handscomb added 183 runs to essentially take the game away.
Pakistan are down 1-2 in the five-match series.
Live Score: Australia vs Pakistan
So that's all from this game. We hope you enjoyed our coverage. Join us for the fourth ODI on 22nd January 2017 at 0850 IST. Until then, goodbye and take care!

Man of the Match, Steven Smith says that they bowled really well to restrict the opposition to 263 and then they did well with the bat to chase it down. Admits that Handscomb was lucky and that helps for sure as he has been batting really well and has carried his form from the Test series. Adds that he loves batting at the W.A.C.A and this pitch is special for him. (On his hairband) He replies that it belongs to Adam Zampa and that proved to be lucky for him so he doesn't plan on giving it back to him (smiles). Ends by saying that they will hope to wrap up the series in Sydney.

Mohammad Hafeez feels that they should have scored 300-plus but could not reach there. Adds that they realized quite early that the pitch deserves a 300-plus total. Also says that no balls are a part of the game and that happens with everyone. Finishes off by saying that the next two venues are going to suit their bowlers and they would look to bounce back in the series.

The Australian skipper, Steven Smith once again batted with authority and took the charge of the chase. He notched up his 8th hundred and in the process also completed 3000 ODI runs. As mentioned earlier, Pakistan started superbly with the ball but then failed to maintain the same intensity. Mohammad Amir was the best bowler on show but apart from him, the rest failed to create enough pressure.

Steven Smith joined forces with debutant Peter Handscomb and started the revival. Handscomb was very lucky early in his innings when he was caught on zero but the bowler had overstepped and then the substitute fielder Mohammad Nawaz dropped a straightforward catch at point when he was on 10. The debutant utilized the chances he got and along with his skipper added a big century partnership to throw Pakistan out of the match.

A comprehensive win for Australia and they go 2-1 up in the 5-match ODI series. Chasing 264, David Warner took the hosts off to a flier but then Pakistan bounced back to remove both the openers in quick time. The visiting team bowled superbly to apply pressure early on in the innings but slowly lost the plot.

Junaid Khan to Travis Head

FOUR! AUSTRALIA WIN BY 7 WICKETS! Junaid Khan angles in a full length ball on middle, Head presents the full face of the bat and caresses it down the ground past mid on for the winning runs. Handshakes all around and the players exchange pleasantries.

Junaid Khan to Travis Head

Length ball outside off, cutting back into the left-hander, Head defends it from the crease to the off side.

Junaid Khan to Travis Head

Shortish and outside off, Head cuts it off his back foot to point.

Junaid Khan to Travis Head

An overpitched ball outside off, driven off the front foot to extra cover.

Junaid Khan to Travis Head

Bowls it on a length and wide outside off, Head allows it through to the keeper.

Junaid Khan to Steven Smith

Angles across a good length ball outside off, Smith strokes it off his back foot through covers and picks a single.

Hassan Ali to Steven Smith

Fullish and angling in, Smith gets forward to defend and it comes off the inside edge. Rolls behind square leg and they collect a run. 4 more needed.

Hassan Ali to Travis Head

Short and on middle, pulled through mid-wicket for a run.

Hassan Ali to Travis Head

Tickles it through mid-wicket and collects a couple of runs.

Hassan Ali to Steven Smith

Plays it with soft hands to mid on and scampers across for a single.

Hassan Ali to Steven Smith

FOUR! Boom! Slower short ball on off, Smith gets on top of the bounce and pulls it powerfully through mid-wicket for a boundary. Australia inch closer to 2-1!

Hassan Ali to Steven Smith

Fullish and outside off, Smith lunges and defends it back off the inner half of the bat.

Mohammad Amir to Travis Head

Full and angling back into the batsman from outside off, Head gets forward and defends it to the off side.
Topics mentioned in this article