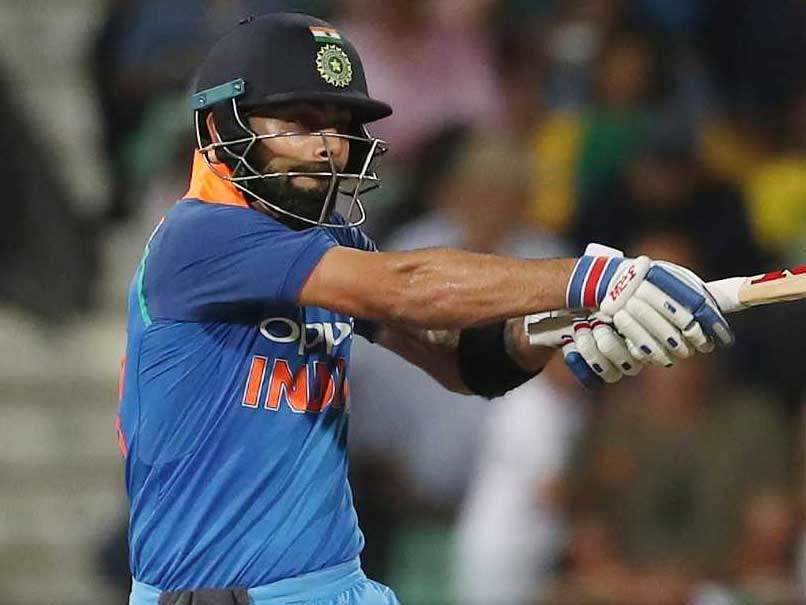 Virat Kohli scored 46* in the second ODI vs South Africa.
© AFP
Captain Virat Kohli continued his solid run with the bat as he remained unbeaten on 46 during India's 9-wicket win over South Africa in the 2nd ODI at the Centurion on Sunday. Kohli's 50-ball stay at the crease comprised four boundaries and a six that he struck immediately after being hit on the ribs by pacer Kagiso Rabada. In the 8th over of India's innings, Kohli under edged a short ball from Rabada on to his ribs. The 29-year-old was in some discomfort and needed a couple of minutes to compose himself before taking guard again. On the very next ball, Rabada fired in another short-pitched delivery. However, Kohli got in position quickly and hooked it for a six, much to the delight of the Indian fans in the crowd.
Good reply! pic.twitter.com/4xtCKzfVqK

— Cricket Videos (@cricvideos5) February 4, 2018
Kohli said after a crushing win that he wanted his match-winning wrist spinners to continue to put pressure on South Africa's batsmen.
Yuzvendra Chahal and Kuldeep Yadav set up a nine-wicket win which gave India a 2-0 lead in the six-match series.
Leg-spinner Chahal picked up a career-best five for 22 and left-armer Yadav took three for 20 as South Africa were bowled out for 118, the lowest total in one-day internationals at the ground.
"We know that their middle order is inexperienced and we want to cash in on that in the future games and put some real pressure on them," said Kohli.
"The way our spinners are bowling I am pretty confident we can continue (with) the same momentum."
Both Indian spinners extracted a surprising amount of turn on a dry pitch which man of the match Chahal admitted was helpful. "We also play in these conditions in India," he said.
Kohli said it had been a complete bowling performance, with new ball bowlers Bhuvneshwar Kumar and Jasprit Bumrah setting the tone.
"They didn't let South Africa get away with scoring too many runs," he said.
"We knew if we got those two at the top, their middle order is inexperienced and a bit shaky," said Kohli.
"The spinners were outstanding. They were getting bounce and pace off the wicket, which worked in our favour."
India came within two runs of winning before lunch when the umpires stuck to the letter of the regulations and insisted on a break after allowing an extra four overs or 15 minutes to achieve a result. India had been 93 for one at the scheduled interval.
Most of a capacity crowd left the ground before Kohli scored the winning runs.
(With inputs from AFP)