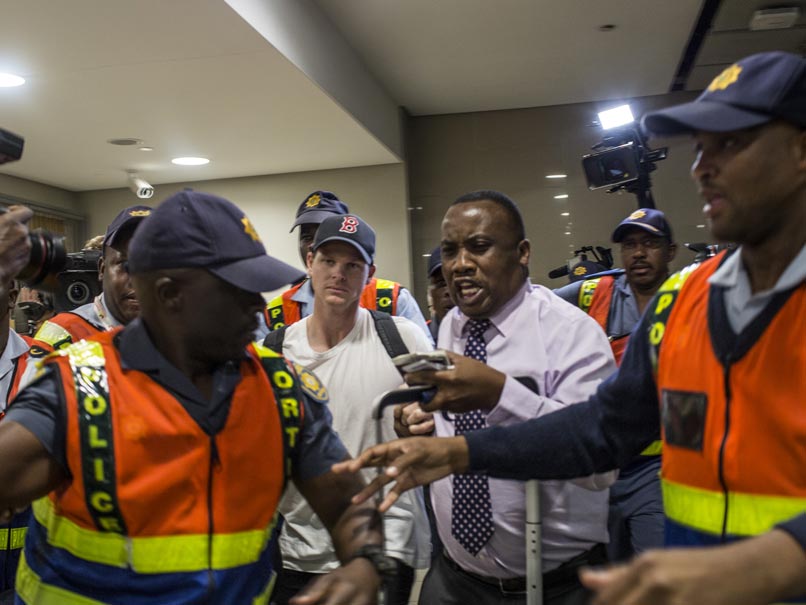 Steve Smith faced humiliating scenes at Johannesburg airport.
© AFP
Former Australia captain Steve Smith faced humiliating scenes on Wednesday as he had to face boos and cries of "cheat" while making his way through Johannesburg airport. The 28-year-old was surrounded with many security officials who were seen holding on to Smith's arms. Former cricketers Kevin Pietersen and Shane Warne objected to the way Smith was treated at the airport and said 'Smith is not a criminal'.
Reacting to Smith's treatment at the Johannesburg airport, Pietersen shared a video on his Facebook page and wrote: "This isn't right. Steve Smith isn't a criminal!"
Warne also said that the punishment handed out to Smith and his two teammates after their involvement in ball tampering was a bit too harsh.
"I am still trying to wrestle with what I think the punishment should be. They have to be harsh, but if they are rubbed out for a year, the punishment does not fit the crime," Warne wrote in his column for The Herald Sun.
Smith, along with David Warner and the young opener Cameron Bancroft were handed bans by Cricket Australia (CA) over a ball-tampering scandal that has left their careers in tatters.
CA banned Smith and Warner for one-year while Bancroft was given a nine-month ban.