Story Progress
Back to home
Table Tennis Player Soumyajit Ghosh Booked For Alleged Rape, Commonwealth Games Participation Under Shadow
An FIR was lodged against Soumyajit Ghosh at West Bengal's North 24 Parganas districts Barasat women's police station.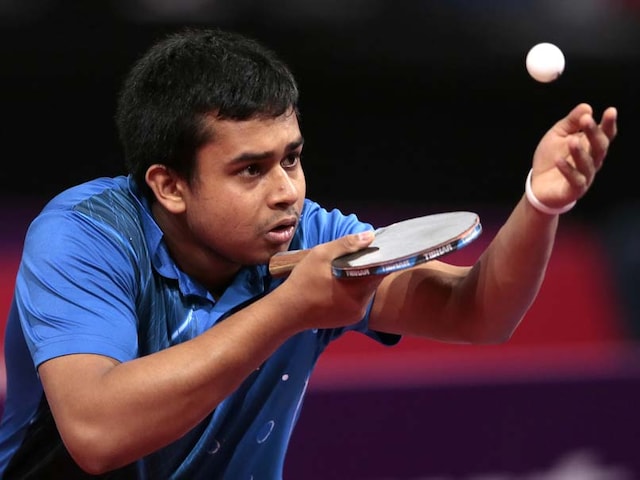 Soumyajit has represented India at the 2012 and 2016 Olympics.
© AFP
Highlights
Soumyajit Ghosh Booked For Alleged Rape

Soumyajit Ghosh denied the allegation

Soumyajit Ghosh is scheduled to take part in 2018 CWG
India table tennis player, Olympian Soumyajit Ghosh was booked on Thursday for allegedly raping a teenager. Soumyajit, India's youngest national champion, however, denied the allegation and said that he will approach the case legally. A First Information Report (FIR) was lodged after an 18-year-old girl filed a police complaint in North 24 Parganas district's Barasat women police station. The victim accused Soumyajit of raping her at her residence in April 2015 on the pretext of marriage. The girl has also claimed that they both were in contact for the last three years when she was a minor.
The girl also added that she did not get any positive response from the table tennis player about their marriage.
Soumyajit has been booked on the charges of rape (Indian Penal Code's Section 376), cheating (IPC 417), causing miscarriage without woman's consent (IPC 313) and under sections of Protection of Children from Sexual Offences (POCSO) Act.
Soumyajit, who is training in Germany for the April 4 to 15 CWG in Gold Coast, is set to be dropped from the national team, Table Tennis Federation of India (TTFI) Secretary MP Singh told PTI.
Commenting on the incident, TTFI secretary-general, MP Singh said that a meeting of the executive board will decide whether the table tennis player is to be suspended or not.
"The charges are very serious against Soumyajit. I have called an executive committee meeting tomorrow. In my opinion, we have no option but to suspend him pending further investigations. Sanil Shetty has been in the reserves and will be his replacement for the Gold Coast Games," said Singh.
Soumyajit denied the allegations, saying that the accuser has been blackmailing him after their relationship ended.
"Whatever she is saying is false as I haven't done anything wrong, we were together but then I wanted to focus on my career so I told her 'it is very difficult to be with you'," Soumyajit said.
The other members of the Indian table tennis squad are G Sathiyan, A Sharath Kamal, Anthony Amalraj and Harmeet Desai.
However, a replacement for Soumyajit may not be approved after the Indian Olympic Association President Narinder Batra said the Commonwealth Games Federation won't allow any such move.
"The matter has not reached the IOA yet but as far as I know, the rule states that a replacement would only be allowed if a particular player sustains injury or falls ill," Batra said.
Claiming innocence, the paddler said the girl has been blackmailing him for money and the allegations were a ploy to ruin his career.
"After I broke things off with her, she started blackmailing me, my family and my friend circle. From the last one and a half year, she has been trying to threaten and blackmail us.
"I don't know what happened, I think this is part of a plan just before I am to leave for the Commonwealth Games. She is doing this to ruin my career," he said.
Soumyajit also stated that he has not got any word from the TTFI on his impending suspension.
Promoted
"I have not got any information about my suspension and will have to talk to the Table Tennis Federation of India," Soumyajit said.
(With inputs from agencies)
Topics mentioned in this article