Story Progress
Back to home
Commonwealth Games 2018: India At Gold Coast, Day 9
Sushil Kumar was a star on display for India on Day 8 of competitions at the Commonwealth Games 2018 at Gold Coast as he claimed his third straight CWG gold. Rahul Aware also came to the party with a gold of his own as the Indian kitty saw the addition of a silver from Babita Kumari and a bronze medal from Rinku on the women's side. With more events lined up on Day 9, India would be all geared up for more success.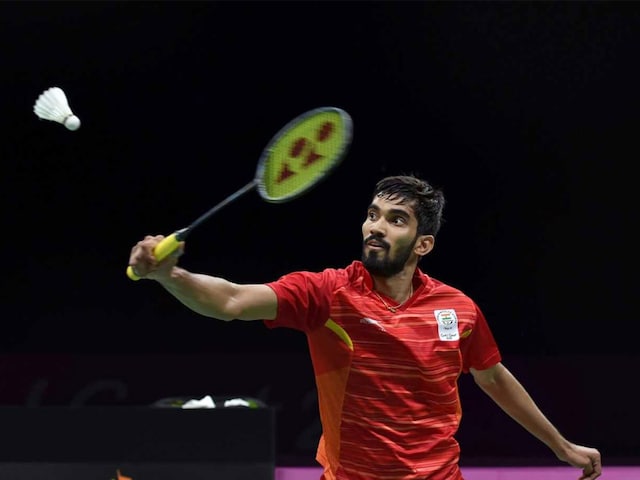 World No.1 Kidambi Srikanth will take on Zin Rei Ryan Ng in the quarter-final
© PTI
Highlights
India hockey team will take on New Zealand in the men's singles final

Kidambi Srikanth will play Zin Rei Ryan Ng in the quarter-final

PV Sindhu will play Brittny Tam of Canada in the women's quarter-final
Following is the Indian participation on Day 9.
Athletics:
Neeraj Kumar: Men's Javelin Qualifying Round - Group 1 (05.30 IST);
Purnima Hembram: Heptathlon (06.00 IST);
MEDAL ROUND: (15.43 IST)
Vipin Kashana: Men's Javelin Qualifying Round - Group 2 (06.40 IST);
Jinson Johnson: Men's 1500m Round 1 - Heat 2 (07.16 IST);
India (Jacob Amoj, Jithu Baby, Jeevan Karekoppa Suresh, Kunhu Mohammed Puthapurakkal, Arokia Rajiv, Muhammad Anas Yahiya): Men's 4x400m Relay Round 1 - Heat 2 (07.45 IST)
Badminton:
Kidambi Srikanth vs Zin Rei Ryan Ng (Singapore): Men's Singles Quarter-final;
PV Sindhu vs Brittny Tam (Canada): Women's Singles Quarter-final;
India (Ashwini Ponnappa, Satwik Rankireddy) vs Malaysia: Mixed Doubles Quarter-finals;
HS Prannoy vs TBD: Men's Singles Quarter-finals;
Ruthvika Gadde vs TBD: Women's Singles Quarter-finals;
Saina Nehwal vs TBD: Women's Singles Quarter-finals;
India (N Sikki Reddy, Pranaav Chopra) vs TBD: Mixed Doubles Quarter-finals
Boxing:
Amit vs Juma Miiro (Uganda) Men's 46-49 kg Semi-final 2 (08.47 IST);
Gaurav Solanki vs MV Ishan Bandara (Sri Lanka): Men's 52 kg Semi-final 1 (09.02 IST);
Manish Kaushik vs James McGivern (Northern Ireland): Men's 60 kg Semi-final 1 (09.32 IST);
Naman Tanwar vs James Whateley (Australia): Men's 91 kg Semi-final 1 (10.32 IST);
Hussamuddin Mohammed vs Peter McGrail (England): Men's 56 kg Semi-final 2 (15.17 IST);
Manoj Kumar vs Pat McCormack (England): Men's 69 kg Semi-final 2 (15.47 IST);
Vikas Krishan vs Steven Donnelly (Northern Ireland): Men's 75 kg Semi-final 2 (16.02 IST);
Satish Kumar vs Keddy Agnes (Seychelles): Men's 91 kg+ Semi-final 1 (15.02 IST)
Hockey:
India vs New Zealand: Men's Semi-final (15.00 IST)
Lawn Bowls:
India (Lovely Choubey, Rupa Rani Tirkey) vs Malaysia: Women's Pairs Quarter-final (04.31 IST);
India (Dinesh Kumar, Chandan Kumar Singh, Sunil Bahadur, Alok Lakra) vs Norfolk Islands: Men's Fours Section B - Round 5 (04.31 IST);
India (Dinesh Kumar, Chandan Kumar Singh, Sunil Bahadur, Alok Lakra) vs Wales: Men's Fours Quarter-finals (08.00 IST);
Shooting:
Anjum Moudgil, Tejaswini Sawant: Women's 50m Three Position Qualification (04.00 IST);
FINAL (07.00 IST)
Anish, Neeraj Kumar: Men's 25m Rapid Pistol Qualification - Stage 2 (04.30 IST)
FINAL (09.00 IST);
Seema Tomar, Shreyasi Singh: Women's Trap Qualification
FINAL (11.25 IST);
Kynan Chenai, Manavjit Sandhu: Men's Trap Qualification Day 1 (05.00 IST)
Squash:
India (Joshna Chinappa, Dipika Pallikal) vs Canada: Women's Doubles Quarter-final (06.30 IST);
India (Vikram Malhotra, Ramit Tandon) vs England: Men's Doubles Quarter-finals (08.30 IST);
India (Dipika Pallikal, Saurav Ghosal) vs New Zealand: Mixed Doubles Semi-finals (13.30 IST)
Table Tennis:
India (Achanta Sharath Kamal, Sathiyan Gnanasekaran) vs England: Men's Doubles Quarter-final 1 (05.00 IST);
India (Harmeet Desai, Sani Shankar Shetty) vs Australia: Men's Doubles Quarter-final 3 (05.00 IST);
India (Achanta Sharath Kamal, Mouma Das) vs Canada: Mixed Doubles Quarter-final 2 (06.10 IST);
India (Madhurika Patkar, Sanil Shankar Shetty) vs England: Mixed Doubles Quarter-final 3 (06.10 IST);
India (Manika Batra, Sathiyan Gnanasekaran) vs Singapore: Mixed Doubles Quarter-final 4 (06.10 IST)
India (Sutirtha Mukherjee, Pooja Sahasrabudhe) vs Singapore: Women's Doubles Semi-final 1 (07.20 IST);
Harmeet Desai vs Quadri Aruna (Nigeria): Men's Singles Quarter-final 1 (07.55 IST);
Achanta Sharath Kamal vs Liam Pitchford (England): Men's Singles Quarter-final 2 (08.40 IST);
Sathiyan Gnanasekaran vs Samuel Walker (England) Men's Singles Quarter-final 4 (12.00 IST)
Women's Doubles GOLD MEDAL MATCH (15.35 IST)
Wrestling
Bajrang vs Brahm Richards (New Zealand): Men's Freestyle 65 kg Quarter-final;
Semi-final;
Bronze medal match;
FINAL (Time TBD);
Divya Karan vs Gaelle Alakame Anzong (Cameroon); Women's Freestyle 68 kg Group B;
Mausam Khatri vs Alexios Kouslidis (Cyprus): Men's Freestyle 97 kg Semi-final;
Bronze medal match;
FINAL (Time TBD);
Pooja Dhanda vs Emily Shaefer (Canada): Women's Freestyle 57 kg Group B;
Divya Karan vs Daniella Lapage (Canada): Women's Freestyle 68 kg Group B;
Semi-final;
Bronze medal match;
FINAL (Time TBD);
Pooja Dhanda vs Ana Moceyawa (New Zealand): Women's 57 kg Group B;
Semi-final;
Bronze medal match;
FINAL (Time TBD);
*Schedule and timings as per gc2018.com website
Topics mentioned in this article