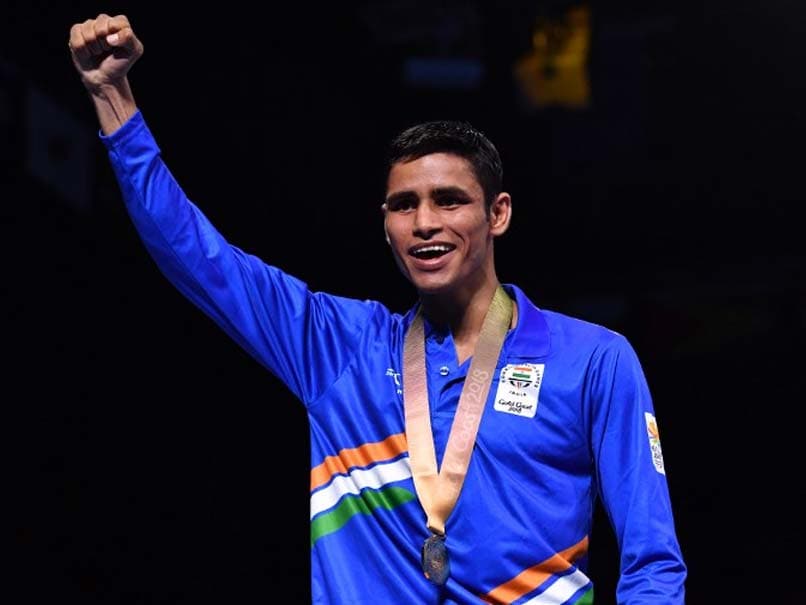 Gaurav Solanki beat Northern Ireland's Brendan Irvine to clinch the gold medal.
© AFP
Indian boxer Gaurav Solanki won the gold medal in the men's 52kg category at the 2018 Commonwealth Games in Gold Coast, Australia on Saturday. Solanki won a tough, fast paced, tactical battle by a split 4 to 1 verdict against the impressive Brendan Irvine of Northern Ireland in the final. Meanwhile, India's Manish Kaushik (60kg) and Amit Panghal (46-49kg) had to be content with silver after losing the final bouts of their respective weight-class. Kaushik narrowly went down to Harry Garside of Australia in a very competitive final while Amit lost to Galal Yafai of England.
Solanki provided the golden touch, pulling it off 4-1 over Northern Ireland's Brendan Irvine. The Indian lost the third round but did just enough in the first two to walk away with a gold medal on his debut at the Games.
"Today I'm dedicating my medal to my mum, but I want to represent India at the (Tokyo) 2020 Olympics and to be there when they raise the Indian flag," the 22-year-old said looking ahead.
However, luck was not on side of either Amit or Manish, both of whom went down in split verdicts.
Amit, who was chasing his third successive international gold, was beaten by England's European silver-medallist Galal Yafai.
"I am disappointed with the result. I thought it was 50-50 bout," Amit said after his loss.
Manish, on the other hand, lost 2-3 to local favourite Harry Garside, again on a split decision. Both the boxers gave their all in the bouts but could not get the judges' nod.
(With PTI Inputs)