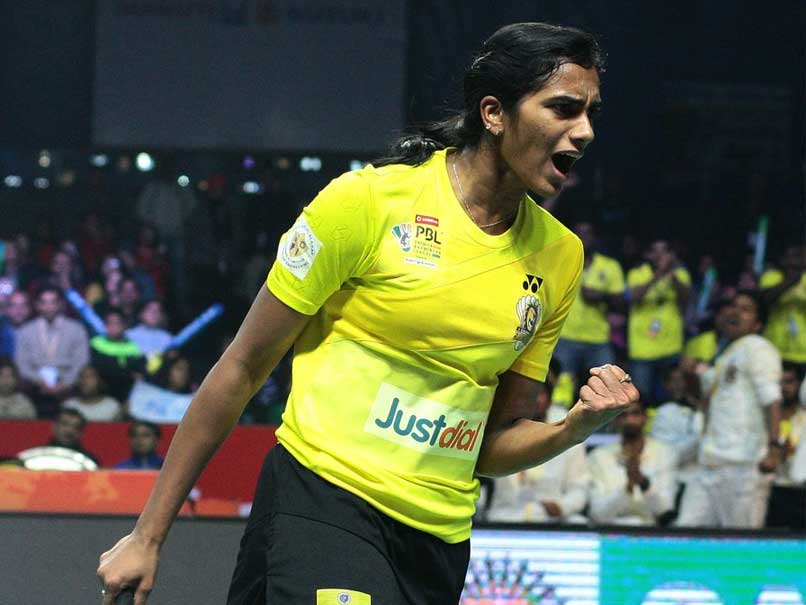 PV Sindhu led her team Chennai Smashers to win the 2017 PBL title on Saturday.
© PBL/Twitter
After overcoming Saina Nehwal-led Awadhe Warriors in the Premier Badminton League semifinal, Chennai Smashers defeated the Mumbai Rockets 4-3 in the 2017 edition final to lift the title at the Siri Fort Sports Complex in New Delhi on Saturday.
22:06 hrs IST: Chennai lead 9-3!
22:03 hrs IST: Chennai lead 6-3 at the break!
22:02 hrs IST: Tanongsak is 2-0 ahead in the most decisive game of the tournament
22:00 hrs IST: Ajay just gave the game away. All to play for in the final game of the tournament
21:58 hrs IST: Too many errors from Ajay helps Tanongsak win the second game to level the match
21:55 hrs IST: Tanongsak leads 6-3 at the break in the second game
21:53 hrs IST: As high voltage the match was between Kashyap and Prannoy, this one is turning out to be a disappointment with erratic and error prone play from both players
21:52 hrs IST: Tanongsak does not look in his elements this evening
21:50 hrs IST: If Ajay wins this it will be a stunning comeback victory from the Mumbai Rockets
21:47 hrs IST: Jayaram wins the first game 11-9 and the Rockets are just one game away from victory
21:45 hrs IST: Both teams and their supporters are relying on these two players to do the job which will give them the title
21:40 hrs IST: Tanongsak being a left-hander could be a little difficult to tackle for Jayaram
21:35 hrs IST: Ajay Jayaram takes a slender 4-3 lead in the opening game.
21:31 hrs IST: All too play for and all the pressure in this final match of the tournament. Tanongsak Saensomboonsuk (Chennai Smashers) vs Ajay Jayaram (Mumbai Rockets) next up
21:28 hrs IST: And Prannoy wins it to remain unbeaten and level the contest to 3-3. Kashyap fought well but the better player won on the day
21:24 hrs IST: Unbelievable commitment from Kashyap who is down 6-8 in the third game
21:20 hrs IST: Kashyap looks very uncomfortable! His arm movement is restricted but three errors from Prannoy has made the Hyderabad lad come back
21:16 hrs IST: Scintillating to watch these two friends fight it out in what is a fantastic match. Prannoy leads 4-2. Kashyap is back after being tended to.
21:13 hrs IST: Oh! Kashyap is hurt. She fell to pick up the bird but also injured himself. Seems to have hurt his shoulder.
21:10 hrs IST: If Kashyap wins this game Chennai Smashers will take the title
21:07 hrs IST: Kashyap wins the second game 11-8 to draw level in the contest
21:04 hrs IST: Tremendous badminton from Kashyap to fight back from nowhere to lead 7-4 in the second game
21:01 hrs IST: Kashyap is fighting hard but not being able to match the pace and fitness of Prannoy
20:58 hrs IST: Prannoy is diving and getting up like the legendary Lee Chong Wei. Superb commitment! 
20:55 hrs IST: And Prannoy is a man in form! Wins the game 11-4! Total dominance!
20:52 hrs IST: Prannoy is dominating the proceedings to rally to a 6-1 lead in the first game
20:47 hrs IST: Mumbai Rockets are happy, aren't they to finally win a match
20:45 hrs IST: If Kashyap wins then Chennai Smashers will clinch the title but if Prannoy extends his unbeaten streak to 7-0 then the tie will go down to the fifth and final contest
20:43 hrs IST: Next up is a clash between two friends and rivals as Parupalli Kashyap of the Chennai Smashers will take on HS Prannoy of the Mumbai Rockets in the first men's singles clash
20:40 hrs IST: The trump match can easily turn around things
20:38 hrs IST: However, Chennai still lead the tie 3-2
20:35 hrs IST: And the Rockets clinch this match 12-10, 11-6 to comeback into the contest
20:30 hrs IST Lee Yong Dae is clearly the difference between the two teams here as he is helping Mumbai fight back into this match
20:27 hrs IST: Mumbai look well on their way to win this clash!
20:24 hrs IST: Close game but Mumbai Rockets bag their first game of the tie 12-10!
20:20 hrs IST: Neck and neck fight between the two teams in this game
20:15 hrs IST: Good fight taking place between the two teams at present
20:11 hrs IST: Next up is Mumbai Rockets' trump match as Lee Yong Dae and Nipitphon are taking on Chris Adcock and Mads Kolding in the men's doubles encounter
20:06 hrs IST: If Chennai Smashers win the next match then they win the title!
20:03 hrs IST: Sung Ji Hyun fought well but Sindhu had the final laugh as she wins the match 11-8, 11-8
20:01 hrs IST: Brilliant court coverage from both players and fantastic action. This is a treat to watch
19:58 hrs IST: Fantastic smashing prowess shown by Sindhu as she leads 6-5 at the break in the second game
19:55 hrs IST: And Sindhu has won the first game 11-8!
19:53 hrs IST: Lovely touch play from Sindhu. She is dominating the match with ease
19:50 hrs IST: Some fantastic rallies! Sindhu is increasing her pace with every shot 
19:45 hrs IST: Brilliant play from Sung Ji Hyun. What a deceptive cut drop to take her first point of the match
19:41 hrs IST: And it starts!
19:38 hrs IST: Interestingly Sindhu had won the previous encounter between the two when they met during the group stage
19:35 hrs IST: So both players are in form and this is going to be one exciting match
19:32 hrs IST: While Sindhu defeated Saina Nehwal in the semis on Friday, Sung ousted reigning Olympic champion Carolina Marin
19:30 hrs IST: It will be PV Sindhu vs Sung Ji Hyun for the second clash which will be a women's singles match
19:26 hrs IST: And they win it! The Adcocks have won the trump match for the Smashers and the Chennai-based team have taken a 2-0 lead!
19:23 hrs IST: What a comeback by the Adcocks in this game.. five straight points to lead 9-6!
19:19 hrs IST: Mumbai are fighting back in the second game by taking a 4-1 lead!
19:15 hrs IST: Fantastic drop shot from Adcock to take the first game 11-9!
19:10 hrs IST: This is what they are playing for!
19:07 hrs IST: A competitive equal match so far with Chennai leading Mumbai 5-4
19:03 hrs IST: And the first point of the final goes to the Adcock couple!
18:59 hrs IST: And the first match will be a trump match for the Chennai Smashers as Chris and Gabrielle Adcock will take on Mumbai Rockets' Nipitphon P and Nadiezda Zieba in the mixed doubles clash
18:55 hrs IST: This is what the two teams will be playing for this Saturday evening
18:50 hrs IST: Mumbai Rockets on the other hand needed just two matches to move past the Carolina Marin led Hyderabad Hunters in the other semifinal
18:45 hrs IST: In the semifinal on Friday, the team from Chennai easily defeated led Awadhe Warriors as PV Sindhu beat senior colleague Saina Nehwal for the first time in her career
18:40 hrs IST: Mumbai Rockets finished the PBL group stage in second place with 19 points while the Smashers were third with 18.
18:35 hrs IST: Chennai Smashers will take on Mumbai Rockets in what is expected to be a high octane clash
18:30 hrs IST: Hello and welcome to the live blog of the Premier Badminton League final
PV Sindhu has been in a good run of form in recent months, but if she comes up against Sung Ji-Hyun in the final, it will be anything but easy for the Indian badminton star.
Sung has emerged as one of the world's best in recent times, and a possible encounter against Sindhu will be eagerly followed by badminton fans across the country.
With all the singles encounters likely to be very close, the teams could use the doubles ties as their trump matches.