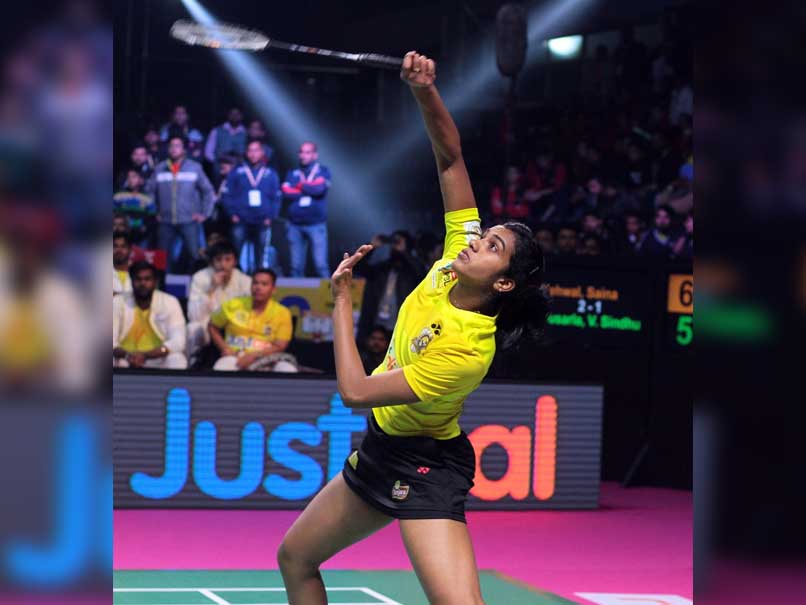 PV Sindhu defeated Saina Nehwal for the first time in her life in any tournament.
© NDTV
After almost two weeks of high octane action, the finalists of the Premier Badminton League (PBL) have been decided and it will be Chennai Smashers who will take on Mumbai Rockets in the summit clash at the Siri Fort Sports Complex in New Delhi on Saturday evening. The Rockets took just two matches out of the available five to finish off the contest.
First up, Sung Ji Hyun defeated reigning Olympic champion Carolina Marin 6-11, 11-6, 11-5 in the opening women's singles clash. This was a trump match for the Hunters which they lost to help the Mumbai-based team to take a 1-(-1) lead.
A little while later, HS Prannoy won his sixth consecutive men's singles match of the tournament when he defeated Sameer Verma of the Hunters 11-5, 15-13. The trump card was played on Prannoy and he made it count as the Rockets took an unassailable lead of 3-(-1) to enter the final.
Earlier in the evening, Rio Olympics silver medallist PV Sindhu produced a disciplined performance to outwit Saina Nehwal in straight games in a much-anticipated encounter as the Smashers entered the final with a 4-1 win over Awadhe Warriors in New Delhi on Friday night.
China Open champion Sindhu, who has never defeated London Olympics bronze winner Saina in a tournament, finally exorcised the ghosts of her losses with a 11-7, 11-8 victory over her senior colleague in a crucial women's singles clash which was Chennai's trump match.
The Warriors then needed to win their men's doubles trump match but V Shem Goh and Markis Kido failed to produce the desired result and went down 3-11, 10-12 to Chennai's Chris Adcock and Mads Pieler Kolding in the final rubber.
Earlier, the Warriors grabbed an early lead against the Smashers with World No.10 Thai pair of Savitree Amitrapal and Bodin Isara defeating Chris and Gabrielle Adcock, the 2014 Commonwealth Games gold medallist pair, 9-11, 11-8, 11-5 in the opening match.
However, Parupalli Kashyap brought Chennai back into the contest as he produced a measured game with controlled aggression to outwit W Ki Vincent Wong 11-4, 11-6 to make it 1-1.
The second men's singles pitted Rio Olympics quarterfinalist Kidambi Srikanth against 2014 World Championship bronze medallist Tommy Sugiarto and the Indian dished out a gritty performance to stave off the challenge from the Indonesian with a 14-12 11-7 win to put Awadhe Warriors 2-1 ahead after the third match.
One is as cool as ice while the other one is on ! Sung Ji Hyun and HS Prannoy played two phenomenal matches! #MUMvHYD#BaddiesAreBack pic.twitter.com/b85wXpJUoy

— PBL India (@PBLIndiaLive) January 13, 2017
Expectations then touched a crescendo as Sindhu and Sindhu took the court with crowd rooting for the two stalwarts in equal measure.
The match started on a pulsating note as Sindhu tried to push Saina at the back of the court and then catch her at the net. Her ploy worked initially as she led 4-2. But, Sindhu committed a series of errors as her miscued drops found the net and also went out as Saina kept breathing down the neck at 5-5.
Saina moved into the break with a slender 6-5 lead after Sindhu hit long.
After the breather, Saina moved into a 7-6 lead before she smashed at the nets to allow Sindhu level the score. Another error in a net dribble and the tables had turned as Sindhu led 8-7.
Saina pushed another one out and then Sindhu caught her opponent at the forecourt to move to game point. Sindhu finally grabbed the opening game after Saina hit wide.
The second game started with the same intensity as Sindhu made her intent clear with a power-packed smash to earn the first point. She hit out next before a forehand return found Saina struggling.
The 26-year old then produced a body smash to make it 2-3 but she once again found the net and Sindhu too produced a superb smash which left Saina stranded.
Sindhu then sent one at the forecourt but she misjudged the shuttle at the baseline but she still led 5-3. Sindhu went into the break with a 6-3 lead after earning a point with her cross court slice.
After the break, Sindhu made another judgmental error at the baseline and then her smash got buried at the net as Saina narrowed the lead to 5-6. What ensued next was a marathon rally consisting of 48 shots. It was Saina who was trying to engage Sindhu in the rally by using tosses at the back court. Eventually, Sindhu managed to win the point with a cross court net return.
Sindhu moved to 9-5 with a deceptive net play after Saina had committed another error. Saina once again narrowed the lead to 8-9 but Sindhu soon produced a cross court smash before a superb drop from the back of the court sealed the issue for her.
"It was a tough match. I could not play my game. I was not moving well. I tried everything but she (Sindhu) played well today," Saina said after the match.
Sindhu said: "I knew it would be an exciting match and it went on well for me. There were rallies but I played a good game. The competition has been tough with Carolina Marin and Sung Ji Hyun also playing well."
(With PTI inputs)