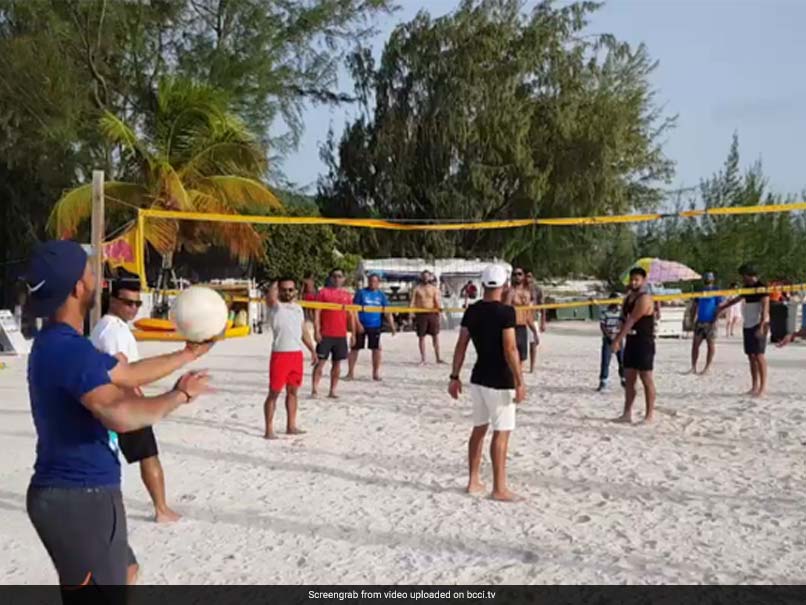 The video features the fun activities the team engaged in before the 3rd ODI.
© BCCI.TV
Team India, it seems, are having a great time in the Caribbean islands where they are playing five One-Day Internationals (ODIs) against the West Indies along with a single T20 international. After the second ODI at the Port of Spain, Dwayne Bravo invited some of the Indian players to his house for dinner. Shikhar Dhawan, who is lately quite active on social media, posted pictures from the evening on his Facebook page. The BCCI on Thursday uploaded on its official Twitter handle a video where the team can be seen taking a day off before they take on West Indies at Antigua on June 30.
The video, which starts in reverse, features the fun activities the team engaged in before the third ODI.
Shikhar's son Zoraver is seen applying lotion on Ajinkya Rahane's face while his wife smiles in amusement. Then they head to a beach and the team plays a game of beach-volleyball. As the sun sets, Hardik Pandya and Dhawan fancy themselves on a jet-ski ride.
MUST WATCH: #TeamIndia's day off at Antigua https://t.co/HuS0uUedCl

— BCCI (@BCCI) June 29, 2017
At the end of the video, Hardik Pandya winds up the day with a message, "A wonderful day with the team which has finally come to an end. Had amazing fun, we played volleyball, rode the jet-ski, got to swim in clear blue water. Some really good memories to take back home."
"That's it from West Indies," Pandya signed off.
India lead the ODI series 1-0 after beating West Indies by 105-runs in the second ODI.