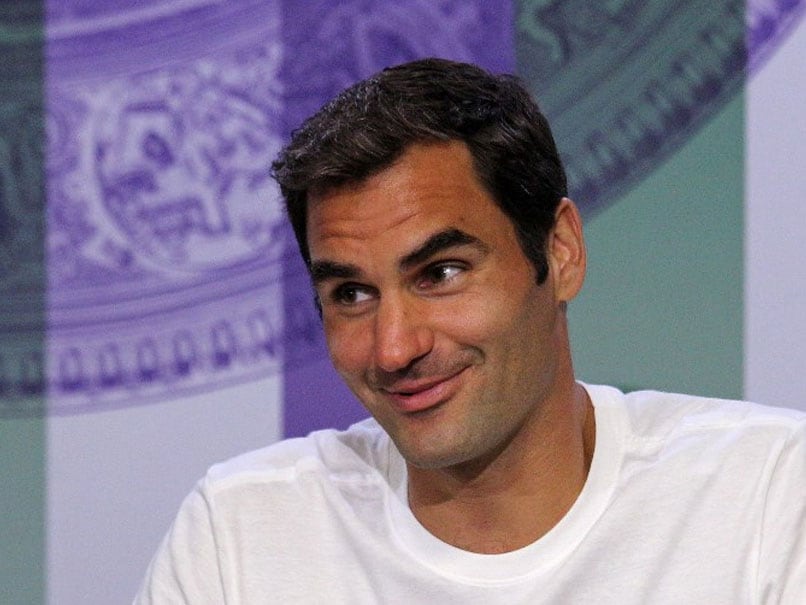 Roger Federer beat Marin Cilic in straight sets to win his eighth Wimbledon title.
© AFP
Roger Federer has been to plenty of Wimbledon Champions' Dinners, the traditional dinner at the end of the grass court Grand Slam which all the winners and esteemed guests attend. On Sunday, after beating Marin Cilic, he got a chance to attend the eighth one in his long tennis career. And this time his partner was Garbine Muguruza, the women's champion who defeated Venus Williams to straight sets to win her maiden Wimbledon. As the ladies final is held a day before the gentlemen's, Muguruza was asked whom she would prefer to dance with at the ball. Her response was "Roger... I want to see if he's that elegant also dancing."
So 23-year-old Muguruza got her wish after Federer's 19th Grand Slam win and she took to micro-blogging site Twitter to ask the Swiss, "@rogerfederer are you ready to dance? #ChampionsDinner" Not one to back down, Federer responded, "Bring it on champ" and also posted a selfie in a suit on way to the traditional event.
@rogerfederer are you ready to dance? #ChampionsDinner

— Garbie Muguruza (@GarbiMuguruza) July 16, 2017
Bring it on, champ @GarbiMuguruza https://t.co/QKwRoCQ3jR

— Roger Federer (@rogerfederer) July 16, 2017
On my way to the @Wimbledon champions dinner pic.twitter.com/J1CLMosSkH

— Roger Federer (@rogerfederer) July 16, 2017
While the Champions' Ball was renamed to Champions' Dinner in the 1970s, it's unknown whether the two singles champions actually danced as that part of the night has supposedly been discontinued.
Remember in 2015 when Novak Djokovic and Serena Williams' boogied to the Bee Gees' Night Fever at the Dinner while guests clapped? That clip had gone viral as fans took to Twitter to express their glee.
The 2017 Singles Champions at last night's Champions' Dinner. #wimbledon pic.twitter.com/PwCHqKUfhB

— Wimbledon (@Wimbledon) July 17, 2017
While Federer came with wife Mirka, Muguruza, who came wearing a white and gold dress, accompanied by coach Conchita Martinez, was all smiles.
Other winners in attendance were mixed doubles champions Jamie Murray and Martina Hingis, women's doubles winners Elena Vesnina and Ekaterina Makarova and tennis legends Virginia Wade and Rod Laver among many others.