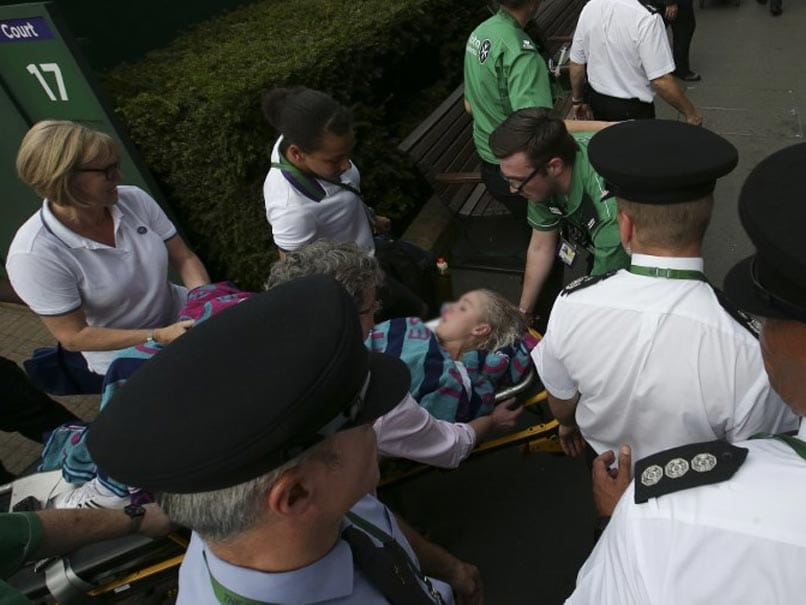 US player Bethanie Mattek-Sands is wheeled away on a stretcher after suffering an injury
© AFP
America's Bethanie Mattek-Sands suffered a horror knee injury at Wimbledon on Thursday which left her screaming and crying in pain in the middle of the court. The 32-year-old collapsed to the ground after damaging her right knee as she approached the net in the first game of the deciding set against Romania's Sorana Cirstea on Court 17. "Please help me, please, please," screamed the 32-year-old in scenes so distressing that television cameras panned away from the stricken player.
Cirstea said she had never seen such an injury.
"I freaked out. I have never seen such an injury before, the knee was really in a bad position. It was like something you see only in the movies," said Cirstea.
"I tried to comfort her but I panicked. I felt useless. All she kept saying was 'Sorana, help me, help me."
"I wish I could have done more. You wouldn't wish that on your worst enemy."
Mattek-Sands's husband Justin tried to console his wife as medics arrived, while Cirstea was distraught and in tears.
After lying prone on the ground for around 20 minutes, Mattek-Sands was eventually stretchered away and taken to a west London hospital where she was said to have suffered "an acute knee injury".
Mattek-Sands's doubles partner, Lucie Safarova, with whom she shares the world number one ranking as well as four Grand Slam titles, also arrived at the scene in tears.
Cirstea, who had dropped the first set 4-6 but took the second 7-6 (7/4), was declared the winner of the second round match.
But she questioned why it took the medical services so long to react to her friend's distress.
- Everyone froze -
"I told them to bring a stretcher because everyone froze, nobody reacted," added Cirstea who said only she, her physio and Justin Mattek-Sands initially raced to the player's assistance.
"She went into shock and it took so long for the medical team to arrive. It felt like forever.
"What if it was a heart attack. You should look at the video and time how long it took. I was there 10 to 15 minutes and the stretcher had still not arrived."
Messages of support poured in for Mattek-Sands, well known on the tour for her flamboyant fashion sense and friendly, easy-going nature.
"I love you @BMATTEK you are the biggest fighter I know and you will come back stronger than ever," tweeted India's Sania Mirza, her former doubles partner.
Wimbledon courts are no stranger to injury controversies.
In 2013, Victoria Azarenka fell heavily, hurting her ankle and blamed the state of the courts.
Maria Sharapova said the surface on Court Two where she lost to Michelle Larcher de Brito was "dangerous" after she fell a number of times.
The 2004 champion required treatment on her hip as a result.
Players were also angry that the stadium microphones had not been switched off.
"Really wish they would turn the cameras and mics off on Bethanie's court," tweeted fellow American player Madison Keys as the shocking images and sounds of her compatriot were played out on the tournament TV screens.