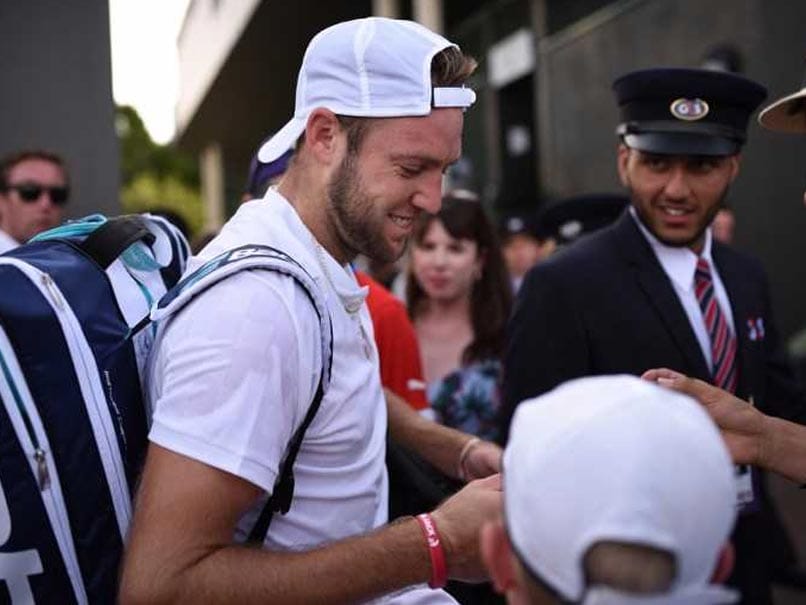 Jack Sock promised to send a towel to the young fan from whose hands it was snatched away.
© AFP
Jack Sock is a nice guy on the ATP Tour. Ask any player or fan and they will all say the same thing. On Wednesday, the American world No 18 became even nicer (if that is possible) when he made a young tennis fan's day. Sock, seeded 17th at Wimbledon, beat Chile's Christian Garin 6-3, 4-6, 7-6 (4), 6-3 on Tuesday in the men's singles first round match. After the win, he threw his used towel towards a young boy, who gestured for it. However, the young fan was left stunned when an older man snatched it away from his hands. Sock took the matter to heart and promised to send the youngster a towel. The Rio Olympic Games mixed doubles gold medallist appealed for help on Twitter, asking for information about the young boy.
If anyone knows the kid that unfortunately had the towel ripped out of his hands...tweet his name at me and I'll be sure to get him one

— Jack Sock (@JackSock) July 4, 2017
Sock's gesture has won immense approval from fans on social media. Twitter has been abuzz, taking the older man in the white hat to task. Andy Murray's mother Judy, too, joined the outrage. Tennis player Rajeev Ram also tweeted his disbelief at what had happened.
If ur the bloke in the blue polo shirt and hat, you should be ashamed...... https://t.co/KlZ250NCQP

— judy murray (@JudyMurray) July 4, 2017
While the 24-year-old American offered to send the young boy a Wimbledon towel, the other three Grand Slam organisers - the Australian Open, Roland Garros and the US Open - decided to send the fan their towels too! Christy, the official towel provider for Wimbledon, also wants to send the unidentified boy a towel gift set.
The Sweaty Slam.

Hats off, @usopen, @AustralianOpen and @rolandgarros - and @JackSock. #littlevictories pic.twitter.com/7bbxzDW5ht

— Michael Beattie (@michaeljbeattie) July 5, 2017
While Sock will play Austrian Sebastian Ofner in the second round on Thursday, the search continues for the young fan while the American goes on winning hearts.
Topics mentioned in this article
Jack Sock
Tennis