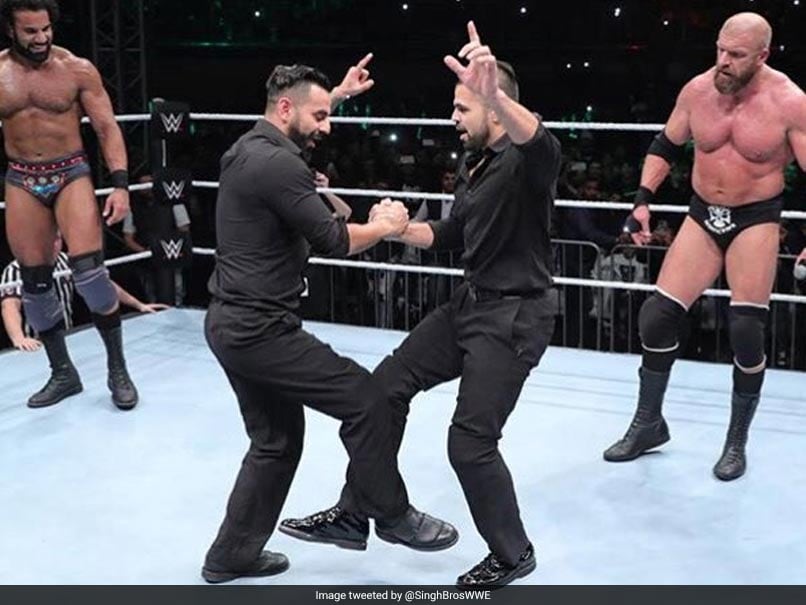 Triple H and Jinder Mahal watch as Singh Brothers showcase their dancing skills.
© Twitter
Triple H lived up to his promise of beating 'The Modern Day Maharaja' Jinder Mahal with a commanding display of wrestling that once again proved to the world that he is the real 'King of the Kings'. Jinder Mahal was beaten in front of his crowd in the WWE Live Event at the Indira Gandhi Indoor Stadium in New Delhi on Saturday night. Even though Jinder Mahal lost, the Indian crowd still cheered and chanted Triple H's name throughout the match and went berserk when he won. 'The Game' (Triple H) must have noticed the fans cheering him on because after the match he had a special treat for them.
The element of surprise came when Triple H and Jinder Mahal did 'Bhangra' together before the former signed off in style with his finishing move, the 'Pedigree'.
You can't leave India without doing the Bollywood Bhangra @TripleH@WWEIndia #WWEDelhi #WWEIndiaLive pic.twitter.com/XYktiuSol6

- Singh Brothers (@SinghBrosWWE) December 10, 2017
The @SinghBrosWWE teaches @TripleH how to dance like a true Indian! Now that was an incredible sight! #WWELiveIndia pic.twitter.com/G8w27fbLH9

- WWE (@WWEIndia) December 9, 2017
As Jinder was walking down the ramp after his defeat, Triple H called out his name and asked him to come back to the ring. He praised the 'Modern Day Maharaja' for putting up a great fight and assured the home audience that India is in the capable hands of Jinder Mahal.
While the crowd cheered for the Indian wrestler, the company COO, Triple H, went on to ask the Singh brothers, Jinder's accomplices, to dance in the ring. Jinder was quick to assess the celebratory mood and urged 'The Game' to join in but the latter refused. However, upon some insistence from the Indian audience, Triple H too got in the act and did some 'Bhangra' with Jinder and the Singh brothers.
And the #KingOfKings @TripleH obliged to @JinderMahal & the @SinghBrosWWE's request! #WWELiveIndia pic.twitter.com/1tJgY7KI22

- WWE (@WWEIndia) December 9, 2017
As the crowd cheered for the 14-time World Champion, he signed off in style as he pedigreed Samir Singh out of the blue and walked off the ramp with his aura leaving a lasting effect on the audience.
The @WWEUniverse in #India bowed down in respect to the #ModernDayMaharaja @JinderMahal, & the Maharaja bowed back in gratitude! #WWELiveIndia pic.twitter.com/5VdlDod8FZ

- WWE (@WWEIndia) December 9, 2017
Jinder, who could not keep his promise to win against the 'Cerebral Assassin' in front of his home crowd, appreciated the fans for their support and assured that even though he lost this time, the next time WWE comes to India, The Modern Day Maharaja will successfully defend the WWE World Champion title.