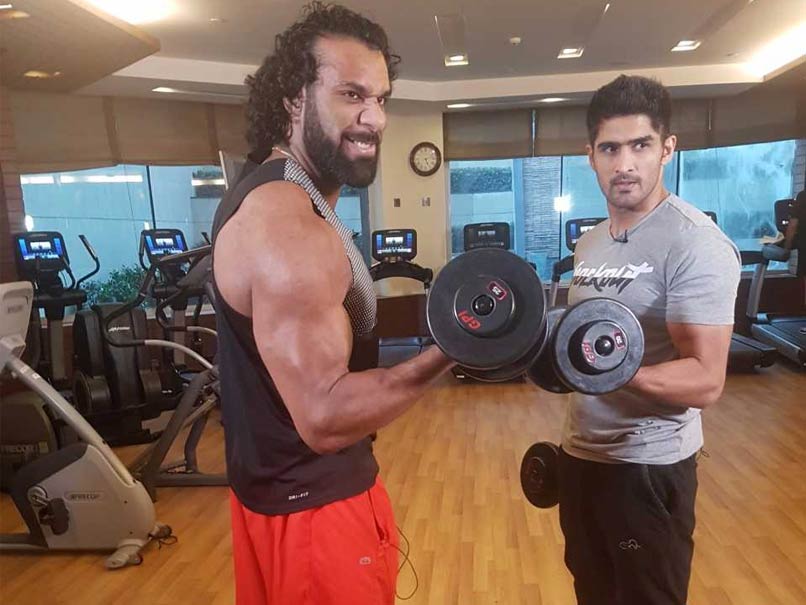 WWE star Jinder Mahal trains with boxer Vijender Singh.
© IOS Boxing
Former World Wrestling Entertainment (WWE) champion, Jinder Mahal trained on Thursday with Indian boxing star Vijender Singh ahead of the much-awaited WWE Live Event match against the WWE legend Triple H. During the training session, Vijender presented Mahal with the first ticket of his upcoming 'Rajasthan Rumble' fight against Ghana's Ernest Amuzu, which will be held in Jaipur on December 23. In reply, Mahal also extended an invitation to Vijender for the former's match against 'The Game', which will be held at the Indira Gandhi Indoor Stadium, Delhi.
Since the match was announced, both Mahal and Triple H wrestlers engaged in a verbal war and warned one another of dire consequences.
Mahal, the 'Modern Day Maharaja', had claimed that even though Triple H is an unstoppable force, the former will become unstoppable when he faces Triple H in his own land and in front of his people.
However, a 14-time world champion was not the one to back down and said that there was only one true king (referring to himself).
"I come there to teach you a lesson that only I can teach. Because when you step into my ring, you are no longer in India, no longer in front of 1.3 billion, you are in my world. And in my world, Jinder, there is only one true king, One King of Kings," Triple H had said.
Only time will tell which one of the superstars will come out on top and reign the ring in India.
The Live Event will also feature a 6-man tag match between WWE's powerhouse trio - The Shield, against WWE RAW Tag-Team champions - Sheamus and Cesaro, and Samoa Joe.
Along with this, Kane will face the 'monster among men' Braun Strowman, while RAW Women's Champion Alexa Bliss will take on Sasha Banks.