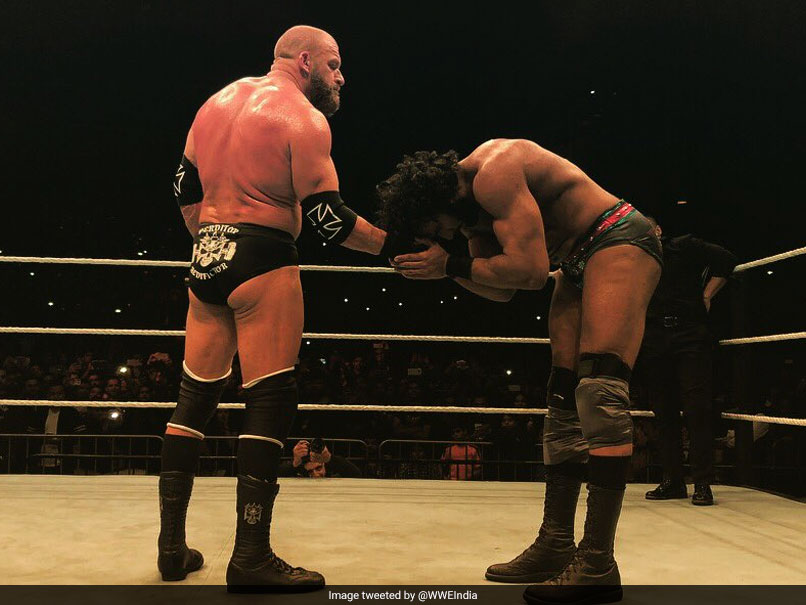 Triple H displayed command as he defeated Jinder Mahal in WWE Live Event.
© Twitter
The Indian audience was treated to one of the biggest sporting spectacles of the year in form of the World Wrestling Entertainment (WWE) Live Event at the Indira Gandhi Indoor Stadium, New Delhi on Saturday. Even though the fans were unhappy at Jinder Mahal's loss against Triple H, other wrestling stars added to the mesmerising effect of the glitzy night. Be it kids, teenagers or adults, everybody enjoyed the night as they cheered their favourite fighters by chanting their names on top of their voices.
Arsh Bharadwaj, a standard XII student of DAV Rohtak, was one of the loudest voices in the whole audience. He led the chants and stitched the audience together.
"I have been watching WWE since I was four but I was a casual fan then. However, since 2004 I developed imminent passion for the sport and have followed it every day," said Arsh on his connection with WWE.
When asked about his parents' reaction Arsh said, "They scold me but it doesn't matter. I keep them happy by studying once or twice a month."
While some of the fans compartmentalise their passion for the sport and work, Arsh is a hardcore fan and makes sure that he doesn't miss any episode.
"On a scale of one to ten, I will rate my passion eleven," he laughed.
"The one thing which drives me towards WWE is nostalgia. I fell in love with it ever since I was very young. Watching Kurt Angle, Batista, John Cena, Randy Orton while I grew up increased my love for the sport," asserted Arsh.
However, Asad Rashid, one of the parents who had brought his son Areeb Asad to the event to fulfil his dream, did not fail to express his displeasure at the masquerade which the company put on.
"I have no interest in WWE fighting and I have never followed it. While we all know that this fight is staged and after watching it live I can say that it is an absolute farce," Asad said.
However, he did not fail to acknowledge the charisma that attracts the crowd.
"Yes, the kids, crowd and my son enjoyed it. And I am glad that he enjoyed it," said Asad with a smile.
While the crowd anticipated that Jinder would trump Triple H, the latter asserted his command over the game and beat Jinder easily to show that he is 'The real king of the kings'.
"Disappointed that Jinder lost but I am still passionate about this sport," Areeb said.
After hosting the WWE Live event successfully for the second consecutive year, the company COO Triple H said that he will try to bring the event again to India.