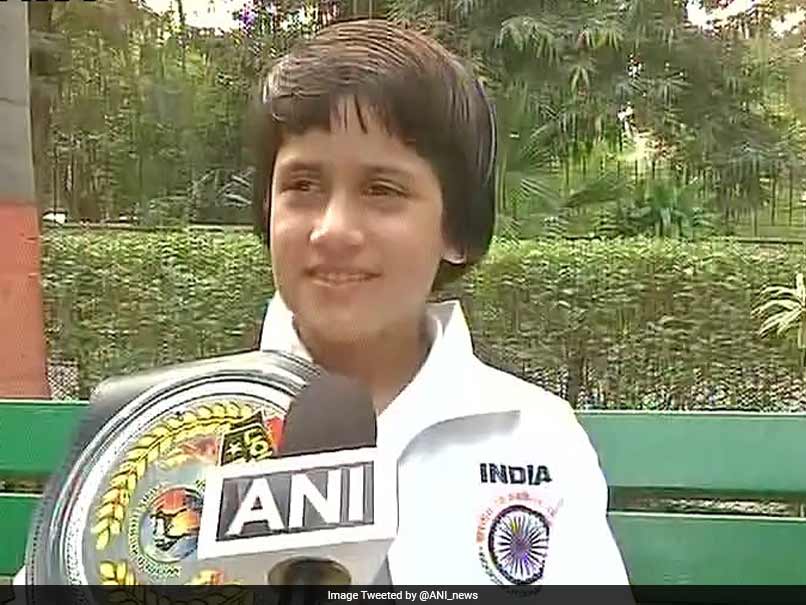 Tajamul Islam shot to fame last year by winning gold in the world kickboxing championship.
© ANI/Twitter
Even as more and more youngsters in Kashmir are making it big in sports, the poor sporting infrastructure in the state has been highlighted its most prominent sports icon, eight-year-old Tajamul Islam, who shot to fame last year by winning gold in kickboxing. Less than a year after she won the gold, the champion has posted a video on social media, which shows the poor condition of her sports academy.
"I am playing at an international level and I need equipment the most. Look at this room, you can see the condition of our training shed, you will feel ashamed to see its condition, the rain water trickles down in the shed and makes the ground uneven. One can't practice in winters", Tajamul, who won gold in the sub-junior category of the World Kickboxing Championship in Italy last year, says in her video message.
The sports icon from Kashmir highlighted poor infrastructure, lack of equipment and absence of good coaches. She trains in a private sports academy -- there is not a single indoor stadium in her hometown at Bandipore in North Kashmir.
"Government couldn't provide us an indoor stadium, we had asked for a stadium and equipment for our academy, but nothing was given to us," Tajamul adds. "They made tall promises, but nothing was done on the ground."
She had scripted history at the world championship and has become a role model for many in Kashmir. The indoor stadium in Srinagar sees 50 children, most inspired by Tajamul, learning kickboxing. They too share the same concerns.
"We get fall and get hurt here while kicking, we need mats and other equipment for training," said kickboxer Bihijat Amin.
The Jammu & Kashmir government has stepped in after Tajamul's video went viral on the social media. It says it is improving the sports infrastructure across the state and Tajamul's concerns are being addressed on a priority basis.
"What Tajamul has said is very legitimate, we will not take any offence to the argument, but her commitment and concerns will be addressed," said Waheed Parra, Secretary, J&K Sports Council.
Revival of sports activities has been a focus area of the government to bring youth back into the mainstream, but when complaints of this nature come from a sports icon like Tajamul, one can well imagine the situation on the ground and how much more is needed to change it.