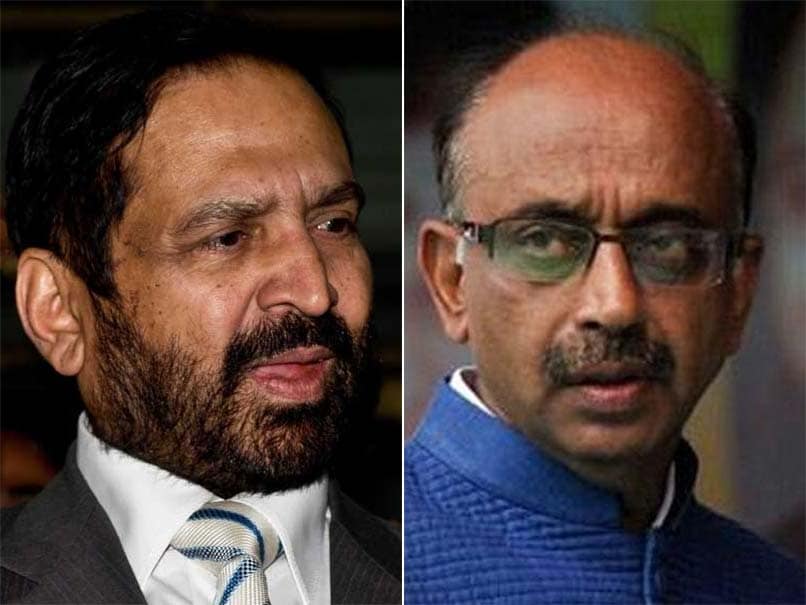 Sports Minister Vijay Goel (R) has slammed IOA's decision to name Suresh Kalmadi its lifetime patron.
© NDTV
Sports Minister Vijay Goel has said it is "totally unacceptable" that Suresh Kalmadi, a politician accused of several offences in the 2010 Delhi Commonwealth Games scam, has been appointed lifetime president of the Indian Olympic Association along with another politician Abhay Chautala. Mr Chautala is involved in a disproportionate assets case, registered against him by the CBI. "I will look into it. It is a serious issue," the minister told NDTV.
On Tuesday, in a shocking development, the Indian Olympic Association named Suresh Kalmadi and Abhay Singh Chautala as its lifetime presidents in its Annual General Meeting (AGM).
"It is totally unacceptable to us as both of them are facing serious corruption and criminal charges," Mr Goel said , pointing that the Indian Olympic Association was suspended by the International Olympic Committee "when Abhay Chautala and Lalit Bhanot were elected as office bearers of IOA and the suspension was lifted only when the two were removed from the management."
Mr Goel said the sports ministry has asked for a complete report on the appointments and will take appropriate action following that.
"We have sought details and on receipt of complete report we shall review the whole situation and take appropriate action. Our government is committed to good governance and transparency in sports. Sports is for public good and sports governance is a public function and, therefore, it is governed by Public law," he said.
"Our government is committed to good governance and transparency in sports."
Before Kalmadi and Chautala, only Vijay Kumar Malhotra, who served as acting IOA chief between 2011 and 2012, was made Life President, according to IOA's official website.
Kalmadi served as IOA president from 1996 to 2011 and was jailed for 10 months for his alleged involvement in the 2010 Delhi Commonwealth Games corruption scandal but was later released on bail.0
(With Inputs from Yash Chawla)