Story Progress
Back to home
Suresh Kalmadi, Accused in CWG Scam, Appointed Indian Olympic Association Lifetime President
The Indian Olympic Association named Suresh Kalmadi and Abhay Chautala as its lifetime patron and president respectively, a move which could trigger major controversy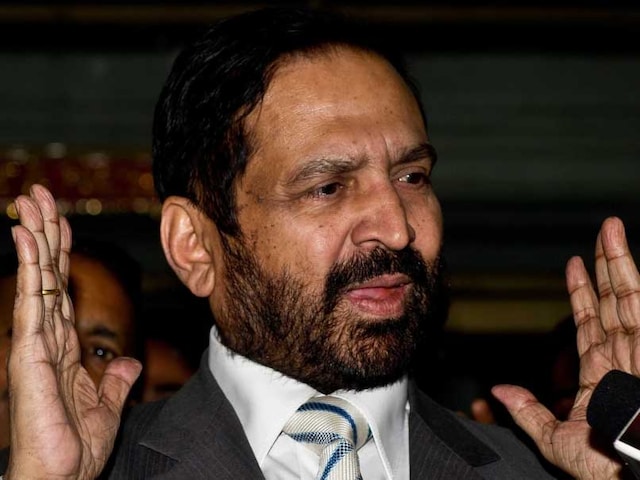 Suresh Kalmadi appointed lifetime patron by IOA
© AFP
Highlights
CWG scam-tainted Suresh Kalmadi appointed IOA lifetime patron

Abhay Chautala appointed as lifetime president of IOA

Suresh Kalmadi is alleged to have been involved in corrupt practices
The Indian Olympic Association (IOA) on Tuesday named Suresh Kalmadi and Abhay Singh Chautala as its lifetime presidents in its Annual General Meeting (AGM), a move that prompted objections from many quarters. Sports Minister Vijay Goel was unhappy at the development and promised to look into the matter.
The announcement was first seen on the IOA's official website after the AGM in Chennai.
Kalmadi served as IOA president from 1996 to 2011 and was jailed for 10 months for his involvement in the 2010 Delhi Commonwealth Games corruption scandal but later released on bail.
'Totally unacceptable'
Sports Minister Vijay Goel said that the appointment was a serious issue. "I will look into it. It is a serious issue," he told NDTV. "It is totally unacceptable to us as both of them are facing serious corruption and criminal charges. In fact, IOA was suspended by IOC when Abhay Chautala and Lalit Bhanot were elected as office-bearers and the suspension was lifted only when the two were removed from the management."
Goel added that the Sports Ministry has asked for a complete report on the appointments. "We have sought details and on receipt of complete report we shall review the whole situation and take appropriate action. Our government is committed to good governance and transparency in sports. Sports is for public good and sports governance is a public function and, therefore, it is governed by Public law," he said.
"Our government is committed to good governance and transparency in sports."
'No clearance needed'
IOA Vice-President Tarlochan Singh however said that the IOA does not need approval from anybody to name any person as its life president and the decision was taken "unanimously" by the General House.
"IOA General Body does not need any clearance from anybody to appoint any person a life president or patron. It was within the rights of the IOA. Moreover, all the past presidents have been made Life Presidents or Patrons," Tarlochan said.
"It was a unanimous decision of the General House of the IOA. A life president is an honorary post. It has no office, no power and does not involved in the day-to-day functioning of the IOA. I don't see any problem in this decision."
Allegations against Kalmadi
The Pune-born administrator Kalmadi, also a former Congress Member of Parliament, was a powerful sports official in his heydays. He was the president of Asian Athletics Association for 13 years from 2000 to 2013. Last year, he was last year named life president of that body.
Kalmadi, now 72, was also a member of the powerful ruling council of the International Athletics Federation (IAAF) from 2001 to 2013.
He has allegedly been involved in corrupt practices surrounding the 2010 Commonwealth Games when he was chairman of Commonwealth Games 2010. 
In June 2015, the scam-tainted Kalmadi was conferred with the Asian Athletics Association (AAA) President's award for his contribution towards the development of athletics in the continent.
Before Kalmadi and Chautala, only Vijay Kumar Malhotra, who served as acting IOA chief between 2011 and 2012, was made the Life President, according to the IOA website.
Chautala's past
Abhay Chautala was elected as a chief of the Haryana Olympic Association (HOA) in November and he was also the Boxing Federation of India (BFI) boss.
Chautala's election to the IOA was the reason why the International Olympic Committee (IOC) suspended the IOA in 2012, since their rules don't allow charge-sheeted individuals to contest.
The 53-year-old Chautala has a disproportionate assets case registered against him by the CBI. He is charged with holding assets worth over five times his income.
Also, Chautala took over as the president of the IOA in 2012 following a controversial election process.
A year later, the IOA amended its Constitution as per directives of the IOC, removing Chautala from the post of president and barring him from contesting future elections.
Promoted
In 2012, the erstwhile Indian Amateur Boxing Federation (IABF) was also terminated for manipulation in elections by the World Body; all this while Chautala was the president.
(With inputs from Yash Chawla and PTI)
Topics mentioned in this article