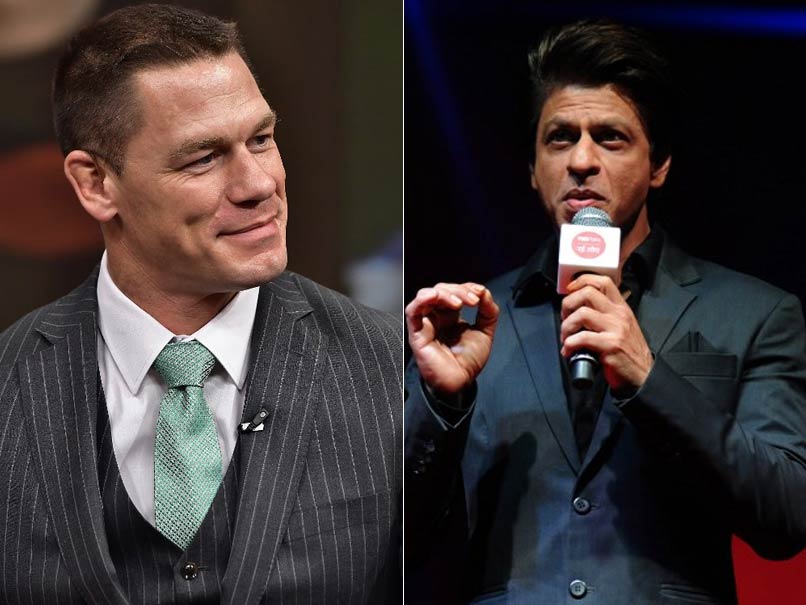 Shah Rukh Khan and John Cena enthralled fans with a light-hearted conversation on Twitter.
© AFP
Shah Rukh Khan is regarded as one of the wittiest actors in the film industry and some of his one-liners to reporters have had fans in a knot in the past. The Baadshah of Bollywood has been in the news off late for his new show TED Talks Nayi Soch. The show's first episode aired on December 10 and has been well received by the Indian audience. However, now it seems besides making an impact in India, the show is even being talked about in foreign lands and that was showcased when WWE star John Cena took to Twitter and posted a link to an article regarding Shah Rukh Khan and Ted Talks India. 
John Cena said he was glad he stumbled on the article.
"This was randomly put up in a small article by @theCHIVE very glad i stumbled across it https://ted.com/talks/shah_rukh_khan_thoughts_on_humanity_fame_and_love?utm_source=twitter.com&utm_medium=social&utm_campaign=tedspread--a … via @TEDTalks," tweeted the WWE star.
Shah Rukh got wind of the post and replied with a hilarious tweet that alluded to Cena's all-famous catch phrase -- "You Can't See Me".
"thx for taking out time to 'See' it. Wish I can 'See u' someday. Love & health to u my man," wrote the 52-year-old Indian star.
While Shah Rukh was quite casual with the WWE star and referred to him is "my man", Cena's reply to the tweet just went on to show the respect Shah Rukh garners worldwide.
"You as well sir. Your perspective on life is one I strive to attain, that, and being visible of course. #Cyberspaceghost," replied Cena.
TED Talks India: Nayi Soch is based on the format of TED Talk conference, which is conducted by media organization TED, in which celebrities from all walks of life share their life-altering experiences.
Meanwhile, Cena had endeared himself to Indian sports fan when he posted took to Instagram and posted a picture of Rahul Dravid with one of his inspirational quotes. 
Cena seems to be quite a cricket fan and even tried his hand at the sport in November. Cena, who was in Australia to promote his film, Ferdinand, visited former Australian cricketer Shane Watson at the Sydney Thunder ground and gave cricket a shot.