Story Progress
Back to home
India vs Bangladesh, Highlights: India Win Nidahas Trophy With Dinesh Karthik's Last-Ball Six
Highlights, India vs Bangladesh, Nidahas Trophy Final: Rohit Sharma-led India face Bangladesh in the final.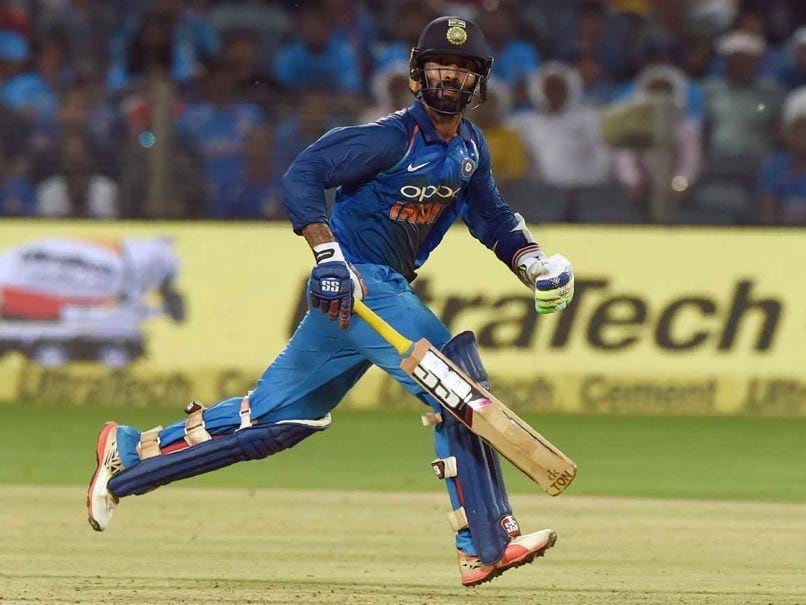 Nidahas Trophy Final: Rohit Sharma-led India beat Bangladesh in the final.
© AFP
Dinesh Karthik produced one of the best knocks of his career and blasted 29 off 8 balls as India beat Bangladesh by four wickets to win the Nidahas Trophy final in Colombo on Sunday. Needing five runs off the last ball, Karthik hit a flat-bat six over extra cover to keep India's T20I record against Bangladesh intact. Karthik single-handedly changed the complexion of the game as he walked out to bat after Manish Pandey's fall and hit two sixes and as many fours in the 19th over to add vital 22 runs to India's score. Earlier, Rohit Sharma brought up his 14th T20I fifty to keep India in the hunt after Shikhar Dhawan and Suresh Raina departed cheaply.
Sabbir Rahman led the way with 77 off 50 balls as Bangladesh posted a competitive 166/8 on the board after being put in to bat by Rohit Sharma in the final of the Nidahas Trophy T20 tri-series at the R. Premadasa Stadium here on Sunday. After losing three early wickets, Sabbir and Rahim orchestrated Bangladesh's recovery before Mahmudullah, Shakib and Mehidy Hasan all played a part to push the score along. In what was a virtual semi-final against the Islanders on Friday, Bangladesh pulled off a brilliant two-wicket win from the jaws of defeat in the final over, which was marred by ugly scenes following the on-field umpires' failure to call the second delivery of the over a no-ball for height. Bangladesh's intent shows that they are eager to win this tournament and have not come here to make up the numbers which India will be well aware of, considering their consistent rise in the shortest format of the game. Going into Sunday's final, India with a second-string team minus regular captain Virat Kohli and veteran Mahendra Singh Dhoni, will hope their skipper Rohit Sharma will lead from the front and replicate his form in their previous encounter against the same opposition on Wednesday. (SCORECARD)
Highlights: India vs Bangladesh, Nidahas Trophy final, straight from R Premadasa Stadium, Colombo
22:38 IST: India beat Bangladesh by 4 wickets.
What an innings from Dinesh Karthik. Hits SIX off the last ball to win it for India.
22:36 IST: WICKET! Vijay Shankar c Mehidy Hasan b Soumya Sarkar 17(19)
22:35 IST: Vijay Shankar gets the much-needed boundary. India need 5 from 2 now.
After 19 overs, India: 155/5
22:30 IST: Dinesh Karthik has changed the complexion of the game.
What a turnaround!
Two SIXES and two FOURS from Dinesh Karthik give hope to India. 22 runs come off the 19th over.
22:23 IST: Manish Pandey c Sabbir Rahman b Mustafizur 28(27)
What an over from Mustafizur at this stage of the game!
22:22 IST: Vijay Shankar is feeling the heat now. Gets a single after 4 dot balls. Unbelievable stuff from Mustafizur.
After 17 overs, India: 132/4
22:16 IST: Too much is happening in Colombo. India cannot afford to lose any more wickets here.
India need 35 runs from 18 balls now.
After 16 overs, India: 123/4
22:10 IST:India need a couple of big over to put the pressure back on Bangladesh. Manish Pandey and Vijay Shankar will have to display nerves of steel to take India over the finish line from here on.
After 15 overs, India: 115/4
22:05 IST: Back-to-back boundaries for Manish Pandey off Sarkar's over.
India need 52 runs in 30 balls
After 14 overs, India: 104/4
22:01 IST:100 up for India in the 14th over. Still, a long way to go!
21:58 IST: WICKET! Rohit c Mahmudullah b Nazmul Islam 56(42)
The pressure got the better of Rohit Sharma as he mistimed the ball and sliced it straight to the fielder at long-on
After 13 overs, India: 97/3
21:55 IST: India have been struggling to find boundaries in the last 3 overs as the required run-rate is increasing rapidly. Another good over for Bangladesh, just 6 runs came off it.
After 12 overs, India: 91/3
21:50 IST: Just 7 runs have come off the last 2 overs for India as they need another 76 from 48 balls.
21:46 IST: Rohit Sharma brings up his 14th T20I fifty.
After 10 overs, India: 84/3
21:40 IST: WICKET! Rahul c Sabbir Rahman b Rubel 24(14)
Rahul could not control the pull as the short ball does the trick for Rubel. Rahul top-edged the ball as the deep square leg fielder grabbed it
After 9 overs, India: 81/2
21:35 IST: Another good over for India. In last 4 over, India have scored 33 runs without losing a wicket.
India require another 86 runs with 8 wickets and 11 overs remaining
After 6 overs, India: 56/2
21:25 IST:50 up for India in the 6th over in pursuit of 167.
After 5 overs, India: 48/2
21:21 IST: Meanwhile, Rohit Sharma becomes the 3rd Indian to score 7000 runs in T20Is
21:19 IST: The fall of wickets on the other ends is making no impact on Rohit Sharma's game. He launched a tossed up delivery sending it out for a SIX over the long-off.
After 4 overs, India: 37/2
21:12 IST: WICKET! Raina c Rahim b Rubel 0(3)
Rubel took a review after his delivery was given a wide and UltraEdge confirmed a bottom edge. Rahim dived to his right to grab the ball sending Raina back for a duck
21:07 IST: WICKET! Dhawan c (sub)A Haque b Shakib 10(7)
Dhawan was beaten by Shakib and gave a leading edge to the fielder at mid-off.
After 2 overs, India: 24/0
21:04 IST: Rohit Sharma is at his imperious best!
He is toying with Mehidy Hasan, 2 SIXES and a FOUR in the over.
21:02 IST: Shakib brings on spin from both the ends early on. Mehidy Hasan gets the new ball.
20:58 IST: Rohit Sharma shows his intent in the first over itself. Plays a lofted shot over mid-on for a FOUR.
After 1over, India: 7/0
20:55 IST:Shikhar Dhawan and Rohit Sharma to start India's chase. Shakib will open the attack for Bangladesh.
20:45 IST: Excellent last over for Bangladesh as they end their innings at with 166/8 with 84 coming off the last 8 overs.India need 167 runs to clinch Nidahas Trophy
20:42 IST:Mehidy Hasan opened the face of the bat for a FOURas Shardul Thakur's knuckleball goes for runs once again.
20:40 IST:150 up for Bangladesh with a lusty blow for SIX off Mehidy Hasan's bat.
After19 overs, Bangladesh: 148/8
20:38 IST: WICKET! Rubel b Unadkat 0(1)
Unadkat is on fire! 2 wickets in the over for him. Cleaned up Rubel with another slower one
20:34 IST: WICKET! Sabbir Rahman b Unadkat 77(50)
Unadkat produced a slower delivery to trick Sabbir Rahman.
After 18 overs, Bangladesh: 145/6
20:30 IST: Sabbir Rahman is pulling off a blinder for Bangladesh.
After surviving a review he brought up back-to-back FOURS off Shardul Thakur's over.
After 17 overs, Bangladesh: 134/6
20:24 IST: WICKET! Shakib run out (Rohit/Vijay Shankar) 7(7)
The most eventful over of the match so far. After Sabbir Rahman hit Vijay Shankar for 2 SIXES, the bowler produced a stunning a run-out.
After 16 overs, Bangladesh: 120/5
20:19 IST: Sabbir Rahman brings up his 4th T20I fifty.
Sabbir Rahman used all his might to send a tossed up delivery from Washington Sundar out of the park for a SIX!
20:13 IST: WICKET! Mahmudullah run out (Karthik/Vijay Shankar) 21(16)
What a blunder!
A horrible mix-up between Sabbir Rahman and Mahmudullah. There was no run there. Vijay Shankar showed some presence of mind and completed the run-out.
20:10 IST: Back-to-back FOURS for Sabbir Rahman as 100 comes up for Bangladesh in the 15th over.
After 15 overs, Bangladesh: 100/4
20:05 IST: From taking too many risks to opening the face of the bat for a FOUR, Mahmudullah is trying everything to score runs here.
After 13 overs, Bangladesh: 90/4
19:58 IST: Decent over from Vijay Shankar at this stage of the game. 10 runs off it.
After 12 overs, Bangladesh: 82/4
19:55 IST:Yuzvendra Chahal is now India's 3rd highest wicket-taker in T20Is
19:50 IST: WICKET! Mushfiqur Rahim c Shankar b Chahal 9 (12b)
Brett Lee has predicted that spin will come into play and Chahal is killing it.
Chahal slowed it down and made Rahim step out as Vijay Shankar covered good ground to take a difficult catch at the backward point.
19:44 IST: Another exceptional over from Chahal, just 4 runs off it.
After 9 overs, Bangladesh: 63/3
19:40 IST: Expensive over from Vijay Shankar, 14 runs came off it, as he was taken to the cleaners by Sabbir Rahman.
After 8 overs, Bangladesh: 59/3
19:35 IST: 50 up for Bangladesh with a SIX off Sabbir Rahman's bat.
Rahman walked down the track and pulled it to the deep backward square fence.
19:28 IST: Exceptional first over from Yuzvendra Chahal, 6 runs and 2 wickets off it.
After 5 overs, Bangladesh: 33/3
19:27 IST: WICKET! Soumya Sarkar c Dhawan b Chahal 1 (2)
Another sweep shot doing the damage for Bangladesh as Sarkar mistimed the ball and hit it straight to Dhawan at backward square
19:22 IST: WICKET! Tamim c SN Thakur b Chahal 15(13)
This has to be Shardul Thakur's wicket. Tamim Iqbal played a lofted shot towards the long-on and Thakur balanced his weight on one leg to get rid of Bangladesh opener.
19:20 IST: Terrific over from Washinton Sundar, just one run and the wicket of dangerous Liton Das.
After 4 overs, Bangladesh: 27/1
19:15 IST: WICKET! Liton Das c Raina b Washington Sundar 11(9)
Liton Das attempted a slog sweep but was tricked by the slow pace. He edged the ball and Suresh Raina caught it at the backward point.
19:14 IST: Manish Pandey saved a sure shot boundary with his exceptional ground fielding but Liton Das opted for the aerial route to get runs. He flexed his shoulder muscles and charged Jaydev Unadkat for a hugeSIX over the sweeper cover.
After 3 overs, Bangladesh: 26/0
19:10 IST: Off-spinner Washington Sundar gets the new ball and produces a good over giving away just 4 runs.
After 2 overs, Bangladesh: 13/0
19:06 IST: A decent first over by Jaydev Unadkat but Tamim Iqbal took advantage of the short fine being inside the ring to fetch a FOUR on the last ball of the over.
After 1 over, Bangladesh: 9/0
19:00 IST: Tamim Iqbal and Liton Das start the proceedings for Bangladesh, Jaydev Unadkat opens the attack for India.
18:40 IST: "I'm a firm believer in putting runs on the board, but we can't do that here, we have seen that teams have won chasing more often", said Rohit Sharma at the toss.
18:35 IST: No changes for Bangladesh.
Bangladesh (Playing XI): Tamim Iqbal, Liton Das, Sabbir Rahman, Mushfiqur Rahim(w), Soumya Sarkar, Mahmudullah, Shakib Al Hasan(c), Mehidy Hasan, Mustafizur Rahman, Rubel Hossain, Nazmul Islam
18:33 IST: One change for India, Jaydev Unadkat in place of Mohammed Siraj.
India (Playing XI): Rohit Sharma(c), Shikhar Dhawan, Suresh Raina, Dinesh Karthik(w), Lokesh Rahul, Manish Pandey, Vijay Shankar, Washington Sundar, Shardul Thakur, Jaydev Unadkat, Yuzvendra Chahal
18:30 IST: India win the toss and opt to bowl
18:20 IST: The two teams have played 7 T20Is to date and the record stands 7-0 in India's favour.
18:08 IST: It has been a sunny day in Colombo and the skies are clear. So, we can hope for an uninterrupted game of cricket.
India's Probable XI: Rohit Sharma (c), Shikhar Dhawan, KL Rahul, Suresh Raina, Manish Pandey, Dinesh Karthik (w), Vijay Shankar, Washington Sundar, Shardul Thakur, Jaydev Unadkat, Yuzvendra Chahal
Bangladesh's Probable XI: Tamim Iqbal, Liton Das, Soumya Sarkar, Mushfiqur Rahim (w), Shakib Al Hasan (c), Mahmudullah, Sabbir Rahman, Mehidy Hasan, Rubel Hossain, Mustafizur Rahman, Nazmul Islam
Promoted
18:00 IST: Hello and welcome to the live updates of the Nidahas Trophy final between India and Bangladesh.
Unlike India's rivalry with Pakistan and Australia, there isn't any significant cricketing history attached to India-Bangladesh matches. But since their 2015 World Cup quarterfinal defeat in Melbourne where they felt a few umpiring decisions went against them, the tiny nation of cricket fanatics consider India to be their biggest on-field rivals. Not to forget a crass advertisement "Mauka Mauka", which was aired before and during 2015 World Cup, something that Bangladeshi fans still consider as an insult. During the same year, India lost an ODI series in Bangladesh and there were some objectionable photo-shopped billboards of Indian players' with heads half-shaved, put out across the streets of Dhaka.
Topics mentioned in this article