Story Progress
Back to home
Memory For A Lifetime: Dinesh Karthik On Last-Ball Six vs Bangladesh
India pulled off an incredible chase beating Bangladesh by four wickets to win the Nidahas Trophy title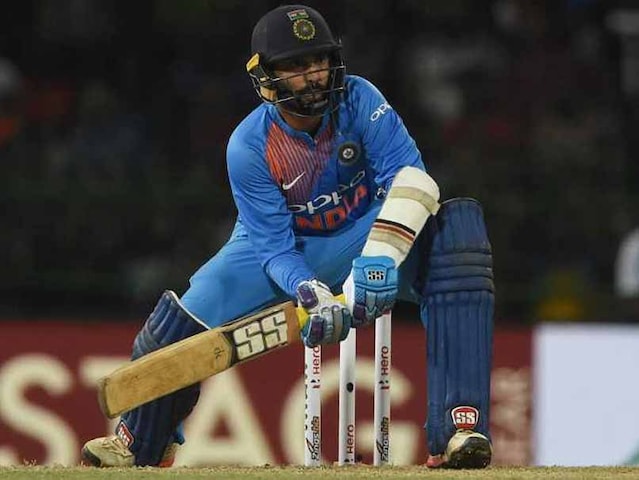 Dinesh Karthik slammed 29 runs off 8 balls in the final of the Nidahas Trophy
© AFP
Highlights
Dinesh Karthik slammed 29 off 8 balls

Karthik was adjudged Man of the Match in the final

India beat Bangladesh by 4 wickets to win Nidahas Trophy
Dinesh Karthik did a Javed Miandad with a last-ball six in the final of the Nidahas Trophy 2018 as India pulled off an incredible chase beating Bangladesh by four wickets to win the title. Needing five off the final delivery, Karthik smashed Soumya Sarkar over extra-cover to secure what would certainly be one of India's most famous last ball sixes. "It's an amazing feeling. These are things which remain in your memory for a lifetime," an ecstatic Karthik told bcci.tv after the end of the Nidahas Trophy final.
Dinesh Karthik relives the night of his life https://t.co/34A4khn7EQ

— Abhishek Mahajan (@Abhishekmonti) March 19, 2018
"It's been a great journey for the past one year and I am very happy to be a part of this. We have put in a lot of hard work and it's good to have won the tournament at the end of it all. I want to thank the support staff for the effort they have put in," the 32-year-old added.
India's 'man of the moment' tried to position himself in the crease pre-empting what Rubel Hossain and Soumya Sarkar would bowl during the final two overs of their Nidahas Trophy triumph.
"At that stage, all I was trying to do was hit a boundary every ball. I was positioning myself on the crease according to what he would bowl. It kind of paid off," the Tamil Nadu cricketer explained.
Karthik expressed his surprise at the number of Sri Lankan supporters, who had turned up to support India.
"We didn't expect so many people to come for India vs Bangladesh final as there weren't too many people during our league phase game. I was really happy with the support and it really helped while batting," Karthik signed off.
(With PTI inputs)
Topics mentioned in this article