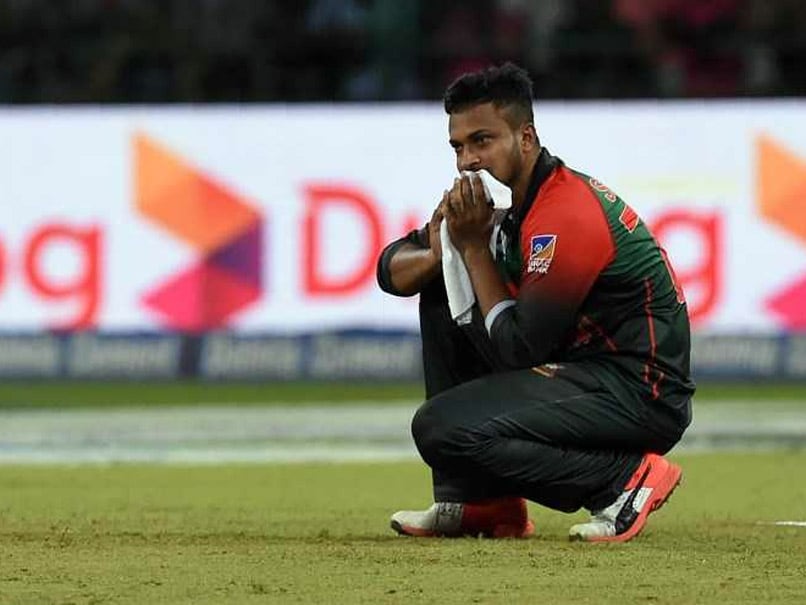 Shakib Al Hasan said that there is no point crying over the heartbreaking defeat
© AFP
Bangladesh were on the verge of their first ever T20I victory against India when Dinesh Karthik's magnificent 29 off eight balls, including 22 runs in the 19th over and a last-ball six, helped the Men in Blue clinch the Nidahas Trophy in a dramatic match at the R Premadasa stadium in Colombo on Sunday. After the loss, Bangladesh skipper Shakib Al Hasan said that there is no point "crying" over the heartbreaking defeat against India and he will rather focus on rectifying the mistakes for future.
Shakib was asked how difficult was it to hide his emotions after the loss. "I actually don't know. There is no point crying about it. Yes, there can be emotions attached to such occasions but there isn't anything to do here," Shakib said.
"It's not possible to rewind time, so we have to do better when there is a similar situation again. We have lost many close games and finals.
"This was the fifth one (final) and all of them were close matches. The closest I think was the Asia Cup and then today's one (Sunday) I think this was even closer (than the Asia Cup). I think we are moving forward."
Shakib said he will not hesitate to again hand over the ball to Rubel Hossain despite the bowler conceding 22 runs in the 19th over, which paved the way for India's incredible come-from-behind win.
Needing 34 runs in the last two overs, India knocked off 22 off Rubel to bring the equation down to 12 off six balls.
"To be honest he did not miss much of the plan when he bowled. I don't know if there are many batsmen who can come and hit a six off the first ball, the next for a four and then again a six," Shakib was quoted as saying by 'The Daily Star'.
"Such batting is rare in history, it was miraculous batting. But he (Karthik) did that. Of course, Rubel was nervous after giving away 10 runs from the first two balls and that is natural. But still, I think I will back him if there is a similar situation in the future," Shakib added.
Karthik came in to bat with the scoreboard reading 133/5 at the end of 18 overs.
(With PTI inputs)