Story Progress
Back to home
Lucknow Super Giants vs Kolkata Knight Riders: IPL 2022 Live Cricket Score, Live Score Of Today's Match on NDTV Sports
Live Updates of Today Match between Lucknow Super Giants vs Kolkata Knight Riders from Maharashtra Cricket Association Stadium, Pune. Check commentary and full scoreboard of the match.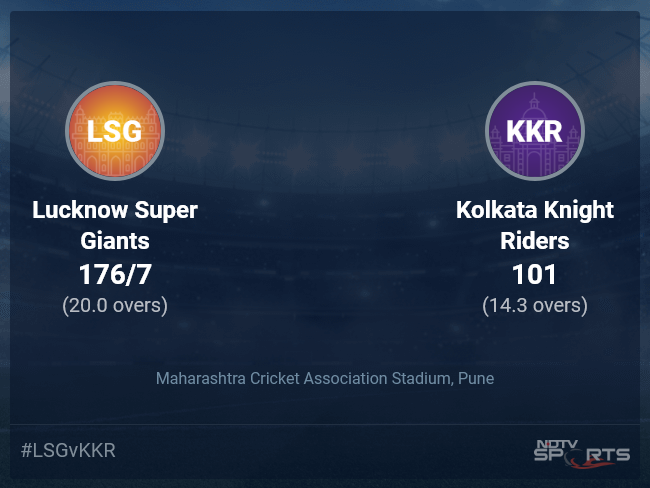 LSG vs KKR Latest Score
A dedicated team of experts bring you live score, live cricket score, live match update on Sports.NDTV.com. After 14.3 overs, Kolkata Knight Riders, chasing a target of 177, are 101. The live updates of Lucknow Super Giants vs Kolkata Knight Riders scorecard is also available. It is the perfect platform to follow your favourite teams in Indian Premier League 2022. Keep a track on your favourite batsmen and bowlers through Indian Premier League 2022 today match, ball by ball commentary, Lucknow Super Giants vs Kolkata Knight Riders, Lucknow Super Giants vs Kolkata Knight Riders live score, Lucknow Super Giants vs Kolkata Knight Riders scorecard. Follow the excitement of the Indian Premier League 2022 on Sports.NDTV.com as you can follow live match updates and live cricket score through our platform.
That is all we have from this game but we have a double-header lined up tomorrow on Super Sunday. The first game of the day is between Hyderabad and Bangalore. That match will begin at 3.30 pm IST (10 am GMT) but our build-up will begin much sooner. Do join us then, goodbye and cheers!
Avesh Khan (3-1-19-3) is the PLAYER OF THE MATCH! Avesh says that he was backing his hard-length delivery even if he goes for a maximum. Says Russell's wicket was stand out as he can single-handedly take it away. Tells that he just focuses on the next delivery and there is confidence around him from his dad and from the management which helps him. Mentions that they just try to execute the plans.
KL Rahul, the skipper of Lucknow says Rahul says that winning by 75 runs does suggest that they did dominate the game and the only disappointing thing was the run-out. He adds that he knew it was a slow and sticky wicket and applauds the way Quinton de Kock and Deepak Hooda batted and also the cameos from Marcus Stoinis and Jason Holder in the end were very much handy. He then praises the bowlers as well for their performance and reckons that implementing the skill is the main thing and they have been put another pressure but they have come through. Mentions that it is scary to be a bowler or a fielder in this format but they have a chat before the game and if the plan doesn't work out, it's fine. Adds that they have still areas to improve and there is a good vibe around the side and everyone wants to compete. Reckons they are sticking to their plans and is happy that the wins are stringing along.
Jason Holder is extremely happy to win. Adds that the wicket was not easy to bat on and the bowlers did well to restrict them. Tells that the ball was holding on the surface and the batters did well to hang there and strike later. Mentions the bowlers as they did an incredible job. Tells that as a side, they are complementing each other well. Mentions that it is a collective effort and not an individual or a couple of individuals who have stood out for the season. Ends by saying they have all bought into what KL is pushing down to them.
Kolkata skipper, Shreyas Iyer says Lucknow outplayed them in bowling and batting, they did well on the bowling side in patches but they gave too many runs in the fag end. Says it was difficult to assess the pitch. Admits they should have restricted them to 155-160 but Lucknow batted really well. Mentions that they have a conversation on what to do after winning the toss and feels after losing the matches, it is better to lose the toss sometimes. Tells that they are failing to keep the basics right, they need to assess the Powerplay and in the death overs well which they will try to do better in the next game.
Kolkata will look back on this game and will be very disappointed with themselves. First, with the ball, Shivam Mavi conceded 5 maximums in one over which ruined a decent bowling performance from the whole team. But then with the bat, Kolkata were just shambolic. Indrajith fell in the first over and then skipper Shreyas Iyer and Aaron Finch the two most experienced batters in the side just couldn't find their rhythm and were dismissed soon after. There was really just one man who played a lone hand and that was Andre Russell but he had a bit of luck going his way too. In the end, the tailenders just crumbled under pressure and Kolkata were bowled out in under 15 overs. Stay tuned for a few interviews...
After putting on an above-par score on a pitch that was not easy to bat on, the Lucknow pacers just spat fire right from the get-go. Mohsin Khan bowled a wicket-maiden first over that set the tone and then the likes of Dushmantha Chameera, Avesh Khan and Jason Holder all got into the act with wickets of their own. Holder did get hit out of the park by Russell in one over but ended proceedings really well and ended with three wickets in total. Lucknow were totally dominant not just with the bowl but in the field as well. This is a morale-boosting win at the right time for Lucknow and they have all but sealed the playoffs berth.
Kolkata have been bundled out for 101 runs and Lucknow have sent a warning to all the other sides with this statement win. They have ousted their opponents in the field and it is a huge victory that takes Lucknow onto the top of the points table. This also means that five-times champions, Mumbai are mathematically out of the race for the playoffs.
14.3 overs (2 Runs) OUT! RUN OUT! That's it! Lucknow have done it! Too full and on middle. Rana pushes it to mid on and class for a single. Ayush Badoni misfields there and the batters look to take the advantage. Badoni gives a chase and throws it to Holder who clips the bails off. The replay shows Harshit Rana was well short of his crease. Lucknow win by 75 runs.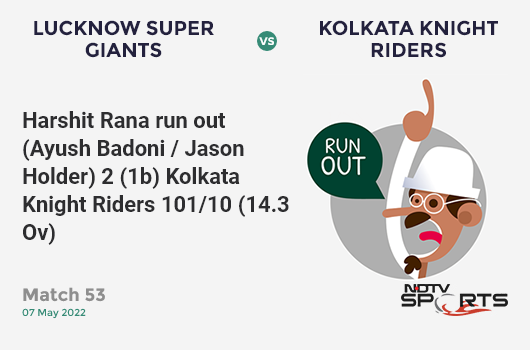 Harshit Rana is the last man in!
14.2 overs (0 Run) OUT! TAKEN! Jason Holder is on a Hat Trick! Short of a length and on middle. Tim Southee pulls it straight in the hands of Avesh Khan who takes it low at deep square leg.
Tim Southee walks out now.
14.1 overs (0 Run) OUT! TAKEN! Sunil Narine holes out and it's all but over in this match for Kolkata. Short and wide from Jason Holder and it is there to be hit. Narine goes after it and tries to slap it over extra covers but gets it off the toe end of the bat. The ball is lofted just beyond the fielder at extra cover but Krunal Pandya does well to time his jump and complete the catch.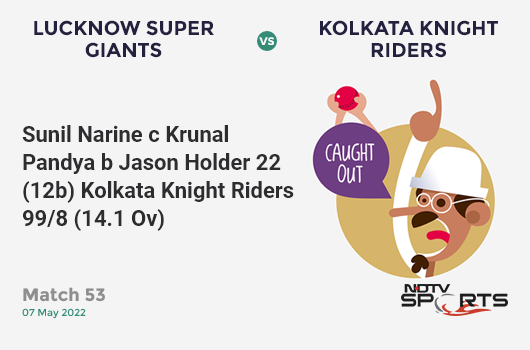 13.6 overs (0 Run) NOT OUT! It is the googly from Ravi Bishnoi, turning in from outside off. Shivam Mavi looks to sweep it away but misses and gets rapped on the pads. Bishnoi appeals but no one else seems interested. KL Rahul does go for the review and Ball Tracking confirms that the impact is outside off.
Review taken! Lucknow take a review for LBW! UltraEdge shows no bat. The impact might be outside off and Ball Tracking confirms the same.
13.5 overs (1 Run) On middle, pushed through mid on for a single.
13.4 overs (0 Run) Swing and a miss! Shorter and darted outside off, Narine looks to slog it away but misses it by a mile.
13.3 overs (4 Runs) FOUR! Lucky boundary but Narine will take it with both hands. Flatter and quicker, outside off. Narine looks to swing across the line but gets a bottom edge that goes through the keeper's legs and runs away into the fence.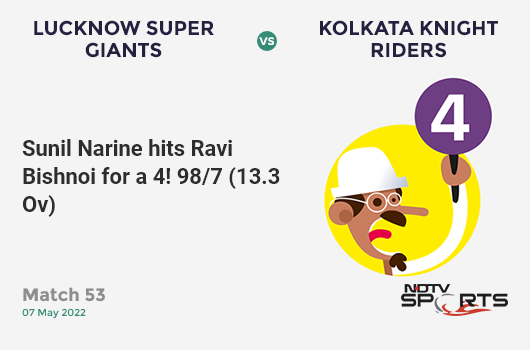 13.2 overs (2 Runs) That should have been taken but a lapse in communication has cost Lucknow. On off and turning away, Narine tries to go against the turn but gets a top edge which goes high and towards point. Three fielders converge but no one calls it and in the end Marcus Stoinis comes in from short third man but can't reach it. Two taken.
13.1 overs (4 Runs) FOUR! Sunil Narine has nothing to lose here and has to go after the bowling. This is pushed outside off, Narine thumps it right back over the bowler's head for a boundary.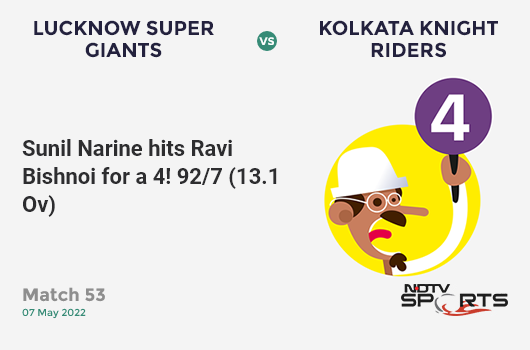 Strategic Break! Lucknow need just three wickets to win and they have to tackle Sunil Narine who is the only known batter out. 89 runs needed in 42 balls and Lucknow will fancy a win from here.
12.6 overs (1 Run) Good heat again from Avesh Khan. Avesh bowls it on a hard length and close to the off pole, slanting across the left-hander. Narine gets hurried on but gets it off the gloves towards backward point for a single.
12.5 overs (1 Run) On a length, around off and this is pushed towards mid off for a single.
12.5 overs (1 Run) WIDE! Banged in short by Avesh but its just a bit too short, wide called.
Shivam Mavi comes in now.
12.4 overs (0 Run) OUT! CAUGHT BEHIND! Soft dismissal for Anukul Roy and even a worse review from him. Avesh Khan slides this one down the leg side and it is around the hips. Roy looks to tuck it away but seems to have got nothing on it. It is a stifled appeal from the bowling side but the finger is raised. Roy reviews and UltraEdge shows that the ball did go off the gloves as Quinton de Kock pouches it safely. Kolkata going down in a hurry here now.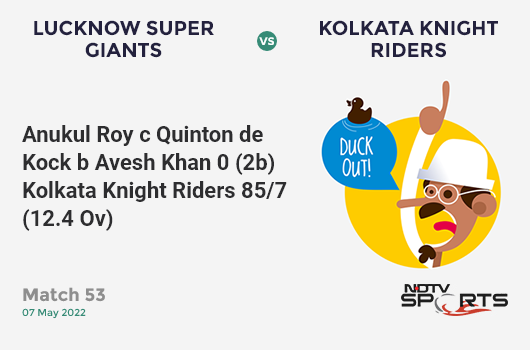 12.3 overs (0 Run) Length ball, around leg stump. Anukul Roy defends it out.
Anukul Roy walks to the crease.
12.2 overs (0 Run) OUT! TAKEN! Brilliant catch from Jason Holder and he might have just held to a catch that seals the match for his team. Good length, outside off. Andre Russell is just swinging at everything but this time gets a thick top edge. The ball flies down towards short third man and Holder slides in from the third man fence to take a good low catch. Holder gets his redemption and Avesh Khan has got the big fish. 92 needed now off 46 balls.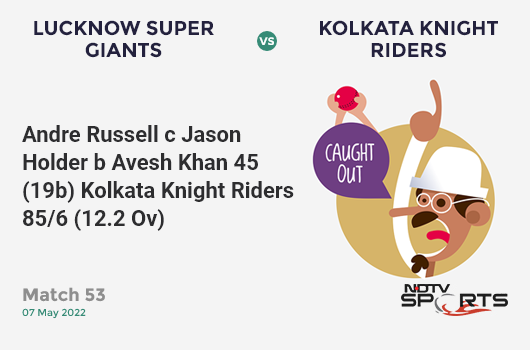 12.1 overs (6 Runs) SIX! Clobbered! Banged in short from Avesh Khan, on off and Dre Russ just muscles it for a flat six over the wide long on fence.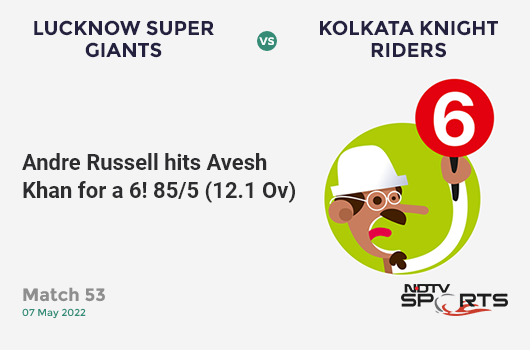 11.6 overs (0 Run) Good comeback from Bishnoi. Quicker and on a shorter length, close to the off pole. Narine looks to cut but pulls out of the shot in the end.
11.5 overs (4 Runs) FOUR! Hammered! Short and wide, Narine has muscled it through the cover region for a boundary.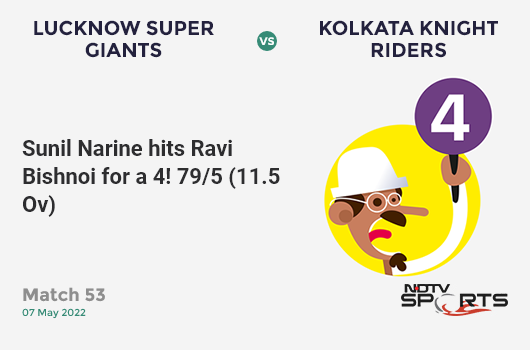 11.4 overs (6 Runs) SIX! This time Sunil Narine connects and it is a much-needed biggie for Kolkata. On off, it's in the arc of Narine and he slogs it all the way over the mid-wicket fence for a maximum.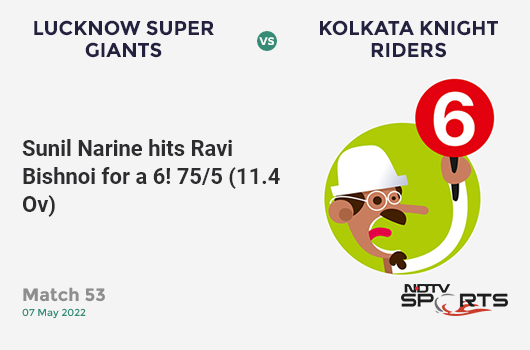 11.3 overs (0 Run) Swing and a miss! Sliding across off and Narine has a wild swing at it but makes no connection.
11.2 overs (0 Run) Just short and that could have been two in two for Bishnoi. On a length, on middle and sliding across. Narine is drawn forward but gets the outside edge that lands just short of Jason Holder at first slip.
Sunil Narine walks out to the middle.
11.1 overs (0 Run) OUT! CAUGHT! Rinku Singh tries to up the ante but ends up giving his wicket away. This is the googly from Ravi Bishnoi, on off and sliding across. Singh gets low and tries to slog it against the turn as that is the shorter side of the ground but gets it from the higher part of the bat. The ball goes high towards the cow corner fence and Krunal Pandya takes a well-judged catch.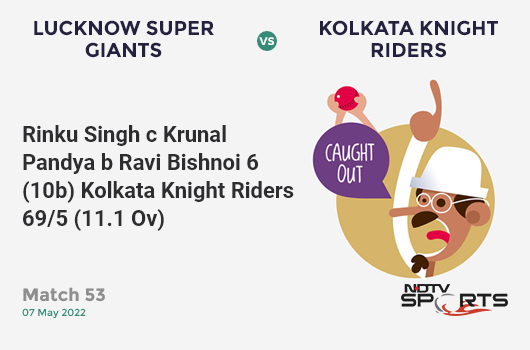 10.6 overs (0 Run) Short and outside off, nipping away a bit. Russell lets it through to the keeper. 108 needed now off 54 balls.
10.5 overs (4 Runs) FOUR! Skillful from Dre Russ this time. Dushmantha Chameera nails the wide yorker but Russell just reaches out and opens the face of the bat to run it fine and the ball ends up beyond the third man fence.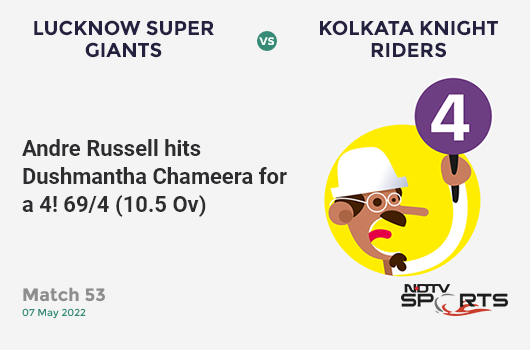 10.4 overs (1 Run) Length ball, around off. Singh leans in and plays it on the up through the point region for a single.
10.3 overs (0 Run) Three dots on the trot now! Shorter and angled down the leg side. Singh fails to pull it away and gets hit on the arm.
10.2 overs (0 Run) Nicely bowled! On a nagging length, angling into middle stump but just holding its line. Rinku Singh is pushed onto the back foot as he keeps it out.
10.1 overs (0 Run) Chameera comes from 'round the wicket and attacks the stumps. Singh blocks it out.
Match Reports
Topics mentioned in this article