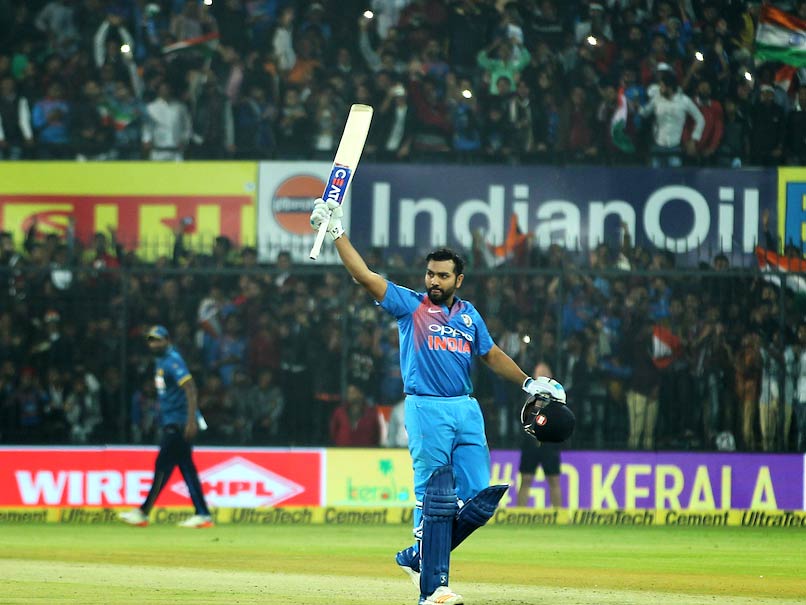 Rohit Sharma scored 118 runs off just 43 balls.
© BCCI
India's stand-in captain Rohit Sharma produced an immaculate display of batting when he mauled the Sri Lankan bowling attack to reach a well deserved 118 off just 43 balls in the second T20I against Sri Lanka on Friday. Rohit is a difficult batsman to bowl at on a normal day but when he is in this sort of mood, it is next to impossible to stop him and the Sri Lankans have experienced that first hand. Rohit was awarded the Man of the Match for the second T20I match against Sri Lanka, which the hosts won by 88 runs to clinch the series 2-0. The Mumbai batsman was elated with his performance but made it clear that it was too much to ask for when asked about a possibility of a double hundred in T20Is.
Rohit is the only batsman to have scored three double hundreds in ODIs and the only Indian to score two centuries in the shortest version of the game. And with the way he is batting, a double hundred in T20I for Rohit is not a far-fetched thinking.
"That's too much to ask for. I was just thinking to score runs. I wasn't thinking of any particular target. In all the formats, I don't look to score runs to get to a particular milestone," Rohit said about the possibility of scoring a double century in T20I.
"My job is to go out there and score as many (runs) as possible. Not just 100s or 200s or 300s. I go out there to make sure I get my team into a good position," he further added.
"There are times when you don't get runs. There are times when you get runs. That is all part and parcel of the game. Never do I ever walk out thinking that I want to score a century or a double century. I just want to give my best and get the team a victory," the right-handed batsman remarked.
Rohit, who clears the boundary ropes with utmost ease and makes his sixes look extremely effortless, said that he relies a lot on timing the ball more than anything else.
"I definitely don't have so much power. I rely a lot on timing the ball more than anything else. I know what my strengths are as well as my weaknesses. I try to play to the field as much as I can, to be honest," Rohit conceded.
Rohit, who is leading the side in the absence of regular skipper Virat Kohli, also spoke about the of captaining the Indian team.
"There is a lot of pressure, especially after the first match in Dharamsala. We were in such a position that we were on the verge of getting all out on our lowest score," he said.
"I thought a lot about my captaincy and team and that it is very difficult. We are representing 140 crore people and there is a lot of pressure of that.
"Since I am leading the side for the first time, there was pressure and there will be pressure when we play next match in Mumbai. I don't know when will I captain the side again, so every minute spent on the ground is important for me," he said.
(With PTI inputs)