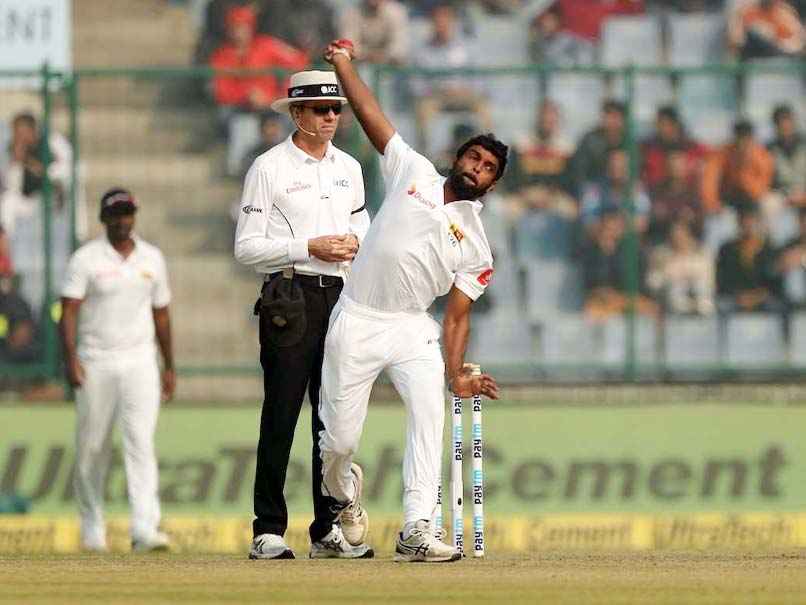 Dilruwan Perera managed to take only one wicket on the opening day.
© BCCI
Sri Lanka bowling coach Rumesh Ratnayake was unhappy with the poor showing of his team's spinners, Dilruwan Perera and Lakshan Sandakan, who went for 207 runs in 44 overs against India on the first day of the third and final Test at the Feroz Shah Kotla on Saturday. Riding on brilliant centuries from Murali Vijay (155) and captain Kohli (156 not out) the hosts raced to 371 for four at stumps and seem like in control of the game. Off-spinner Dilruwan Perera, who overtook Lankan legend Muttiah Muralitharan to fastest 100 wickets in Tests for Sri Lanka, came under-fire for some of his undisciplined bowling that gave away too many runs.
While Ratnayake said that Indian batsmen are at a different level, it is no excuse for a sub-standard bowling performance from the visiting team.
"Everybody knows that Indian batsmen are at a different level but having said that, it's not an excuse. Although he has got 100 wickets, he will be very disappointed with the manner in which he bowled in some of the spells. The bowlers have given India 70 runs too many in my view, Ratnayake said.
Ratnayake felt that Sandakan, who took the wickets of Vijay and Ajinkya Rahane, lacked confidence as he could not bowl the 'googly' (chinman's away going delivery to right-hander) to centurions Murali Vijay and Virat Kohli.
"He is comfortable with his normal chinaman deliveries (bringing back into right hander) but the googly is the thing that we see might trouble the batsmen which he hides very well. It is not very easy to read. He should bring it on and mix it.
"Sandakan should have been bringing in the googly much earlier into play and that's one of the things we spoke at tea and which he did only at the end (got Vijay and Rahane). So we were asking why he didn't bring it on more. It might be a confidence issue but we will certainly discuss."
Ratnayake also revealed his team's defensive mindset going with extra batsman which has put enormous load on the bowlers.
"It was a decision which we had to take. We had to decide whether to go with an extra bowler or with an extra batsman since we hadn't done well in our batting. We wanted to make a better statement with a better score. If we were going to bat the first day, we wanted those seven batsmen. That was the decision we had to take.
"It certainly taxes the opening bowlers because they are the ones who bowled the most in the last game also. Even today they were heavily taxed," he said.