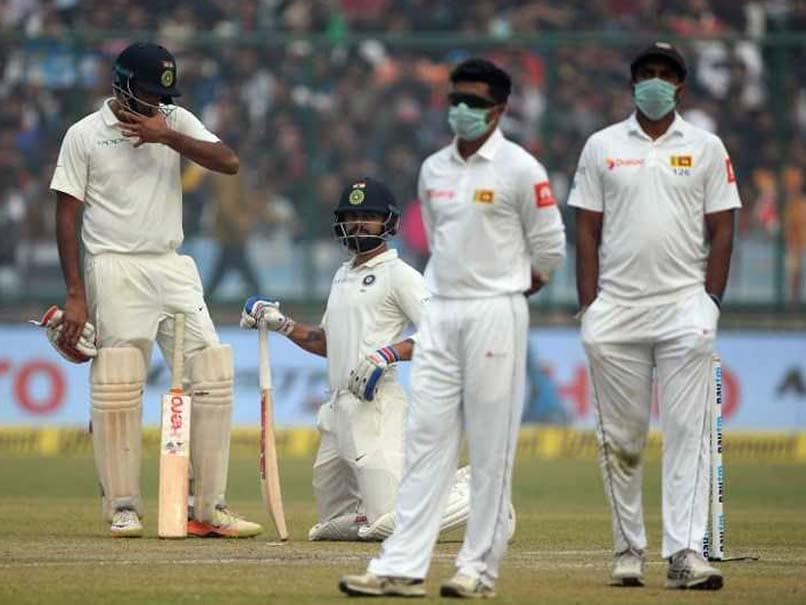 The Test saw Sri Lankan players were seen wearing masks on the field.
© AFP
The Indian Medical Association (IMA) is unhappy about the India-Sri Lanka Test being held at the Feroz Shah Kotla in New Delhi and has told the Board of Control for Cricket in India (BCCI) that it was "greatly troubled" over the match between being played in Delhi amid high pollution levels. IMA president Dr. K.K. Agarwal, in a letter to BCCI acting president C K Khanna and Committee of Administrators (CoA) head Vinod Rai, said the message that has gone home from the India and Sri Lanka cricket match is that it is safe for children to play cricket even when PM 2.5 (fine particulate matter in the atmosphere) levels are more than 300.
The Test saw Sri Lankan players were seen wearing masks on the field.
"Rain and poor light are taken into consideration when determining suitable playing conditions, we suggest that atmospheric pollution should now also be included in the assessing criteria for a match," the letter said.
Agarwal said air pollution impacts on performance of the athletes. In a situation where milliseconds and millimeters often determine success, air pollution can be an important factor in affecting their performance, he wrote.
He quoted from medical literature and journals and said poor air quality in the country's capital may increase the risk of lung and heart disease and precipitate an acute potentially life-threatening event.
The Test, which concluded on Wednesday, saw several Sri Lankan fielders wearing masks in both of India's innings while their main fast bowler Suranga Lakmal was seen vomiting on the field on more than one occasion and had to be taken off the field on Sunday.
Even Indian fast bowler Mohammed Shami vomited during the Sri Lankan second innings.
(With PTI inputs)