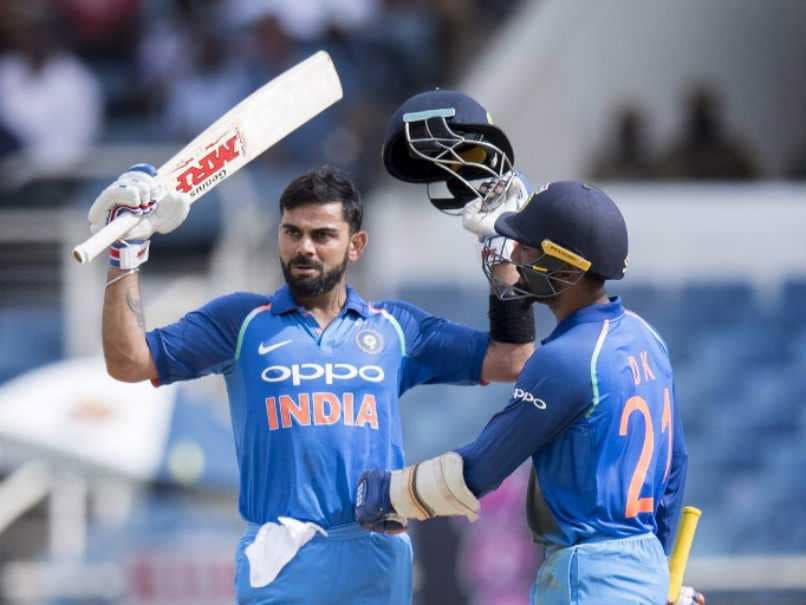 Captain Virat Kohli wants his team to be the fittest in the world.
© AFP
Dinesh Karthik is someone who has played under multiple captains, from Sourav Ganguly, Rahul Dravid, and MS Dhoni to Virat Kohli now. Current captain Kohli wants his team to be the fittest in the world and his own disciplined life and fitness regime has set an example for other cricketers. This also helped Karthik up his ante in the sport. Talking about Kohli, the Chennai-based cricketer said: "With a leader like Virat, who has absolutely got it spot one in terms of fitness, he has built his lifestyle around it.
"The team members are learning a lot from that and they can see the exceptional performances he has been able to give in the last 5-6 years. It has trickled down to the players," he said.
Karthik is aware that the fitness standards are a lot higher from the time he made his India debut.
However, he doesn't understand the hype around the Yo-Yo test which has to be cleared to play for the country. The minimum score required to pass the test is 16.1.
"The current benchmark is pretty achievable. Anybody who puts in a bit of effort can reach that mark. There is nothing earth shattering about it. It only starts getting tougher from 17.5 onwards. There has been a lot of hue and cry about it but it is pretty achievable for most sportsmen," he opined.
Having played his last Test more than seven years ago, Karthik has not given up on the wearing the India whites again and is determined to make the cut for the upcoming South Africa tour as the second wicketkeeper.
For him, the best part of the New Zealand series was that he got to play all three games. He made a promising 37 at number five in opening ODI before making an undefeated 64 at his preferred number four spot in the second game at Pune to help India level the series.
"I don't know if it was my best ODI innings but it surely was an important one, personally as well as for the team," recalled Karthik.
Karthik is focused on improving his game with key inputs from coach Ravi Shastri.
"In terms of feelers (for the future) from the team management, nothing has been communicated. But regarding my batting, I did have a long chat with Ravi bhai (Shastri).
"He was happy with my batting against New Zealand but he said there are still areas where I can improve upon, especially maintaining the tempo of the innings since he feels I have all the shots. I agree with him and that is what I would look to do," Karthik said.
(With PTI inputs)