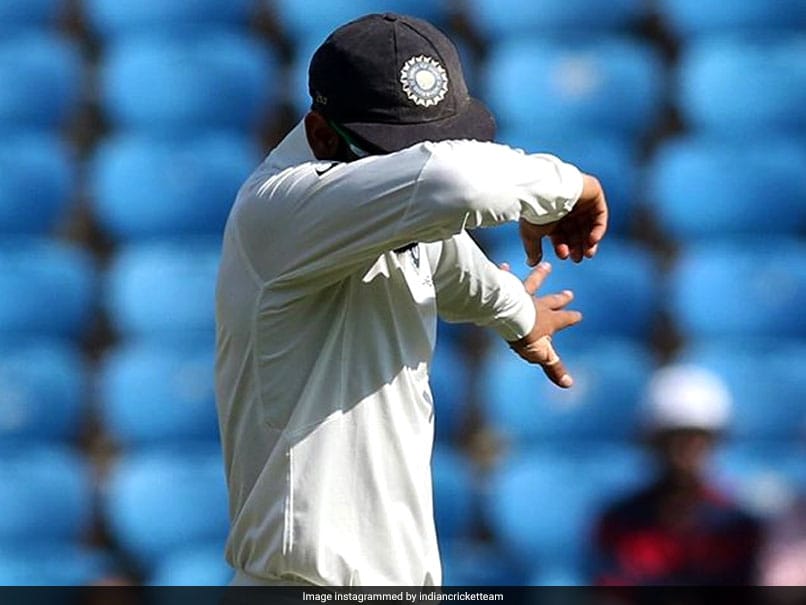 Virat Kohli was pictured doing the 'dab' celebration during the second Test vs Sri Lanka.
© Instagram
You might have seen footballers from across the world doing the 'dab' celebration once they have scored or to celebrate a teammate's goal. Footballers from the Major League Soccer (MLS) in the US, Serie A and the Premier League have been among the stars to jump on the bandwagon after scoring a goal this season. Manchester United star Paul Pogba has become flag-bearer of sorts of the 'dab' celebration in the Premier League. Taking a leaf out of his book, Indian cricketers including skipper Virat Kohli did the 'dab' during the second Test against Sri Lanka in Nagpur and seem to have fallen prey to the unique celebration.
The Indian cricket team's Instagram account first posted a picture of an Indian star doing the 'dab' and captioned it: "Guess who?".
It didn't take long for fans to figure out the cricketer was none other than captain Virat Kohli. The Indian skipper's cap number is 268, and even though one cannot see the face of the player, his cap number is there for all to see.
If that was not enough, in the second post Cheteshwar Pujara and Murali Vijay got together to pull off a perfect synchronised 'dab' even as Rohit Sharma looks on perplexed.
The duo notched brilliant centuries in Nagpur as India thrashed Sri Lanka by an innings and 239 runs in the 2nd Test and can be forgiven for being in high spirits.
Manchester United's Pogba and Jesse Lingard have been pictured numerous times doing the 'dab'.
The 'dab' celebration was popularised in American football. Carolina Panthers' quarterback Cam Newton celebrated a touchdown and, when confronted by two Tennessee Titans opponents, continued the routine in front of them.