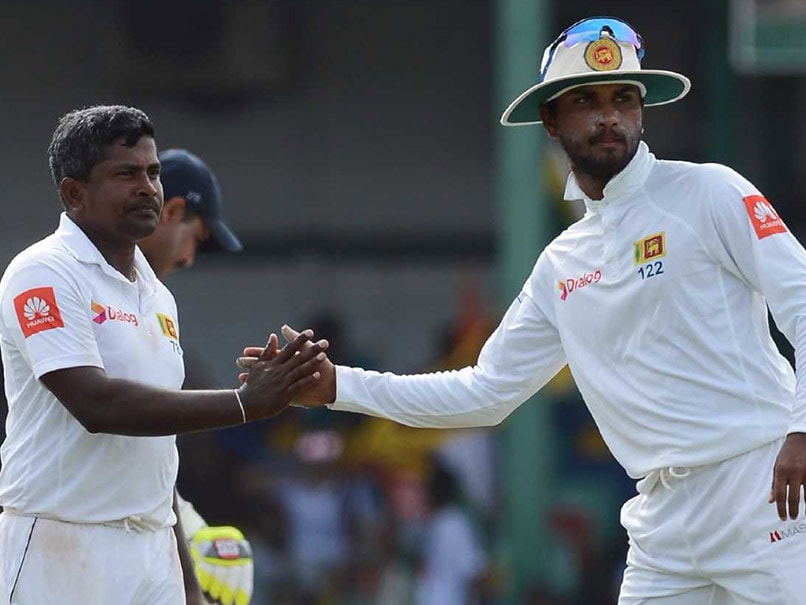 Rangana Herath will be more useful in Nagpur, said Dinesh Chandimal.
© AFP
Sri Lanka captain Dinesh Chandimal, ahead of the second Test at Nagpur, said that senior spinner Rangana Herath will be more useful for the visitors in Nagpur than he was at Eden Gardens, Kolkata. Chandimal further added that the Nagpur pitch has less grass compared to Kolkata and hence Herath will become handier. Herath could bowl only eight overs across two innings in the first Test. Commenting on the nature of the pitch, Chandimal dubbed the Vidarbha Cricket Association Stadium as a good Test pitch.
"Rangana Herath is a wily old fox. On this wicket, he can be handy. On a green top at the Eden, he wasn't as effective," Chandimal said at the pre-match media conference.
"There isn't much grass like Kolkata. We saw so much of grass (covering on the pitch) at the Eden Gardens. This looks much lesser compared to Kolkata. This looks like a good Test pitch. It's a challenge for us as a team. We are looking forward to the game," Chandimal further added.
Talking about the nature of the pitch Chandimal said, "The first few days will be good for batters. Then it might turn. That's the kind of wickets I can think this one is."
Having drawn the first Test against India, the Sri Lanka captain believes that Sri Lanka is confident enough of winning their first-ever series in India.
"If you take the Indian team, they are a very good side. It is a big challenge for us as a team to come here and win a game or a series. But I am sure we can do some miracle here. We have to do our basics right, stick to our game plans. In the middle, we have to execute our game plans.
"If we can do that we can put the Indians under pressure. We are looking at that as a team," he said.
Asked what is the difference from that of the last series, Chandimal said: "We learned a lot from the last Indian series in Sri Lanka. The most important thing is we came here to win the series. Our attitude has changed. Our fielding also has made a huge difference. There is a lot of energy. We have looked at a six-five combination or six four plus all-rounder.
"That's the combination we are looking at. Most importantly, we have come here with a mindset to win a Test match."
Chandimal was sympathetic about paceman Lahiru Gamage's poor show in Kolkata as he could not complement the efforts of Suranga Lakmal and Dasun Shanaka and the Lankan skipper blamed it on his inexperience.
"We have not decided on anything with regard to the side. Kolkata was his second game. His first Test was in Dubai and he did well against Pakistan. You can have a bad game. He is a good player. He has lots of experience having played quite a bit of domestic cricket. I am sure he will be a good asset especially when bowling on a wicket like this."
(With PTI inputs)