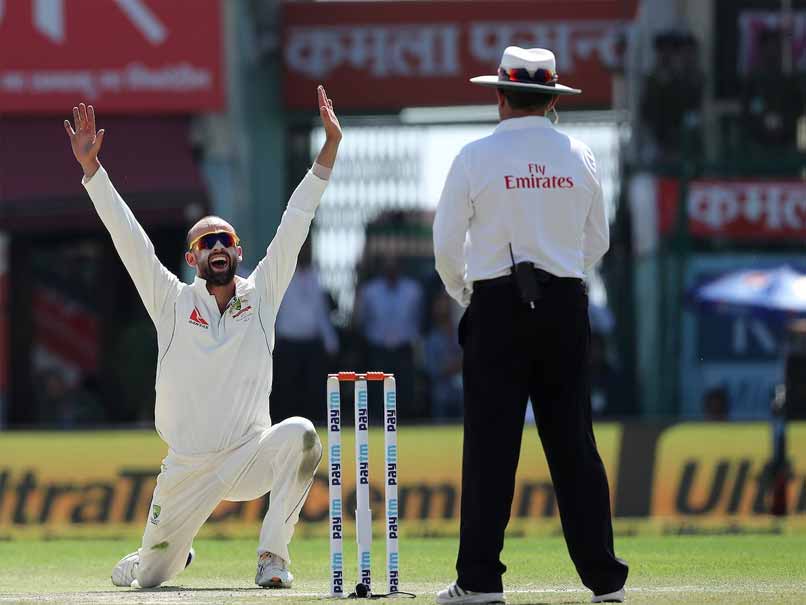 India vs Australia: Nathan Lyon picked up four wickets for the visitors
© BCCI
Having lost Murali Vijay early in the day, India came back strongly in the next two sessions by not losing too many wickets. KL Rahul and Cheteshwar Pujara brought up their half-centuries only to be dismissed later in the day. Nathan Lyon was the pick of the bowlers for Australia as the visitors crawled back into the match in the final session. The hosts lost four wickets in the final session of play with Lyon inflicting maximum damage. The second day saw the game hang in balance with both sides in with a chance to win the Test match. (SCORECARD)
Get the highlights of India vs Australia, Day 2 in Dharamsala here.
16:42 IST: Thanks a lot for joining in as we look forward to your company on Monday for the third day's play.
#TeamIndia finish Day 2 on 248/6, trail Australia (300) by 52 runs #INDvAUS pic.twitter.com/4wMxKby95r

— BCCI (@BCCI) March 26, 2017
16:40: That's stumps on Day 2. India end the day on 248 for 6, still trail by 52 runs.
16:35 IST: Last over of the day coming up.
16:25 IST: Dropped! Saha gets a breather. Put down at first slip by Matt Renshaw again. Cummins is not happy.
16:19 IST: Six! Short from Lyon and Jadeja pulls it out of the park.
16:15 IST: Six! Jadeja opens his arms and hits O'Keefe over long on for a maximum.
16:14 IST: India 224 for 6 at the end of 85 overs.
16:04 IST: Wicket: Lyon again in the thick of things. Gets it to turn back into the right-hander Ashwin and a huge appeal for leg-before. The umpire raises the finger and Ashwin goes for the review. That looks out and the on field decision stays. India in trouble now.
16:00 IST: O'Keefe gets it to spin away from the right-hander Saha and the Aussies go up in unison. They have gone for the DRS again. Replays show there was no contact between bat and ball. So the on field umpire gets it right again.
15:53 IST: Saha goes for the sweep but fails to connect. Huge appeal for leg before and Australia ask for the review. Replays suggest that the ball is going over the top of the stumps. The on-field decision stays. 
15:50 IST: Wriddhiman Saha is the new man in.
15:48 IST: Wicket: Rahane goes back to a ball he should have come forward. Lyon gets it to straighten after pitching and finds the outside edge. Smith makes no mistake at first slip. India lose half their side.
15:44 IST: Another hit me ball from O'Keefe and Rahane puts it away. It was a juicy full toss on the leg-stump.
15:43 IST: Ashwin going along nicely here. Picks up another boundary.
15:36 IST: Rahane shouldering arms and a huge appeal for leg before. Clearly not coming back enough. Australia go for review but it remains not out.
15:31 IST: More runs. Rahane cuts and finds the gap between cover point. Four!
15:30 IST: Four! This time Rahane gets into the act. Comes down the track and hits Lyon over the in field.
15:28 IST: Four more! Back to back boundaries for Ashwin. This time cuts and cuts well. O'Keefe needs to find the right length.
15:27 IST: Four! O'Keefe erring on the shorter side and Ashwin gets it away through the third-man region.
15:26: O'Keefe comes on to the attack.
15:25 IST: India still trail by 114 runs.
15:22 IST: Hazlewood bowls it short and Ashwin pulls him for a boundary.
15:18 IST: India 180 for 4 after 71 overs.
15:10 IST: Hazlewood replaces Cummins.
Crucial session in the deciding Test. It doesn't get much better than this: https://t.co/1HG79qHddv #INDvAUS pic.twitter.com/U6EmsyfIKZ

— cricket.com.au (@CricketAus) March 26, 2017
15:04 IST: Ashwin gets of the mark with a couple.
15:00 IST: Four! Rahane goes back and guides it fine of his legs for a boundary.
14:56 IST: Rahane living dangerously. Good pace from Cummins. Bowls it back of a length outside off-stump and Rahane tries to hit on the up. Genuine outside edge but flies over the slip cordon.
14:51 IST: Wicket! Lyon gets one to turn and bounce. Nair goes back trying to turn it to the on-side but manages to glove it to the keeper. Simple catch for the man at short-leg. Australia back in the match.
14:48 IST: Another testing over from Cummins comes to an end.
14:40 IST: Karun Nair gets off the mark with a boundary. Thick outside edge and it goes past the slip cordon and gully.
14:38 IST: Pat Cummins comes back on.
14:35 IST: Karun Nair is the new batsman.
14:33 IST: OUT!! And just as we say that Nathan Lyon has got the big wicket of Pujara. Big, big wicket for the Aussies.
Sharp grab from Handscomb under the lid! #INDvAUS pic.twitter.com/nkmQlMeMfJ

— cricket.com.au (@CricketAus) March 26, 2017
14:32 IST: India will be extremely happy with how the first two sessions have panned out and will hope they don't lose more than one wicket in the final session.
14:30 IST: And we are back!
14:12 IST: We will be back in 20 minutes,
14:11 IST: That is tea time. India 153 for 2. Cheteshwar Pujara 53*, Ajinkya Rahane 19*
14:02 IST: 150 comes up for India. Still trail by 150 runs.
14:00 IST: Four! Rahane goes for the slog sweep and finds the fence. Good shot.
13:56 IST: Good use of the feet from Pujara. Finds the gap between mid-on and mid-wicket. Four! Much needed boundary for the hosts. Pujara brings up his 15th fifty in Test cricket.
FIFTY! @cheteshwar1 celebrates as he brings up another Test 50 #INDvAUS pic.twitter.com/iKBJRuTvjQ

— BCCI (@BCCI) March 26, 2017
13:55 IST: This is a good period of play for Australia. The runs have dried up for India.
13:50 IST: In the last five overs, India have scored four runs.
13:45 IST: India 139 for 2 after 50 overs.
13:38: Another quiet over from Hazlewood comes to an end. India will hope to end the session without losing any more wickets.
13:28 IST: Hazlewood replaces Cummins.
13:22 IST: This time Cummins drifts down the leg-side and Pujara helps himself to a boundary. Four!
13:09 IST: Lovely use of the feet from Pujara. Turns it away through mid-wicket and picks up a boundary. Nothing O'Keefe would have done about that. Great batting.
Fascinating cricket this. India need to be patient,plenty of time left.
I think Rahane will play a substantial Innings here.

— Mohammad Kaif (@MohammadKaif) March 26, 2017
13:07 IST: Cummins is peppering Rahane with some short stuff here. Rahane again goes for the pull shot but this time gets a top edge and it flies over the top of the slips. Six runs!
Now, now,this is dangerous cricket from India. First from Rahul,then Rahane. It is a time for caution. Lots of time left, lots of runs ahead

— Harsha Bhogle (@bhogleharsha) March 26, 2017
13:06 IST: Short again from Cummins and this time gets the treatment. Rahane hooks it in front of square for a boundary. Great way to get off the mark.
13:03: Ajinkya Rahane is the new man replacing KL Rahul in the middle.
13:02 IST: Wicket: Cummins bowls it short and Rahul went for the hook shot. Gets it of the toe of the bat and a simple chance for the man at mid-off.
12:54 IST: Another boundary. This time leg byes.
12:52 IST: Great shot from Rahul. Short and wide from Cummins and Rahul cuts it in front of square. Four!
12:48 IST: This is a good over from Cummins. He has found the edge once and now troubling Rahul with some short stuff.
12:45 IST; Cummins comes back on and immediately gets the edge from Pujara. Lucky it didn't carry to first slip.
12:43 IST: Three of that O'Keefe over. India going along nicely here. Rahul and Pujara have added 73 for the second wicket so far.
.@klrahul11 brings up his 5th half-century of the series @Paytm #INDvAUS pic.twitter.com/LKTFYg9Jce

— BCCI (@BCCI) March 26, 2017
12:34 IST: Rahul dances down the track and lofts it over the vacant on-side field. Four runs! Also brings up his sixth fifty in Test cricket, fifth of the series.
K L Rahul's sparkling batting has been one of the highlights of the series. Fine blend of defence and aggression, hugely consistent. Top act

— Cricketwallah (@cricketwallah) March 26, 2017
12:30 IST: Hazlewood bowls it short outside off-stump and Rahul just helps it away over the slip cordon for a boundary. Runs coming easily for the Indians after lunch.
12:27 IST: Rahul sweeps again and this time it goes the distance. Excellent batting. That will get the Indians moving. Add Six more to the total!
12:26 IST: O'Keefe gets it to turn a bit and it misses everything. 4 byes!
12:23 IST: Hazlewood keeps probing away. It is a game of patience at the moment.
12:18 IST: O'Keefe continues from the other end.
12:13 IST: Great start to the session. Great extension of the hands from KL Rahul. Gets a boundary. That was full from Hazlewood and Rahul has put it away.
12:12 IST: Hazlewood to start the proceedings for Australia. Rahul on-strike.
12:11 IST: Hello and welcome to the second session of play.
11:33 IST: We will be back in half an hour.
11:31 IST: The umpire takes off the bails and that is lunch on Day 2. India 64 for 1.
Day 2 Lunch! #TeamIndia are 64/1(Rahul 31*, Pujara 22*), trail Australia (300) by 236 runs #INDvAUS pic.twitter.com/GkQ73JCFDk

— BCCI (@BCCI) March 26, 2017
11:28 IST: O'Keefe comes into the attack and Pujara greets him by coming down the track. Great shot through the covers. Four runs!
11:27 IST: Who do you think is the most dangerous bowler for Australia?
Hazlewood is the biggest threat on this surface...the longer he takes to get a five-for, the better it is for India. #KeepHimAtBay

— Aakash Chopra (@cricketaakash) March 26, 2017
11:22 IST: DRS has hardly come into play in this Test match after all that drama in the previous couple of Test matches.
113 overs in the test match and no reviews yet. That's a massive turnaround.#DRS

— Mohammad Kaif (@MohammadKaif) March 26, 2017
11:18 IST; Lyon has been economical this morning. Bowled 7 overs and has conceded only 20 runs.
11:13 IST; Cummins finishes a maiden over. India 52 for 1 in 23 overs.
11:05 IST: Cummins goes wide of the crease and pitches it up. Rahul up to the task. Hits it straight past the bowler for a boundary.
11:02 IST: Over pitched ball from Cummins. Outside off-stump. Almost teasing Rahul to go for the drive. He obliges but lucky not to get the edge.
11:01 IST: What do you think about India's plans for the day?
India's strategy today simple: Bat thru 90 overs, get abt 300 runs, lose no more than 4-5 wickets. Aussies, of course, may have other ideas

— Cricketwallah (@cricketwallah) March 26, 2017
10:56 IST: Four more! Rahul guides it past the leg-slip in position. So the shackles are broken. Australia have kept things quiet in the morning session.
10:51 IST: Four! Rahul sweeps and sweeps well. He fetched that from outside off-stump.
10:45 IST: Probing stuff from the Australians. Pujara and Rahul have been solid but have been unable to score freely.
My favourite young batsman, Lokesh Rahul, being tested by high quality fast bowling from Hazlewood and, more dramatically, from Pat Cummins

— Harsha Bhogle (@bhogleharsha) March 26, 2017
10:38 IST: Pujara has looked good in the morning. Looks like a man in form.
10:28 IST: India 30 for 1 in 13 overs.
10:20 IST: Great delivery from Cummins. Pitches on a length and moves away. Finds the edge and dropped by Matt Renshaw in the slips. That flew off the bat and into the boundary. Rahul survives a scare.
10:16 IST: Four! Delightful stroke from Pujara. It was full from Hazlewood and Pujara drives it through the covers to get off the mark.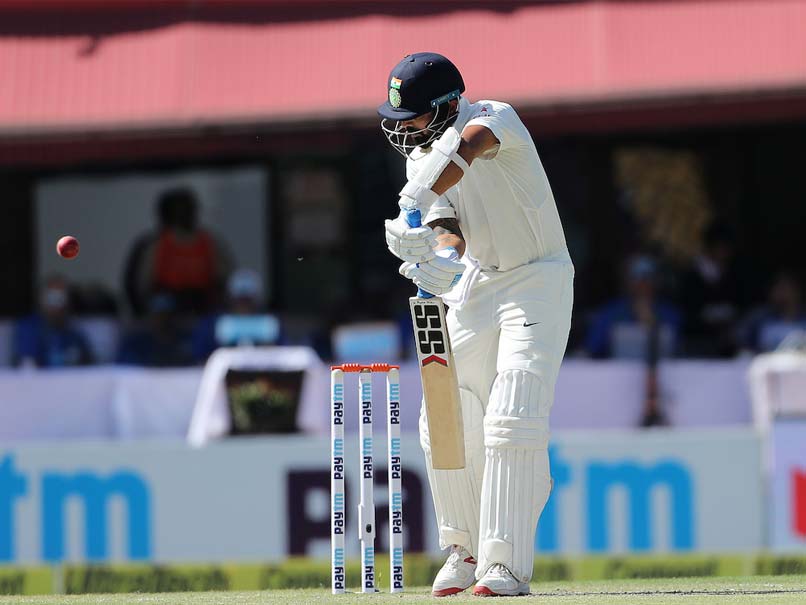 10:13 IST: Wicket: Hazlewood strikes for Australia. Vijay poking at a ball just outside off-stump and the ball finds the edge. Wade behind the stumps makes no mistake. India lose their first wicket.
Great reward for some terrific bowling from the #BendemeerBullet this morning.https://t.co/1HG79qHddv #INDvAUS pic.twitter.com/n8BzUks6Fl

— cricket.com.au (@CricketAus) March 26, 2017
10:09 IST: Lyon bowling different angles to different batsmen. Comes over the wicket to Rahul.
10:07 IST: Beautifully bowled by Hazlewood. The ball comes in, in an angle and straightens after pitching. Takes the outside edge but doesn't carry to the keeper. Vijay survives.
10:05 IST: Four! Nice juicy half volley from Hazlewood and Vijay puts it away through covers once again. This is a good start for India. They haven't lost a wicket in the first half an hour of play.
10:04 IST: Lyon goes round the wicket right away. The Indians don't seem to be in any kind of trouble facing the off-spinner.
10:02 IST: Nathan Lyon comes on for Australia and Rahul greets him with a boundary. Second in the morning, first for Rahul.
10:00 IST: So after starting with pace from both ends, Australia make their first change.
9:56 IST: Australia have gone in with four front line bowlers. Glenn Maxwell will have to roll his arm over as the fifth bowler.
9:50 IST: India 9 for 0 at the end of 5 overs.
9:41 IST: Four! So the first boundary of the morning comes of Murali Vijay's bat. Lovely elegant looking cover drive.
9:37 IST: The ball from Hazlewood stops on Vijay and it goes up in the air. Just short of mid-off. Lucky escape.
9:33 IST: Rahul clips it away off his legs and both the openers are off the mark.
9:32 IST: Vijay pushes it through the covers and India are away. First runs of the day.
9:31 IST: Pat Cummins to start things off for Australia. Murali Vijay to take strike.
9:25 IST: So players make their way out to the middle.
Here we go! Cummins has the ball to begin day two. Vijay on strike. India 0-0, trailing by 300 runs.https://t.co/1HG79qHddv #INDvAUS pic.twitter.com/brNTWna3Og

— cricket.com.au (@CricketAus) March 26, 2017
9:22 IST: Vijay would like to make use of the good batting conditions.
9:18 IST: Remember no Virat Kohli in this match. So the likes of Vijay, Rahul, Pujara and Rahane will have step up and take their game to another level. India would still believe that they have a grip on this match up until now.
9:17 IST: Both the Indian openers would look to give India a good start. India's first target would be to get as close to the Australian total as possible and then look for a decisive lead.
9:15 IST: India did well on Saturday to bowl out Australia for 300. Kuldeep Yadav was the star of the day for the hosts who returned with figures of 4 for 68. Not a five-for but in the context of the game, it can have a bigger impact than a five-for.
9:12 IST: Hello and welcome to the coverage of the second day's play
India came back strongly in the last two sessions of Day 1 after the visitors dominated the first session. Australia captain Steve Smith continued his good run with the bat by getting to his 20th century and third of the series.
Smith was ably supported by Warner who scored his first half-century of the series before departing for 56. Apart from these two, only wicket-keeper batsman Matthew Wade reached the 50-run mark that helped Australia post a competitive total of 300. Apart from Kuldeep, Umesh Yadav scalped two wickets while Ashwin, Jadeja and Bhuvneshwar Kumar took one wicket apiece.
Earlier, Ajinkya Rahane took up the mantle of captaincy in Virat Kohli's absence with India making two changes -- Kuldeep Yadav and Bhuvnneshwar Kumar replacing Umesh Yadav.