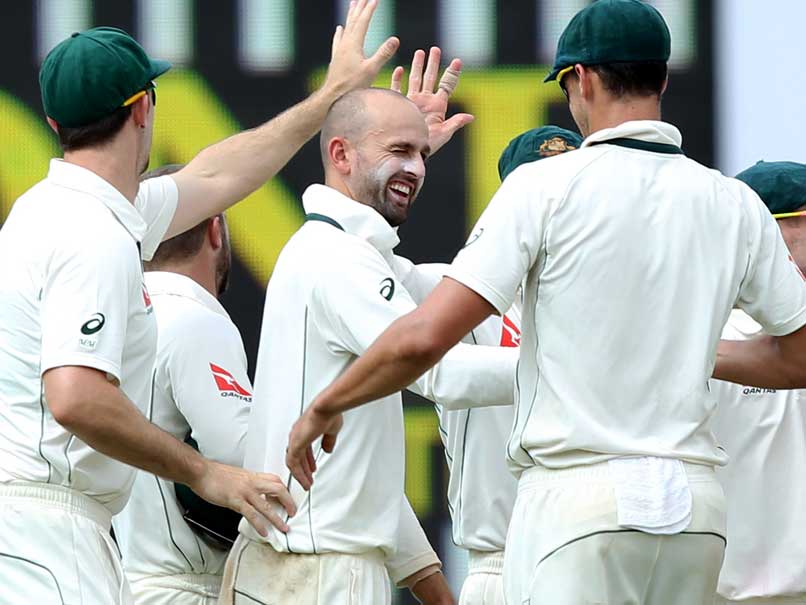 Highlights, India vs Australia: Nathan Lyon grabbed 8/50 to skittle out hosts for paltry 189
© BCCI
It was Steve O'Keefe in the first game and it's the senior spinner Nathan Lyon in Bengaluru who skittled India to a paltry 189 on Day 1 of the second Test. KL Rahul was the only saving grace for the hosts who fell short of his ton by just 10 runs. In reply, Australia accumulated 40 runs without any loss at stumps with David Warner batting on 23 and Matt Renshaw not out on 15.
(SCORECARD)
Catch the highlights of India vs Australia second Test, Day 1 in Bengaluru
17:00 IST: That's it from us, hope you enjoyed our coverage. Adios!!!
16:55 IST: Nathon Lyon after the day's play: Don't really know what to say. The last hour was big for me, I had the pads on. This is the first time I'm smiling for a while. I worked really hard with John Davison. Before BBL games, I was bowling for an hour before going to bowl. He deserves a lot of credit as well. I have watched Ravi Ashwin's tapes. But, I stuck to my strengths. It's reflecting on an amazing day for Australia. That's amazing.
I've played enough Test cricket to know what my strengths are. There's some cracks and I tried to hit some. I try to stick to my strengths. I think I bowled around 1200 balls in Dubai. We had a lot of discussion how to approach India. We worked hard as a bowling group. Hopefully we keep learning keep moving forward. 
16:45 IST: Again a disappointing performance in batting by India as they were bundled out for a lowly 189 in the first innings of the Bengaluru Test. In reply, Australia have done well and India will have to really pull up their socks to comeback in the match.
That's stumps! Warner and Renshaw complete a superb day for the Aussies with @NathLyon421 the star: https://t.co/iGxoJAaz64 #INDvAUS pic.twitter.com/UHzXAAlzCV

— cricket.com.au (@CricketAus) March 4, 2017
Nathan Lyon's exceptional 8/50 helps Australia dominate Day 1 of the 2nd #IndvAus Test, as they bowl India out for 189, and finish 40/0 pic.twitter.com/G8Qp5BDucz

— ICC (@ICC) March 4, 2017
It is Stumps on Day 1 of the 2nd @Paytm Test. Australia are 40/0 from 16 overs & trail India 189/10 by 149 runs. #INDvAUS pic.twitter.com/iEpITde5Cu

— BCCI (@BCCI) March 4, 2017
16:35 IST: That's STUMPS!!! Australia are 40/0 in 16 overs, trail India by 149 runs. Matt Renshaw 15*, David Warner 23*
16:32 IST: David Warner getting into his groove, moving in the crease nicely. He gets two towards the point area
16:30 IST: So, two minimum overs remaining in the day and Ravindra Jadeja comes into the attack
16:28 IST: Australia have played sensibly here. Credit to David Warner who has tried to curtail his shots and Renshaw continuing with his good form
What has happened to Indian Cricket !!!!!! This is really affecting the start to my weekend .... #IndvAus

— Michael Vaughan (@MichaelVaughan) March 4, 2017
16:21 IST: That ball keeps low. Just missed the stumps 
16:19 IST: Still no signs of Ravindra Jadeja. Remember, India have only four front line bowlers in the team
16:17 IST: Maiden over by Umesh Yadav
16:14 IST: Ooh!! Good ball by Umesh Yadav. Gets the ball to dart in from round the wicket and the batsman plays inside the line of the ball to be beaten on the outer edge
16:04 IST: Australia are 27/0 after 10 overs, trail India by 162 runs. Matt Renshaw 13*, David Warner 12*
15:59 IST: DROPPED!! Edge and Ajinkya Rahane drops it at gully. David Warner played it away from the body and a chance missed by India
15:55 IST: India's premier bowler, R Ashwin comes in to the attack
15:51 IST: Australia are 18/0 after 5 overs, trail India by 171 runs. Matt Renshaw 9*, David Warner 8*
15:42 IST: FOUR!! Length delivery outside off and this time Matt Renshaw punishes it with ease
15:32 IST: FOUR!! Umesh Yadav drops it short and wide and Warner spanks it for a boundary
15:32 IST: Welcome back!!! Matt Renshaw and David Warner are at the crease now and Ishant Sharma to start the proceedings for India 
Innings Break! India all out for 189 (Rahul 90). Nathan Lyon with figures of 8-50 #INDvAUS pic.twitter.com/4EZWb7aTHZ

— BCCI (@BCCI) March 4, 2017
Remember Anil Kumble getting 7 wickets on the first day of a test match once and going "wow". Well, it is time to say "wow" to Nathan Lyon.

— Harsha Bhogle (@bhogleharsha) March 4, 2017
GOT HIM! Lyon finishes with 8-50, the sixth-best Test figures by an Aussie EVER! Incredible from the GOAT. India all out for 189 #INDvAUS

— cricket.com.au (@CricketAus) March 4, 2017
15:22 IST: OUT!!! And that's it!!! Ishant Sharma departs on the first ball. Nathan Lyon gets his 8th wicket. India 189 all-out in 71.2 overs 
Like lambs to Lyons. Bundled out in less than a day & under 200 after winning toss, India have played into Aus hands. All uphill from here

— Cricketwallah (@cricketwallah) March 4, 2017
15:18 IST: OUT!!! In the air and taken by Matt Renshaw for 90. He misses the ton and Lyon takes his 7th wicket. Unbelievable performance by Nathan Lyon
15:13 IST: Big shout for lbw and once again Smith goes for the review. Third umpire stands by the not-out decision
15:08 IST: Out! That is the end of Jadeja. Replays suggest that the left-hander got an inside edge and the ball carried to first slip. Lyon gets another one. Jadeja departs for 3
15:05 IST: Jadeja plays of the front foot, gets beaten on length and a huge shout for leg-before. The on-field umpires are not convinced. Smith goes for the review. 
15:00 IST: Mitchell Starc back into the attack. India 187 for 7 in 68 overs
14:57 IST: Wicket! Wriddhiman Saha playing for the turn, gets the outside edge. Lyon picks up his fifth wicket. This is Lyon's eighth five-wicket haul in Test cricket
14:55 IST: India are 177/6 after 65 overs. KL Rahul 85*, Wriddhiman Saha 1*
14:50 IST: Interesting, 5 wickets from the Pavillion end and only 1 from the Beml end
Most Test wickets by an Aussie bowler against India
54* Nathan Lyon
Next best: 53 Brett Lee#IndvAus

— Mohandas Menon (@mohanstatsman) March 4, 2017
14:40 IST: OUT!! Extra bounce for Nathan Lyon again and he traps Ashwin at the leg slip. He falls for 7 
14:35 IST: O'Keefe comes in to bowl and he is beginning to look dangerous now
14:30 IST: We are back after Tea. Ashwin will face the first ball of the final session and Nathan Lyonto start the proceedings for Australia
That's tea on day one! Nathan Lyon has 3-40 off 16 overs, while Rahul is 79 not out: https://t.co/iGxoJAaz64 #INDvAUS pic.twitter.com/ip5IEY4OK3

— cricket.com.au (@CricketAus) March 4, 2017
At Tea on Day 1 of the 2nd @Paytm Test, India are 168/5 (Rahul 79*, Ashwin 5*). Follow the game here - https://t.co/Qj8RbwMTOS #INDvAUS pic.twitter.com/dK27WeoHEm

— BCCI (@BCCI) March 4, 2017
14:10 IST: It's TEA!!! India are 168/5 in 59 overs. KL Rahul 79*, R Ashwin 5*
14:09 IST: FOUR!! Ashwin gets off the mark with a boundary. 
14:07 IST: The pitch is beginning to look like a raging turner now. That ball again spun viciously 
GOT HIM! Stumped again! Karun goes charging down the pitch, O'Keefe beats him and Wade does the rest. Gone for 26. India 5-156 #INDvAUS

— cricket.com.au (@CricketAus) March 4, 2017
14:04 IST: OUT!!! Karun Nair steps out and again a poor shot selection by him. He departs for 26
14:00 IST: FOUR!! Mitchell Starc tries to bowl a yorker but goes as a full toss. Put away nicely through the square leg by Karun Nair for a boundary
13:59 IST: Oh!! What was that?? That ball from Steve O'Keefe spun a mile
13:56 IST: FOUR!!! Like this, loose delivery by Steve O'Keefe and Karun Nair played it on merit
13:54 IST: Karun Nair looking good here. He is solid in defence and backs himself to put the loose balls away
13:43 IST: FOUR!! Drifted down the leg side by Mitchell Starc and Karun Nair put that away for a boundary
13:32 IST: India are 121/4 after 49 overs. KL Rahul 65*, Karun Nair 2*
13:29 IST: More than the Australian bowlers, Indian batters are giving away the wickets. Poor shot selection by Ajinkya Rahane.
13:25 IST: OUT!! Ajinkya Rahane tries to play a fancy shot and misses it. Mathew Wade fumbles it too but he is so far and could not reach even at the second attempt. Rahane goes on 17
13:16 IST: FOUR!! Low full toss and Rahane uses his wrists nicely for a boundary. Rahane moves on to 15 with that shot.
13:10 IST: DROPPED!! KL Rahul goes for a sweep shot and David Warner drops him at the leg-gully. It was very quick though, would have been a blinder
13:07 IST: Surprisingly, Steve O'Keefe hasn't got any wicket. But, he has bowled well. Given away only 10 runs in his 9 overs 
13:00 IST: Whack!! Ajinkya Rahane comes down the track and bludgeons it for a boundary. Counter-attack by the middle order batsman and he gets the right result 
12:58 IST: 100 up for India in the 40 th over. 
12:56 IST: FOUR!! Welcome boundary for India. Rahul, it seems, played it deliberately towards the third-man area
​12:55 IST: India have scored 22 runs in the session so far and lost one big wicket of Virat Kohli
12:50 IST: Big appeal again by Nathan Lyon!!! Turned down by the umpire. He is bowling brilliantly. Rahane got his front foot outside the line of off stump, the ball spun too much and missed his defence 
I thought @NathLyon421 bowled really well in Pune but he has been even better today. Absolutely brilliant.

— Michael Clarke (@MClarke23) March 4, 2017
Wowee... #INDvAUS pic.twitter.com/d9KGRvdG6J

— cricket.com.au (@CricketAus) March 4, 2017
12:42 IST: Big responsibility on Ajinkya Rahane's shoulders now. India need a big partnership. India are 92/3 after 36 overs. KL Rahul 53*, Ajinkya Rahane 3*
12:35 IST: It's a plumb in front. Virat Kohli goes for 12 and India in big big trouble again
12:32 IST: Wrapped on the pads and what is Virat Kohli doing??? Umpire raises his finger and they are going for the review
12:30 IST: FOUR!! Virat Kohli bent so low and snaps his bottom hand to execute the cover drive. What magnificent hands  
12:24 IST: FIFTY!!! Rahul will get the single and completes his third half-century. His innings has been a bit shaky but these milestones always gives you the confidence
12:21 IST: FOUR!! Sheer elegance by the Indian skipper. He likes to play the cover drive and beautifully caressed it through covers
12:13 IST: Starc to share the attack after the break. KL Rahul is nearing his 3rd Test fifty
12:10 IST: Virat is the new batsman in and he defends the first ball 
12:10 IST: We are back after lunch!!
A great finish to the morning session for the Aussies with Lyon claiming the wicket of Pujara for 17: https://t.co/iGxoJAaz64 #INDvAUS pic.twitter.com/JPYkiqaGWh

— cricket.com.au (@CricketAus) March 4, 2017
At Lunch on Day 1 of the 2nd @Paytm Test, India are 72/2 (Rahul 48*). Follow the game here https://t.co/Qj8RbwMTOS #INDvAUS pic.twitter.com/sKT2bd1T6k

— BCCI (@BCCI) March 4, 2017
11:30 IST:  At LUNCH!!! India are 72/2. KL Rahul 48*, Mitchell Starc 1/18, Nathan Lyon 1/10
11:30 IST: OUT!!! Brilliant bowling by Nathan Lyon and Pujara goes for 17. He dismisses him at the stroke of lunch. A little bit of extra bounce and Handscomb at forward short leg grabs it nicely
11:24 IST: Oooh!! Almost an edge there!! Both Pujara and Rahul getting a bit shaky
11:20 IST: After 26 overs, India are 71/1. KL Rahul 48*, Cheteshwar Pujara 16*
11:15 IST: FOUR!! KL Rahul moves on to 47 with that boundary. Again a full toss by Mitchell Starc and too easy for the opener
11:10 IST: FOUR!!! Beats everyone and runs away to the boundary. 4 byes for India
11:04 IST: FOUR!! Premeditated by KL Rahul as he paddles it away to fine leg boundary
11:03 IST: Nathan Lyon comes in to the attack now
10:55 IST: 50 comes up for India!! And it has taken them 19.1 overs. It has been a quiet start for the hosts but they have played well in the first session so far.
Virat Kohli in his 25th Test match as captain is yet to play the same eleven in two consecutive Test matches!#IndvAus

— Mohandas Menon (@mohanstatsman) March 4, 2017
10:50 IST: Now, Mitchell Marsh comes in to bowl in place of Josh Hazlewood
10:48 IST: FOUR!! Again four in the last ball of the over. Full and wide by Hazlewood and Rahul played it nicely towards the backward point area
10:45 IST: FOUR!! Poor delivery by Hazlewood around the leg stump and Pujara plays it fine. His first boundary. The fast bowler looks a bit tired now 
10:42 IST: Dropped!! Rahul goes for a fancy drive and Handscomb drops it at the silly mid-off.
10:34 IST: FOUR!! Superb on-drive by Rahul to end the over. India are 34/1 after 15 overs 
10:32 IST: After the early departure of Abhinav Mukund, Pujara and Rahul are doing the repair work well. It's drinks!! India are 29/1 after 14 overs. KL Rahul 25*, Cheteshwar Pujara 2* 
10:28 IST: FOUR!! What a shot that is!! Hazleowood overpitches and Rahul drives it through point for an elegant looking shot
10:17 IST: Big appeal by Steve O'Keefe for LBW but not given by Nigel Llong and the Aussies reckon that it was sliding down. Not going for the review 
10:10 IST: Steve O' Keefe, the man who stole all the limelight in the last Test, comes in to the attack
09:54 IST: Back to back maidens. India are 15/1 after 6 overs. KL Rahul 15*, Cheteshwar Pujara 0*
09:51 IST: FOUR!! Moves off the seam and KL Rahul a bit edgy there. Lucky to get a boundary 
09:50 IST: Cheteshwar Pujara comes to the crease now.
09:48 IST: Certainly, not a comeback that Mukund would have wanted. He missed a full-toss by Mitchell Starc which puts India in a spot of bother
He waited 2042 days to play Test cricket again and then this... https://t.co/JZygQGwCYr pic.twitter.com/IhCRQ2TFy5

— cricket.com.au Video (@CricketVideo) March 4, 2017
09:46 IST: OUT!! Wrapped on the pads and the umpire raises his finger. Abhinav Mukund is out for a duck
09:42 IST: Josh Hazlewood bowls a maiden over. India are 10/0
09:40 IST: India are 10/0 after the first over
09:37 IST: FOUR!! Thickish outside edge and goes for a boundary again. Good start for India
09:35 IST:  Abhinav Mukund last played a Test in 2011 and had a forgettable England tour. He has got a good opportunity now and would like to make full use of it. 
09:32 IST: FOUR!! KL Rahul is away and he starts off with a superb drive. Hitting through the line, not only forward but played it across the line too. 
09:30 IST: So, the players of both the teams are at the ground. Abhinav Mukund and KL Rahul to open for India and Mitchell Starc holds the new cherry for Australia
#TeamIndia have won the toss and will bat first - Abhinav Mukund and @karun126 in place of Vijay & Jayant Yadav #INDvAUS @Paytm Test Cricket pic.twitter.com/4OOcvCO6N2

— BCCI (@BCCI) March 4, 2017
09:10 IST:  India (Playing XI): Abhinav Mukund, Lokesh Rahul, Cheteshwar Pujara, Virat Kohli(c), Ajinkya Rahane, Karun Nair, Ravichandran Ashwin, Wriddhiman Saha (wk), Ravindra Jadeja, Umesh Yadav, Ishant Sharma
India elect to bat first and make two changes for second Test: https://t.co/Napn2qbBK1 #INDvAUS pic.twitter.com/W0TRVUj9a5

— cricket.com.au (@CricketAus) March 4, 2017
Australia (Playing XI): Matt Renshaw, David Warner, Steven Smith(c), Shaun Marsh, Peter Handscomb, Mitchell Marsh, Matthew Wade (wk), Mitchell Starc, Steve O'Keefe, Nathan Lyon, Josh Hazlewood
Watch @BrettLee_58's one minute preview of the 2nd Test #INDvAUShttps://t.co/Qa15AWVxaK

— BCCI (@BCCI) March 4, 2017
09:05 IST: Virat Kohli during the toss: The toss hasn't been too bad. It was the game in Pune that wasn't as good. We have come here fresh. We will use the learning. It looks a good wicket and a good toss to win. We will definitely bat. When we lost in Galle, the talk was about intent. The guys will come out with more intent today. Looks like a typical Bangalore wicket. One forced change, Abhinav Mukund comes in for Murali Vijay as he has done his shoulder. And Karun Nair is in for Jayant Yadav.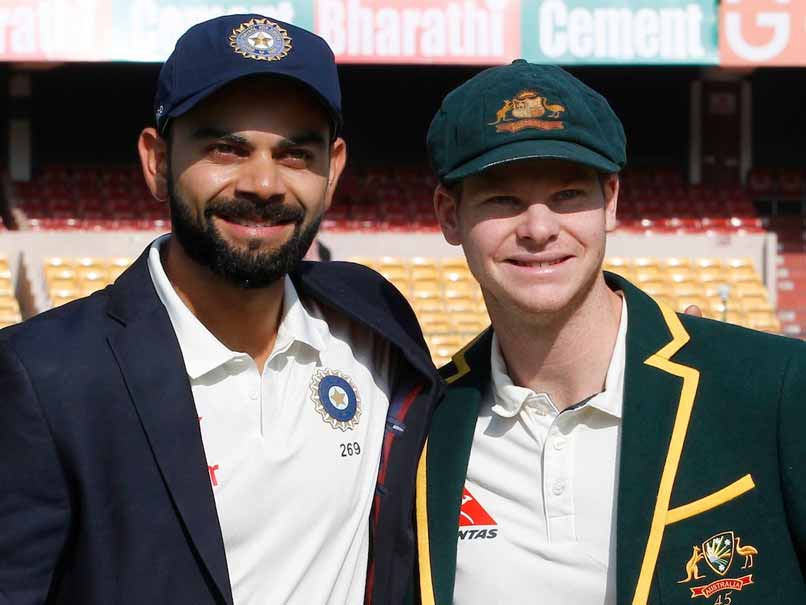 Live Cricket Score: India vs Australia, Day 1: Virat Kohli won the toss and opted to bat. Photo Credit: BCCI
09:00 IST: Toss Time! India win toss and opt to bat. Two changes in playing XI. Abhinav Mukund comes in place of opener Murali Vijay and Karun Nair is included in place of Jayant Yadav.
#TeamIndia head coach @anilkumble1074 inspects the pitch #INDvAUS pic.twitter.com/rTysd00efB

— BCCI (@BCCI) March 4, 2017
08:50 IST: It looks like a flat pitch unlike Pune. Australia have already announced an unchanged playing XI for this Test. India might go for an extra batsman in this pitch
08:45 IST: Hello and welcome to the live blog
India will be wounded after the shocking loss in Pune, but skipper Kohli is confident that the hosts can bounce back in Bengaluru. "You will not see such a bad performance again, I will assure you that," the feisty captain said in a pre-match press conference.
The defeat in Pune was more of a reality check for the hosts who were undefeated in 19 Test matches before losing to the Australians. The Indian side had also been unbeaten in 20 Tests at home before the Pune shocker.
"It is important to accept defeats. We lost the Pune match because of lack of intent. Australia played better cricket. It is important to accept defeat, if you go by your ego or ignore it, it will affect you only. It doesn't mean losing in Pune would result in us losing the other matches also," Kohli said on Friday.
Meanwhile, visiting captain Steve Smith has cautioned his side against underestimating India. "We know India are going to come back hard at us, there is no doubt about it. They play very well at home," he said.
It will interesting to see how the pitch in Bengaluru fares, with a slow turning track expected to be in place. The team winning the toss will be expected to bat, given the circumstances.