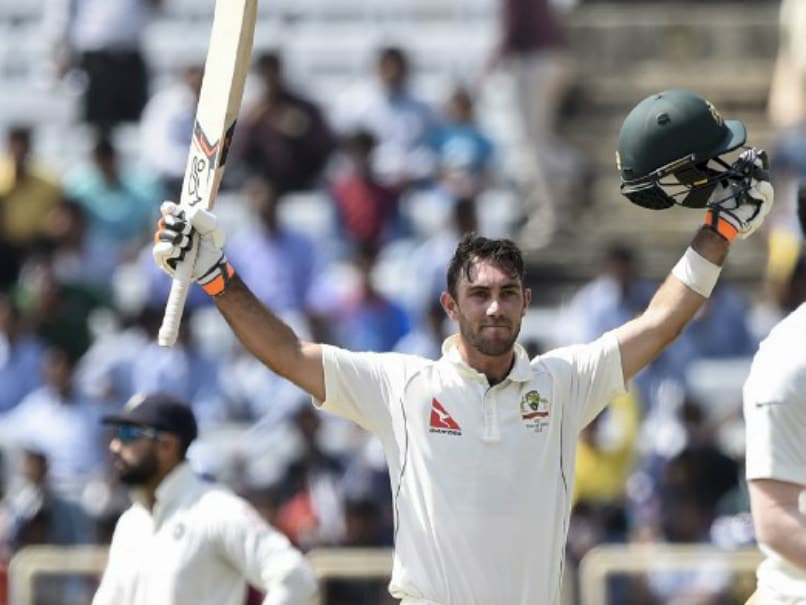 Before the Ranchi Test, Glenn Maxwell had last played a Test match for Australia in 2014.
© AFP
Making a Test comeback to the Australia after a gap of more than two years, an emotional Glenn Maxwell on Friday said that he didn't want to waste the opportunity of playing a Test for Australia, and was driven by the fact that he didn't want the Ranchi Test to be his last. Maxwell smashed a career-best 104 -- his maiden Test century -- as he shared a brilliant 191-run partnership with captain Steve Smith to propel the visitors to 451 all out against India on Day 2 of the third Test. India, in reply, were 120 for one at stumps and trailed the Australians by 331 runs.
Maxwell was unbeaten on 82 at stumps on Day 1 and said that he went through 300 to 400 different scenarios about scoring a century.
"It's been a long time between drinks since 2014, my last Test. I didn't want to waste the opportunity, didn't want to make it my last Test that's for sure," Maxwell said after day two's proceedings of the third cricket Test.
Maxwell, 28, was fortunate to make a return to the Australia squad, receiving a call-up after a shoulder injury ruled out Mitchell Marsh.
"I know how bad it felt when I played that last game in Dubai and didn't play again and I know how bad that felt. I just wanted to make it count, every opportunity I get.
"To get back in the side in the first place was something I really held close to my heart. I was so happy to be able to walk back on the field with the Australian Test team with the Baggy Green cap on and I was just filled with joy when I got told I had the opportunity to do that again."
Maxwell was axed after Australia were blanked 0-2 in the two match series in 2014. He scored 37 and 4, while in bowling returned 0/78 as Australia lost to Pakistan by 356 runs in the second Test.
Maxwell has now become the 13th player to score centuries in all three formats of the game.
"I thought about it all night. I went through about 300 to 400 different scenarios that could've happened the next day, most of them weren't good. Even thinking about it now I've got a frog in my throat.
"It's as special a moment as I've had in my career and hopefully it's not the last. So much emotion fell out of me as soon as I got that hundred."
He hoped that he would be able to keep his Test career on the right track from now on.
"Hopefully, it just ticks something inside that I can continue to be consistent. If I can keep producing long innings and batting long periods of time, building partnerships with other players that's going to go a long way to firstly holding my spot and secondly winning games for Australia."
(With PTI Inputs)