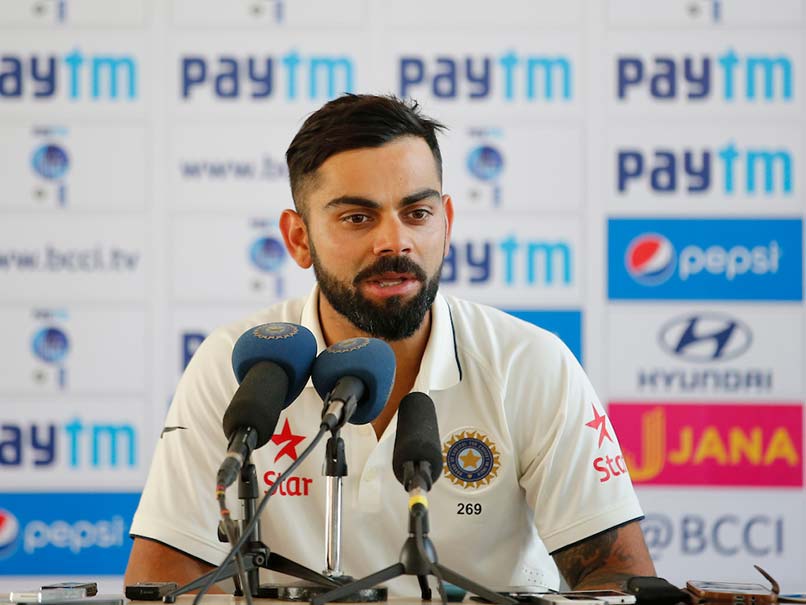 Virat Kohli has led India to six consecutive series wins in Tests.
© BCCI
Saying that taking over as captain of the Indian cricket team has made him a better batsman, Virat Kohli on Wednesday insisted that it's still too early to judge him on his captaincy. Kohli, who has led India to six consecutive Test series wins and during the ongoing 19-match unbeaten run in the longest form of the sport, was speaking ahead of the first of the four-match Test series against Australia, which starts in Pune from Thursday.
Maintaining that a captain was only as good as his team, Kohli said, "I don't judge myself after every series. Priority and the only goal that we have is to win games of cricket. Captaincy will be as good as how your team performs and how consistent the players are. If we are not playing to our potential as players, there's not much I can do as captain.
"The more the team becomes mature, the captain starts looking good. If the team doesn't do well, the captaincy bit seems out of control," Kohli said on the eve of series-opener against Australia.
"Maybe five to eight years down the line I will be able to judge myself as a captain if I remain captain for that long. I feel personally it's too early for me to sit down and judge what I have done well or haven't," he said.
Kohli also credited his captaincy for his stupendous batting form in recent months, saying that as a captain, one has to take extra care to not be complacent with the bat.
"Captaincy does not allow you to be complacent at any stage especially with the bat if that is your only discipline in the game, in the field as well. In that aspect I think complacency goes out the window as captain," Kohli said.
"You tend to focus a lot more on certain situations which you might or might not without the extra responsibility on your shoulders and may play a loose shot," he added.
(With inputs from PTI)