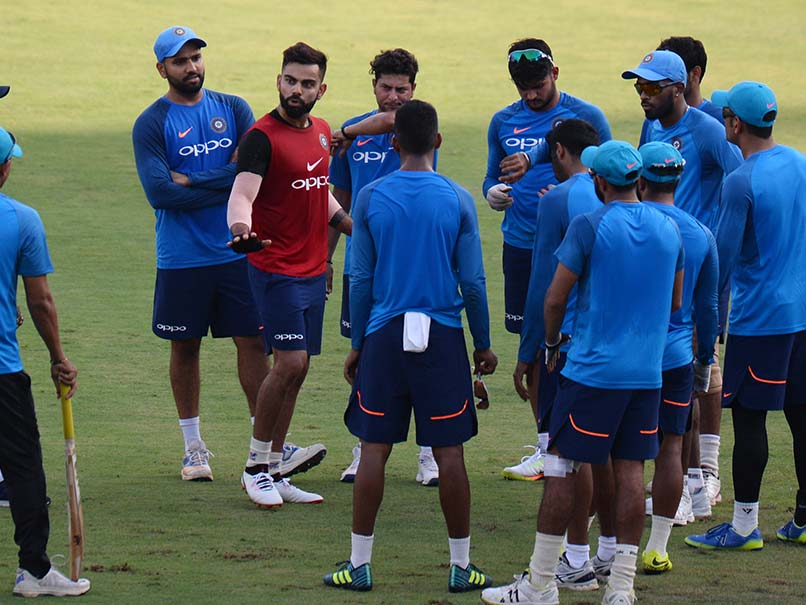 India take on Australia in a five-match ODI series starting Sunday
© AFP
India skipper Virat Kohli said Saturday that competitiveness and "mind games" can be good for cricket as his team prepares to face their arch-rival Australia in a one-day series starting Sunday. While Australia captain Steve Smith has batted for peace and urged the five-match series to be played in "good spirit", Kohli hinted that a bit of aggression can be useful to get the best out of players. "All those things are to get that aspect of mind games which I think creates an excitement for the fans watching as well," Kohli told reporters on the eve of the limited-overs series in Chennai.
"Also the players involved in the series you know, that becomes more exciting and players are more pumped up to win games and outdo each other," he added.
"I feel that intense competition should be there for the game to have that excitement and keep this game alive. I think it is very important to have that competitiveness in every series that you play."
The hosts are on top form after recently beating Sri Lanka 9-0 in Tests, one day games and Twenty20, but second-ranked Australia poses a different challenge.
Kohli was furious after a Test in Bangalore in March this year, when Smith looked up to his dressing room from the field -- where replays could be seen by teammates -- while deciding whether to challenge an lbw dismissal.
Players are not allowed to have outside input while challenging an umpire's decision.
Smith later apologised for his self-admitted "brain fade" moment but Kohli slammed the Aussies at the time.
After landing in India, the combative Australian skipper said he was anxious to halt the acrimony that marked the series, which his team lost 2-1.
Kohli stressed that it was important to prepare properly for a series irrespective of your opponent.
"Your preparation should matter more than who you are playing against," said Kohli.
"So, we like to prepare the same way and we like to play with the same kind of intensity regardless of who we are playing against," he added.
Australia also play three Twenty20 matches in India before moving on to the Ashes series against England. Smith said Saturday the team had the 2019 World Cup firmly in mind.