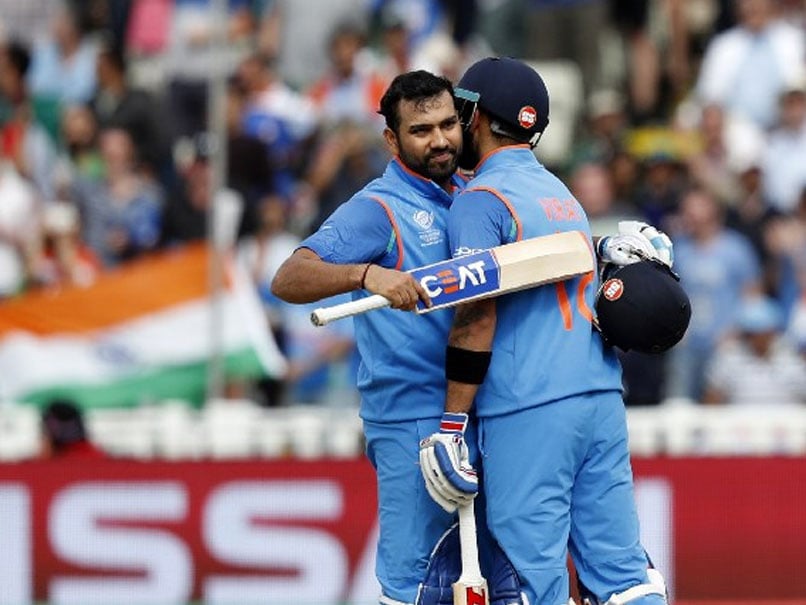 Virat Kohli hinted at Rohit Sharma's return to Test cricket
© AFP
India batsman Rohit Sharma went through the hardest six months of his life after a severe injury had kept him out of action for a long time. He came into the Indian Premier League (IPL) after a four-month injury break after being out of action since November 2016. However, there is no looking back after his return to the competitive cricket. He not only led Mumbai Indians to the IPL title last month but is also showing his prowess in the ongoing ICC Champions Trophy.
Every cricketer's dream is to play Test cricket and Sharma is no exception. The Mumbai cricketer has had a dry spell with the longest format of the game but now he figures big time in skipper Virat Kohli's scheme of things, which is why the senior opener was rested for India's tour of the West Indies.
If top BCCI sources are to be believed, Sharma can make a comeback into the Test side against Sri Lanka next month as one middle-order slot is still up for grabs.
Karun Nair, who replaced an injured Sharma, has done precious little after his triple hundred against England and there are serious question marks on whether he can hold onto his Test place for the Sri Lankan Test series.
On the other hand, Sharma had scored three consecutive fifties in his last three Test appearances against New Zealand and was only out because of injury and not form.
In fact, skipper Kohli indicated that an asset like Sharma needs to be preserved.
"We need to protect him going further because latter half of the year we have massive tours coming up, and his batting contribution will be a huge factor for us," Kohli's answer was an indicator that some real plans are in place for Sharma.
He detailed why a decision was taken to rest Sharma for the West Indies tour.
"Yeah, Rohit has come back and really had a full IPL season, which has been hectic as Mumbai Indians reached the final. So he got even lesser rest than anyone else.
"But he had a massive hip surgery, so muscles around that area are always vulnerable, and today also he felt a bit of stiffness in his right knee, and we decided the smart decision is to rest a guy who is playing - there's no doubt about Rohit's ability and what he brings to the team," Kohli said.
According to Kohli, after a major surgery, it is necessary to space out matches to prevent a recurrence of the injury.
"So we want him to be careful because after a massive surgery you do need to be careful. If you push yourself a little too hard then it snaps again you are out for 7-8 months," he said.
"I think it's a conscious decision by everyone to give him a break. He is making the most of the form he is in right now and I am sure he also knows and understands the whole situation," the skipper said.
(With PTI Inputs)