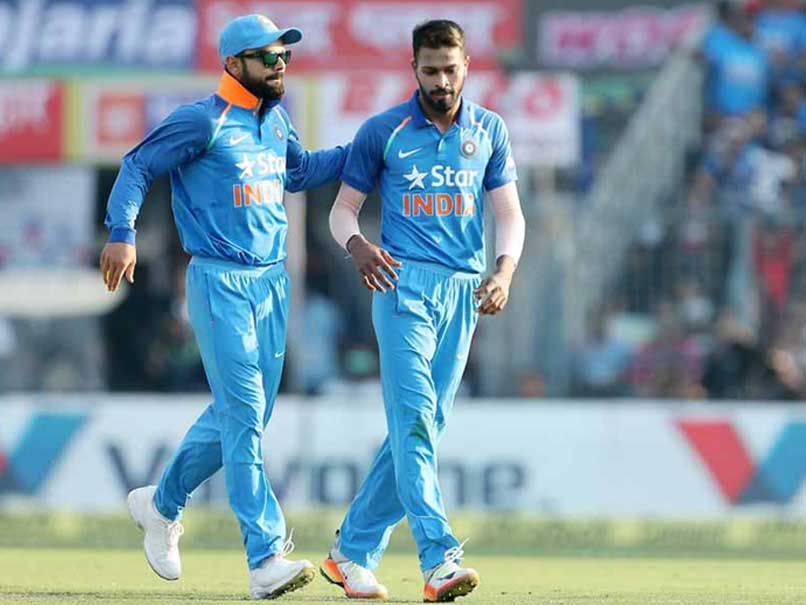 Virat Kohli backs Hardik Pandya's abilities
© AFP
India all-rounder Hardik Pandya has emerged as one of India's most promising talents since making his debut last year. Having played a key role in Mumbai Indians' Indian Premier League (IPL) title victory in 2017 edition, the swashbuckling all-rounder cemented his place in the Indian side in a short span. After a spectacular show in the slam-bang format, Pandya is againt stealing the limelight in the Champions Trophy 2017. India kicked off their Champions Trophy campaign against arch-rivals Pakistan and Pandya was promoted up the batting order ahead of Mahendra Singh Dhoni. Not disappointing, he clobbered three sixes in his unbeaten 20-run knock off just six balls in 124-run victory over Pakistan.
After watching the youngster performing at the bigger stage, captain Virat Kohli has backed Pandya to showcase his credentials as the future of Indian cricket. The captain also said he wants to see his swashbuckling display in the second match against Sri Lanka on Thursday.
"He's a real asset to Indian cricket. It's very hard to find someone who can almost touch 140 Kms/hr and who strikes the way he does," Kohli said in a press conference at The Oval on Wednesday.
"He can bat through the innings as well. It's really hard to find people with that kind of ability," Kohli added.
"Once you have a player like that, you need to make sure he's always committed to give 100 percent for the team. That comes naturally to Hardik. So you don't need to motivate him any further in any other way," the Indian captain said.
With India aiming a semi-final berth on Thursday by beating Sri Lanka, Kohli believe if given proper support, Pandya will emerge as one of the most accomplished cricketers in times to come.
"People should appreciate his skill and what he brings to the table. A lot of people focus on a lot of other things with Hardik, which I don't think should be anyone else's problem. He has his own journey, and he's finding his own way. If he gets the kind of support that a player like him should get, I think he could go down as one of the most accomplished Indian cricketers in times to come", Kohli concluded.