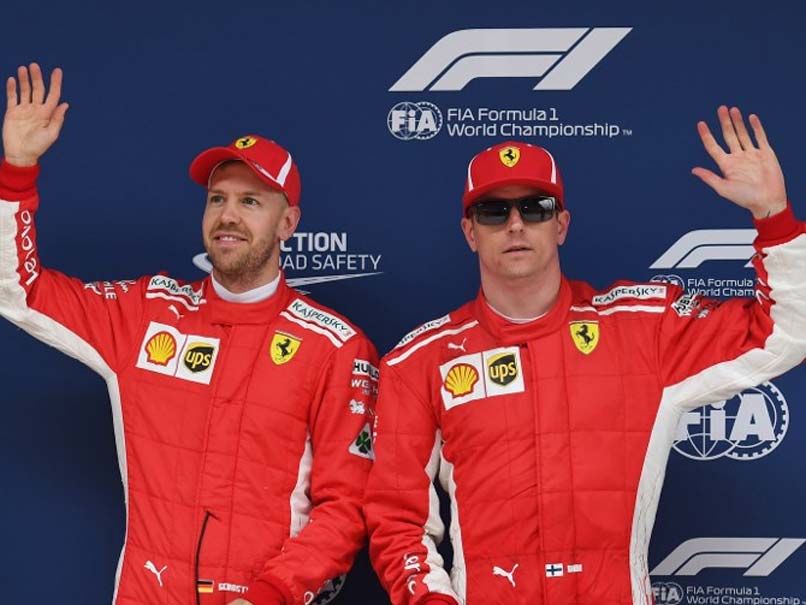 Sebastian Vettel clocked 1min 31.095sec in Shanghai to set a blistering new lap record for Ferrari.
© AFP
Sebastian Vettel set a blistering new lap record for Ferrari as he took pole position for Sunday's Chinese Formula One Grand Prix. Vettel clocked 1min 31.095sec at the Shanghai International Circuit in final qualifying on Saturday ahead of teammate Kimi Raikkonen and Valtteri Bottas, who was third fastest with his Mercedes teammate and defending world champion Lewis Hamilton fourth. "The car was really amazing, it just kept getting better. So I'm really happy," Vettel said. The German's flying lap ensured back-to-back front row lockouts for Ferrari for the first time in 12 years despite Vettel admitting to being a bit wobbly on some turns in cold qualifying conditions.
"I was a bit beaten up but knew that if I could get a tidy lap and have a little bit of margin, I can push it. It was really good," Vettel said.
Hamilton was half second off Vettel's pace and admitted he couldn't explain the gap.
"I'm not really sure," said the English four-times world champion on Sky Sports TV.
"The car felt OK but I don't have an answer for it. This is in the top three of the circuits for overtaking but the Ferraris are faster on the straights. I don't know if we can challenge, we were half a second behind today."
The gap is likely to add to consternation in the Mercedes camp that has been building since Vettel took the first two races of the season in Australia and Bahrain.
The Red Bull duo of Max Verstappen and Daniel Ricciardo took the next two grid spots, with the team doing well to get Ricciardo's car ready after an engine blow-out in final practice.
Vettel said even he was surprised at the qualifying gap with Mercedes, who have won five of the last six Shanghai races.
"To have that much of a gap I think is a surprise. But it's a track where you need to find that sweet spot and if you are a little bit out you drop a little bit of time," the German said.
"I wouldn't be surprised if tomorrow that gap disappears and its a very tight race."
"I think it will be a tight race between the top three teams and a long tough race, but it's obviously good to start from the front."