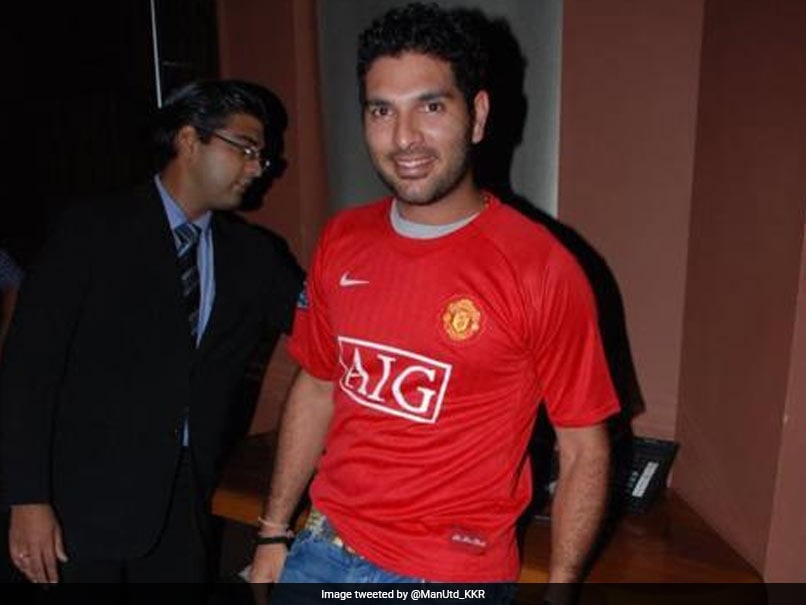 Yuvraj Singh is a big Manchester United fan.
© Twitter
Yuvraj Singh is among quite a few Indian cricketers who follow football diligently and it is no secret that the stylish southpaw is a big Manchester United fan. Yuvraj was even once pictured with Zaheer Khan, batting great Sunil Gavaskar and his son Rohan watching a Community Shield match between the Red Devils and Wigan Athletic at Wembley. On Monday night, Yuvraj was awake late cheering his team on as they took on Crystal Palace in a Premier League match away from home at Selhurst Park.
Yuvraj was in high spirits. He first egged Manchester United and then after the match went gaga and celebrated the Red Devils' comeback win with great enthusiasm.
Game on !Crystal Palace vs Manu come on @ManUtd

— yuvraj singh (@YUVSTRONG12) March 5, 2018
Unitedddddddddddd ! Matic you beauty what a way to bring your first @ManUtd goal what a game ! Woohooooo

— yuvraj singh (@YUVSTRONG12) March 5, 2018
Fans on Twitter, most of them Manchester United supporters, showed their surprise at Yuvraj following the Old Trafford club.
You're an United fan ??? Wow !!! Glory Glory Man United !!!

— Augustine Das (@alchemydruid) March 5, 2018
Didn't know that you are a United Fan. Manchester is Red. @ManUtd

— Animesh Mohanty (@AnimeshMohant25) March 5, 2018
Paaji Man Utd da fan ne ....!!!

— Ansh (@iamanshfellas) March 5, 2018
Now I know the reason..How can we not fight back when Yuvi paji is watching...!

— JAY NEPAL (@mejayxoxo18) March 5, 2018
Paaji, aap bhi jage ho

— Vijendra Rai (@theOld_Monk) March 5, 2018
woww..u up late yuvi..great win for us

— Parikshit Rathi (@rathism730) March 5, 2018
Really?

— rohan richie pacheco (@RichaayMufc) March 5, 2018
absolutely

— Syed Raza (@RaZaa_Says) March 5, 2018
A few others, surely fans of opposition Premier League clubs, tried to troll the Indian cricketer.
Your Punjab team @Minerva_AFC may win @ILeagueOfficial this year if they win their next match. Kabhi kabhi ghar ki daal sabji ka khabar vi dekh lijiye.

— Abhishek Ghosh (@abiGhosh) March 6, 2018
Bro! Ipl is not far, please thoda practice kar le.

— Parth Desai (@ninja_chaacha) March 6, 2018
Sir its ManUtd. Not Manu

— abhaykharoo (@Abhay21Abhay) March 6, 2018
So jaa bhai

— Manish Tiwari (@tiwarigoku) March 5, 2018
Manchester United had a poor first half that saw them fall two goals behind relegation-threatened Crystal Palace. But a sterling comeback in the second half, saw the English giants win the match 3-2.
Chris Smalling got one back for United and Romelu Lukaku equalised with 14 minutes remaining and Nemanja Matic completed the dream comeback with a stoppage-time winner.
Matic scored for the first time since his move from Chelsea last year with a blistering blast from the edge of the area.
With the win, Manchester United moved back above Liverpool into second place in the Premier League and within 16 points of runaway leaders Manchester City.