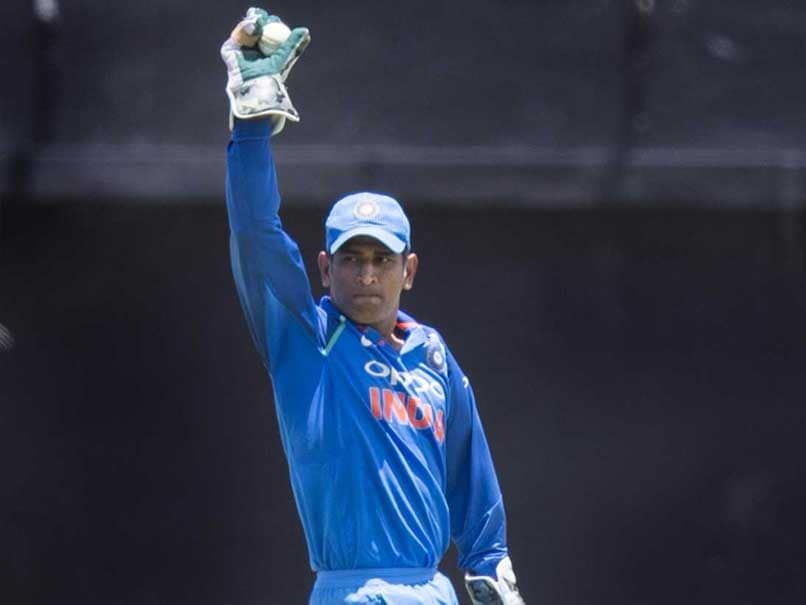 MS Dhoni's future has often been a topic of discussion in recent months.
© AFP
Chairman of selectors MSK Prasad on Monday said that Mahendra Singh Dhoni's future is being discussed at selection meetings but they will look at alternatives only if the former India captain fails to perform. Asked about Dhoni's future, the chairman said that it's difficult to predict but till he is delivering for the team, it shouldn't be a problem. "You never know. We don't say it is an automatic thing (selection) but we will see. We are all stakeholders. We all want the Indian team to do well. If he is delivering, why not? If he is not, we will have to look at alternatives," Prasad said.
"You have been fair and I will be honest. Discussions happen about everybody. It is not just MS. When we pick, when we talk about combinations, we talk about everybody. You will also see in times to come," Prasad further added. Dhoni's struggles in the 5th ODI match against West Indies last month, where he scored 54 off 114 balls, led to questions over his future. At the time however, captain Virat Kohli made it very clear that his predecessor was an integral part of the team.
Dhoni's fans were clearly infuriated by Prasad's comment.
This man said that ms dhoni is no more automatic choice.....woowww see his career dusre ko bolne se pehle khud b dekhna chaiye msk prasad ko pic.twitter.com/41Ps8JaAny

— Kulwinder Singh (@Kulwind18346591) August 15, 2017
MS Dhoni Is Not An Automatic Choice: MSK Prasad ??@BCCI ask him to do one stumping. As per his records he can't even enter cricket stadium

— ChillnBaba (@crazyCancer_ian) August 15, 2017
Forced Dhoni to leave captaincy.. Now this idiot MSK Prasad will put pressure on Dhoni to retire from international cricket!! -_- pic.twitter.com/VC2luT2u81

— MSDian Shubham Dogra (@Shubham513) August 15, 2017
@BCCI a player who hv played 6 test match and 17 ODI ,MSK prasad deciding fate of players like Yuvraj,Raina and commenting on Dhoni ..WTH !!

— mahesh kumar pandey (@mahisays) August 15, 2017
'If Dhoni is not delivering, we will have to look at alternatives'.

Aah, MSK Prasad being really bold here.

— Shubham (@SportyShubh) August 14, 2017
@BCCI #Msk prasad u r no one to suggest dhoni will play or not in 2019 WC. He should be. because he is more capable player than others.

— Rahul Ranjan (@RahulRanjann) August 14, 2017
Who are you MSK Prasad to say that if @msdhoni not performs there are alternatives. You are only selector but Dhoni is Inspiration

— Shanu Kumar (@ShanuKu17) August 14, 2017
Its quite funny when a person like MSK Prasad comments abt Yuvraj's and Dhoni's contribution in Indian cricket n their existence in future.

— Aditya Namjoshi (@aditya_msd) August 14, 2017
How many matches have MSK Prasad played for India ? Why is he the selector of Indian Cricket board ? @BCCI #BCCI #Virat #Dhoni

— Piyush (@engineer_haav_) August 14, 2017
'If #Dhoni is not delivering, we will have to look at alternatives' - MSK Prasad. Please you didn't last even for a year whilst rep #India

— Mutu Srinivasan (@Mutu_Srinivasan) August 14, 2017
Selectors also axed Yuvraj Singh from the squad that will face Sri Lanka in the upcoming limited-overs cricket series.
This move can be an indication of the mindset going forward with the World Cup coming up in 2019 in England
Prasad said the core of the Indian team for the 2019 World Cup will be identified in the next four to five months through a rotation policy.
"We have identified some set of players who will be considered for the next 4-5 months and we will rotate them. After those 4-5 months we will come to a picture that these are certain players who will go on to play the 2019 World Cup," Prasad said after India completed a Test series whitewash on Monday.