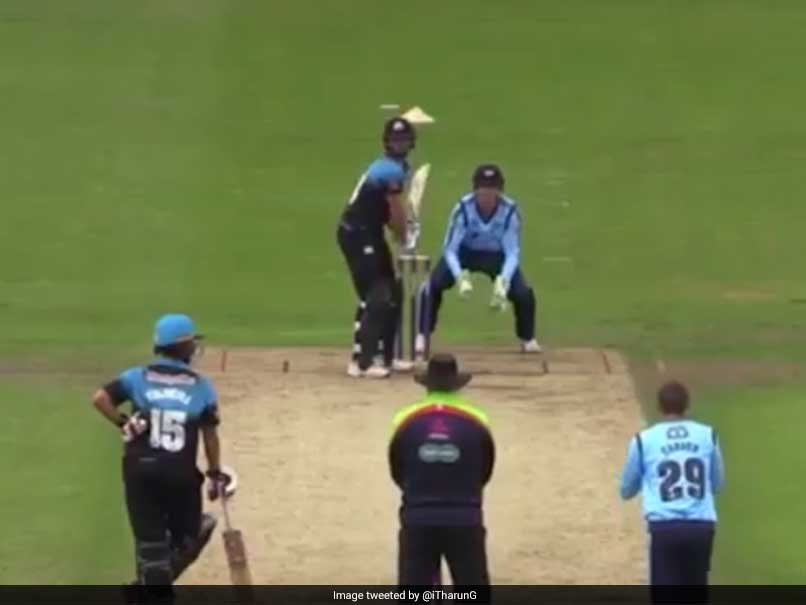 Ross Whiteley achieved the feat in an English County T20 match at Headingley
© Twitter
Worcestershire's Ross Whiteley joined a select group of batsmen who've performed the feat of hitting six sixes in an over. He did so in an English County Twenty20 match at Headingley on Sunday. The left-hander achieved this off the bowling of Yorkshire left-arm spinner Karl Carver during the 16th over of Worcestershire's innings. But he fell for 65 off 26 balls as Worcestershire finished on 196 for seven and lost the match by 37 runs. The contest almost included another sterling batting performance that came from Yorkshire's David Willey, the England all-rounder, who made 118 that included 34 runs off one over from Australia pacer John Hastings.
West Indies great Gary Sobers was the first batsman to hit six sixes in an over in first-class cricket when, playing for Nottinghamshire, he performed the feat against Glamorgan's Malcolm Nash in a County Championship match at Swansea in 1968.
#RossWhiteley Six Sixes !#NatwestT20Blast2017

pic.twitter.com/1Hl7JwTc0T

— Bittuu ! (@iTharunG) July 24, 2017
Since then Ravi Shastri, South Africa's Herschelle Gibbs and Yuvraj Singh have all matched that achievement in either first-class, one-day or Twenty20 cricket.
In 2013, Lancashire batsman Jordan Clark struck six sixes in an over during a 2nd XI match against arch-rivals Yorkshire at Scarborough.
"It was the right time in the game for me to go for it," said Whiteley.
"It was all or nothing. Unfortunately for the bowler it was a short boundary on the leg-side.
"I had the mentality that I was going to go for it before I got in. I hit the first out of the screws and needed to keep going for the team, not for that achievement.
"It's something I never really thought I'd do in professional cricket."
The 28-year-old added: "Personal milestones are great, but it's hard to get away from the defeat. It's pretty tough to take. We've lost four out of five and are right down at the bottom."
Yorkshire coach Andrew Gale said captain Tim Bresnan -- Gale's brother-in-law -- had bowled Carver at the wrong stage of the innings.
"I blame poor captaincy for that," Gale said. "He shouldn't have bowled him at that part of the game.
"I felt for Karl, he's got a good record in T20 cricket and he'll bounce back," he added.
"Ross nearly did it a few years back against us. It was good striking."
(With inputs from AFP)