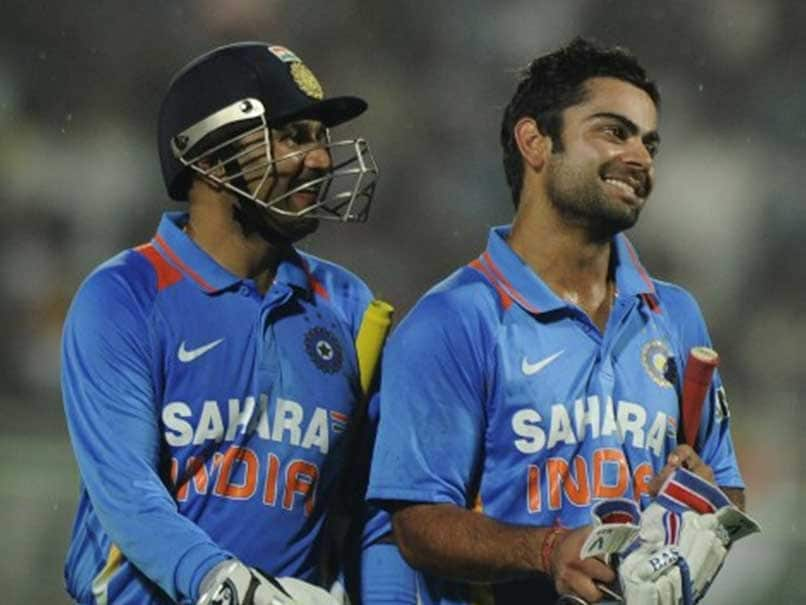 Virender Sehwag responded to Rashid Latif without naming him.
© AFP
Former Pakistan wicketkeeper-batsman Rashid Latif kicked up a storm after his foul-mouthed tirade against Virender Sehwag. After serious social media backlash, which included a video response from Indian batsman Manoj Tiwary, Latif has uploaded a follow-up video. The 48-year-old described Sehwag as a great batsman and highlighted the fact he had scored two triple centuries in Test cricket.
"I wanted to warn Sehwag a lesson after his comments on Pakistan. We should respect each other. Sehwag was a great player who has scored two triple centuries. But he must understand he should not disrespect a country. I am not talking only about Pakistan but he should not disrespect teams like Sri Lanka or Bangladesh," Latif said.
Latif also congratulated India for making it to the semi-final of the Champions Trophy and termed captain Virat Kohli as the world's best batsman.
"I would like to congratulate India. They have a good chance of making it into the finals. Virat Kohli is the best batsman in the world. Kumble (Indian head coach) has played against me. He is a very honest person. Also, the others who have played against me or I have heard about them, like- Harbhajan Singh, Yuvraj Singh, Sachin Tendulkar, Sourav Ganguly, Ajay Jadeja, Azharuddin, Srinath, Srikkanth, I would like to congratulate them all," he said.
After India hammered Pakistan by 124 runs in their first Group B match at Edgbaston on June 4, Sehwag had taken to Twitter to congratulate the Virat Kohli-led India on the big win.
"Pote ke baad Bete. Koi baat nahi Beta, Well tried ! Congratulations Bharat !#BaapBaapHotaHai #INDvPAK," Sehwag had tweeted, referring to the big win in the practice match with Bangladesh and then the victory over Pakistan.
But it didn't go down too well with Latif.
Responding to Sehwag's tweet, Latif posted a video, which ran on Pakistan news channel Siasi Central, lashing out at the former India opener.
Sehwag, who is known for not holding himself back, decided to respond in a calm manner.
"A meaningful silence is always better than meaningless words," Sehwag wrote on his Twitter account.
Latif played 37 Tests and 166 ODIs, scoring 1381 and 1709 in his 11-year career in international cricket.